We know artificial intelligence and robots are taking over many functions of business including payments, banking, investment advice and much more.

Welcome to the next big shopping trend – daigou – or Chinese ex-pats buying consumer goods in countries abroad for friends, families and customers back home in China.
The BBC reports on the growing phenomenon of the daigou or remote shopping. According to recent estimates, there may be as many as a million Chinese ex-pats shopping abroad for Chinese residents.
Chinese consumers hate knockoffs too
Ironically, the practice of remote shopping seems to have grown out of Chinese consumer mistrust of knockoff brand name products sold in China.
Daigous make money by charging a small fee for purchasing products on behalf of others. Some ex-pats have been so successful that they now have created part-time or full-time businesses for themselves.
Sandra Lee, a Chinese resident in Australia, connects with buyers on WeChat, a hugely popular messaging app in China. She buys products at the local Australia supermarket or department store and ships them home to buyers for a service fee.
"This job doesn't require you to speak any English, as long as you sell authentic products at a reasonable price," she says. "You basically sell all these products to your friends, relatives or your friends' friends. It's a trust-based business."
$100K income or more
Some daigou are so successful, they're making $100,000 a year or more selling Australian products to buyers in China.

AuMake, an Australian business opened a small chain of stores catering exclusively to remote shoppers. It became so successful, it went public on the Australian Stock exchange and now caters to visiting Chinese tourists as well.
While AuMake's warehouse facilities resemble Costco, the company makes more than 40% of its sales via WeChat.
To  highlight the growing phenomenon of remote shoppers, there is now an Australia China Daigou Association which offers certification for qualified remote shoppers.
A Daigou-to-consumer (D2C) marketplace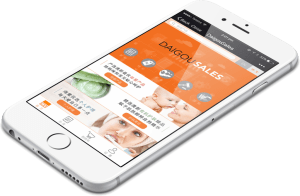 Dr Matt McDougall, is the president of the Australia China Daigou Association and also founder of marketplace Daigousales.com. "We get a lot of brands coming to us asking if we can get daigous to tell them about pricing, look at their products and see if they like them," he says.
McDougall's created the first daigou-to-consumer (D2C) platform enabling brands to sell via daigou buying agents to millions of consumers throughout China. The DaigouSales marketplace has more than 200 manufacturers and over 30,000 products and boasts the most comprehensive range of well-known and emerging local brand in the Australasia region for the daigou buyer.
His site encourages brands and manufacturers to reach out to daigous and open up a new customer market. It provides brands with a fully managed and operated e-commerce store, cross border payments, and warehousing, fulfillment and shipping solutions.
Service plans for merchants and manufacturers start at $150 per month for the basic "Red Packet" package and up to $2,000 per month for a full-service online store, advertising and social media promotions program in Chinese language.
A personalized shopping touch
China Market Research analyst Benjamin Cavender says the phenomena is a product of mobile phone technology, social media apps and mobile payment technologies.
Despite the underlying technology, the business is hands-on and interpersonal using mobile phones and social media apps to take orders and finalize payments.
You might say daigous are an emerging group of influencers that smart marketers may want to connect with soon.