Last-mile delivery is one of the biggest logistics challenges in business and e-commerce, no matter if you're Amazon or an agile startup. In fact, whether it's groceries, the latest electronic gadget, pizza, or your favorite summer reading novel, last-mile delivery makes up 25% of the cost of delivery for most businesses.
The search for more cost-effective, faster delivery solutions spans the spectrum from drones and cute, cooler-sized bots to bicycles and driverless, electric vehicles. Hundreds of millions of research and development and VC dollars are being invested in solutions from the practical to some fascinating Rube Goldberg contraptions.
We've got a snapshot of the most interesting and innovative leaders in last-mile delivery to keep your logistics team hopping, or should we say, rolling?
Amazon Scout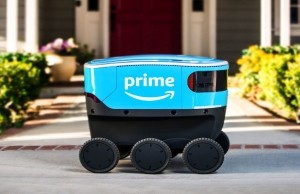 Just north of Amazon's head office in Seattle, six cooler-sized Amazon Scout robots began testing deliveries in Snohomish County for Amazon Prime members. With its same-day delivery service in many big cities around the world, Amazon has set the bar for last-mile deliveries. Robotics are a big part of the future delivery picture and the company is continuously investing in research and testing everything from drones to robots to enhance service and reduce the cost of deliveries. The low cost of production of the Scout robots is certainly appealing compared to a fleet of vehicles and drivers. If anything, Amazon Scout wins the prize for cutest and coolest delivery vehicles. Also, worth a mention is Amazon's Flex program which recruits independent, part-time drivers to help with product deliveries using traditional vehicles.
Boxbot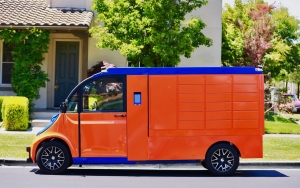 Boxbot's blue and orange autonomous Polaris GEM delivery vans look like life-size Tinkertoys, but they use an array of high-tech radars, cameras, and ultrasonic sensors to get packages from warehouse to customers. The firm has a new contract with shipping company OnTrac to deliver packages in the Oakland area. With $9 million raised to date and Toyota AI Ventures as an investor, Boxbot uses a combination of self-driven vehicles, automated local hubs, and custom software to try and increase efficiencies and crack the cost of delivery conundrum.
Nuro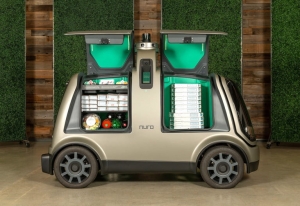 Robo-delivery startup Nuro and Domino's are partnering in Houston for deliveries of pizza to hungry customers. Nuro's cool, autonomous vehicles are prowling the streets, poised to deliver the latest pepperoni or three-cheese pizza orders. The company has also worked closely with Kroger's to deliver groceries in Houston and Scottsdale, AZ. It's driverless, electric vehicles are easy on the environment and loaded with safety features including state-of-the-art software and sensing capabilities. Founded in 2016 by two ex-Google Waymo engineers, Nuro has raised nearly $1 billion with $940 million most recently from SoftBank in February 2019.
Kiwibot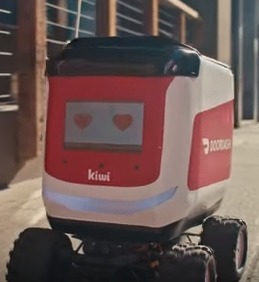 Along the same lines as Amazon Scout, Kiwibot is another cooler-sized delivery robot providing mostly on-campus food delivery, but also capable of delivering groceries, back-to-school supplies, and other products. Since launching in 2017, Kiwibot has made over 35,000 deliveries, built over 150 robots, partnered with companies like DoorDash, and is now serving college communities in several US locations. Last December, San Francisco banned sidewalk bots for fear of congestion and public safety. So, the industry does have its challenges ahead. The Kiwibot app has a 4.5/5 rating in the Apple Store and the friendly, iconic robots have captured the attention of late-night, starving students working on deadline or studying late for final exams. Kiwibot has raised more than $2 million in funding. Who you gonna call when you've got the munchies at 1:00 AM? At campuses, including Berkeley, that would be Kiwibot.
Segway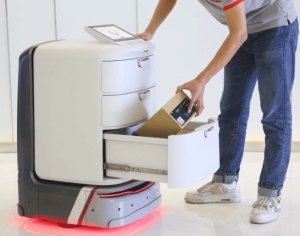 Remember Segway, the personal mobility company? Meet the Loomo Delivery, Segway's entry into the last-mile delivery race. Looking like a cross between R2-D2 and a photocopier, Loomo is targeting the office delivery market. It uses a cloud-based navigation system and set of APIs that allow visual localization, updates of its map and knowledge base, and dynamic obstacle avoidance. It can transport different kinds of goods from food to packages up to 70 liters in volume and 50 kg in carrying capacity, with an eight-hour run time. Loomo has automatic charging stations, uses 4G Wi-Fi and can be configured with a six-core processor and 10-inch interactive screen. Your favorite episode of The Office just got more interesting.
Anybotics and Continental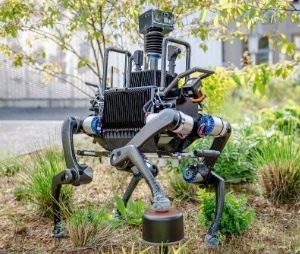 Swiss Anybotics and US Continental introduced a new robot delivery system at CES 2019. Think of it like a delivery van (Continental) carrying a load of mad robot delivery dogs developed by Anymal. This will scare the heck out of you or amuse you when you see the video of the robotic delivery Anymal bots being unleashed from their driverless van. The multi-purpose robot platform can be used in industrial indoor or outdoor sites for inspection and manipulation tasks, in natural terrain or debris areas for search and rescue, or on stage for animation and entertainment. Its four legs allow the robot to crawl, walk, run, dance, jump, climb, carry – whatever the task requires. Hey, Anymal! C'mere boy. Fetch me a Coors!
Postmates Serve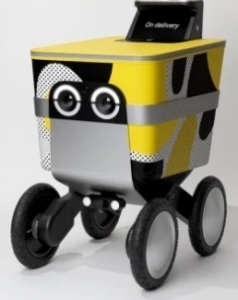 Another entry in the friendly, fuzzy bot category is Postmates' Serve, an electric delivery rover that can deliver up to 50 pounds over a distance of 30 miles on a single charge. Serve's socially aware navigation combines design and technology in a new way for sidewalk delivery bots. They are guided by an advanced set of sensors including Velodyne Lidar and an NVIDIA XAVIER processor, allowing customers to interact with a simple touch screen. Serve has dynamic lighting in its cute little eyes and a light ring on top to signal movement like a change in direction, so there's little chance of an accidental conjunction at the sidewalk junction. Now testing in Los Angeles, we wonder how the 350,000 traditional Postmates delivery people in its 550 US cities feel about automation?
Marble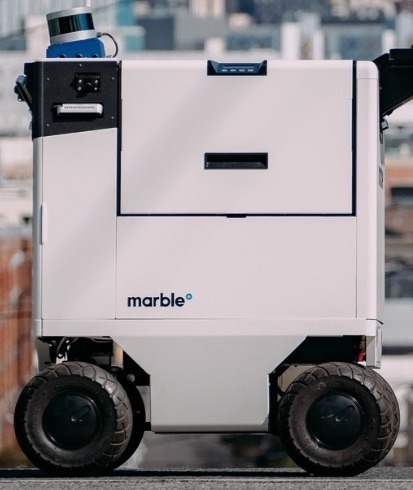 San Francisco-based Marble launched in 2015 and its intelligent courier and delivery robots have delivered food for Yelp Eat24 in San Francisco since 2017. With recent San Francisco concerns about sidewalk robots, Marble is actively developing new markets in addition to restaurants, including groceries, prescriptions, and package deliveries. "It's a lot more than just food delivery. It's about rearchitecting the urban supply chain of the future, to open up these services that everyone can afford," CEO Matthew Delaney told TechCrunch, "and bring that next level conveyance to everyone. The at-home parent with six kids or the homebound, elderly or disabled. They don't have this option. Nobody can afford these services." Marble raised $10 million from 17 investors in April 2018.
Starship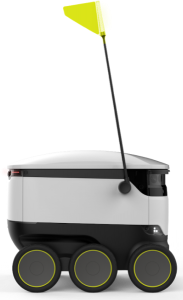 Stop us if you've heard this one. A friendly, cooler-sized robot delivery vehicle… Created by the creators of Skype, Starship was one of the original self-driving bot delivery developers, launching in 2014 and raising more than $42.2 million in VC financing to date. It's been tested in more than 100 cities and completed more than 33,000 deliveries so far. Starship uses a combination of mobile technology, autonomous robots, and partnerships with stores and restaurants to make local delivery faster, smarter and more cost-efficient. Starship robots are advanced devices that can carry items within a 4-mile radius.
Robomart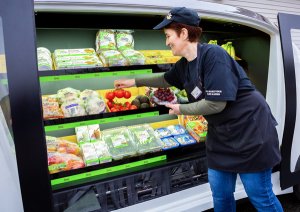 Robomart is a grocery store on wheels, delivered using a driverless vehicle. Using checkout-free technology, the consumer pays for products taken from the vehicle automatically. Robomart is operated remotely, creating a brand-new channel for retailers who can lease the store and offer consumers a new way to shop for goods, right at their doorstep. Consumers simply call the nearest Robomart, pick their products, and are automatically billed using "grab and go" technology. The technology provides detailed analytics on sales and consumption patterns, the ability to expand store footprints with no initial capital expenditure and access to an autonomous fleet management system that manages orders, routing, restocking and teleoperations. The company launched in 2017 and is headquartered in Milpitas, CA.
Walmart Spark Delivery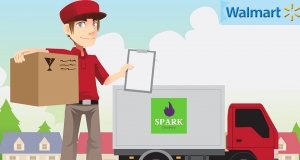 Our last-mile leader list wouldn't be complete without a mention of Walmart's efforts to provide effective, less expensive, last-mile delivery. The retail giant is using a mix of in-house, third-party and contracted delivery service providers. Spark Delivery is a crowd-sourced delivery platform that uses an in-house platform that provides drivers with the ability to sign up for windows of time that work best for their schedule as well as Grocery Delivery order details, navigation assistance and more. Components of Spark are powered by Bringg, a leading delivery logistics technology platform. Walmart's team of personal shoppers are also an important part of the program. Spark Delivery uses independent drivers from Delivery Drivers Inc, a nationwide last-mile contractor, to complete deliveries.
While some of the delivery companies appear to have similar delivery vehicles, each has unique technologies, different markets, unique payments approaches, and custom features and advantages for both business and consumers. Delivery companies have capitalized on venture capital interest, and now it's up to them to deliver inexpensive, if not free, delivery for consumers who have now been conditioned to expect it.
Visuals courtesy of our last-mile innovators