It's official. Amazon announced a pilot program for Amazon Scout – a robot that will deliver your Amazon purchases to your front door.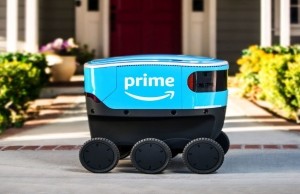 Six of the cooler-sized robots started testing deliveries in Snohomish County, just north of Amazon's Seattle head office.
Initially, the six-wheeled robot mini-vehicles will be accompanied by an Amazon employee as the field test is carried out.
"The devices will autonomously follow their delivery route but will initially be accompanied by an Amazon employee," Amazon said in a statement. "We developed Amazon Scout at our research and development lab in Seattle, ensuring the devices can safely and efficiently navigate around pets, pedestrians and anything else in their path."
Prime Members first
The service will first be offered to Snohomish County residents who purchase online as usual, requesting same-day, one-day, or two-day delivery.
Deliveries will be scheduled Monday to Friday, during daylight hours initially.
Amazon has experimented with other last-mile delivery programs such as delivery to customer vehicles, garages or inside customer front doors. Amazon Prime Air has also tested a drone-delivery option since 2013.
Other self-delivery or driverless delivery companies in the space include Starship, TeleRetail and Marble. Walmart has tested driverless delivery vehicles in Arizona with Google-owned Waymo.
Challenges ahead
Wired reports there are challenges ahead for Amazon's autonomous robot delivery services. Starship, which launched in 2014, had already traveled 62,000 miles in its test programs by 2017.
Traveling on sidewalks, navigating people and pets is no pushover for robot developers. Vehicle security, safety, road crossings and curious passersby all make for a constantly changing mix of hurdles to get your package to your front door.
And if you're not home when the robot arrives or there's a malfunction? How will returns be handled? We're not very far down the road or sidewalk yet.
Bots on fire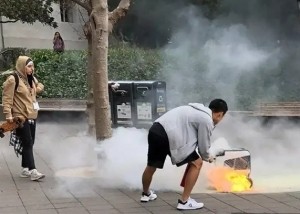 KiwiBot robots have 100 robots delivering food orders on UC Berkeley campus, but last month a robot caught fire due to a battery problem. The Daily Californian student newspaper's Sophia Brown-Heidenreich reported humorously, "Students have called for a moment of silence, suggesting finals next week may have finally gotten the robot, as well."
Fortunately, no meals were on board or burned and no students went hungry.
The cost savings, energy efficiency, improved customer service and coolness factor are destined to keep companies trying to solve the last-mile delivery and logistics challenge. Let's just say Amazon is primed to come out on top over the long run.
Visuals courtesy Amazon, The Daily Californian
Updated 2:00 PM