The checkout line is getting crowded with point-of-sale (POS) finance competitors each looking for a slice of the consumer lending market with the help of innovative technology and platforms.
Filene Research Institute estimates the annual size of the POS finance market in the US at $391 billion – about 3.5% of annual consumer spending—with healthcare, electronics, and home furnishings products as the most popular consumer categories. The global POS finance market is estimated at $6 trillion.

POS financing company ChargeAfter just completed an $8 million Series A financing and it reflects increased market interest in the e-commerce and retail consumer POS lending market.
"ChargeAfter provides a single point for retailers to tap into multiple lending partners, for lenders to scale up, and for consumers to access fair and competitive credit options when they need it," said founder and CEO Meidad Sharon a news release. "Previously, it was too cumbersome for merchants to build and manage various lending partnerships, and with limited options, consumers all too often faced rejection during point-of-sale financing."
Driven by fintech innovation, these new lenders say consumers benefit from lower costs, more choice, convenience, and faster credit approvals. Merchants get increased sales, bigger average order sizes, a larger customer base, simple integration, and easy to use technology platforms.
How does ChargeAfter work?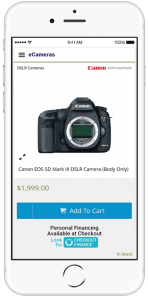 Through a global network of lenders, ChargeAfter provides instant financing for customers wherever they buy – online, mobile or in-store. When consumers reach an online cart or store checkout, they click on the ChargeAfter Checkout Finance button, answer several questions and are matched with a credit offer within seconds. The customer approves the terms and the transaction and loan are completed.
The network of lenders includes Synchrony (also an investor), Fortiva, Genesis, Progressive, Zibby and many others in the US and globally.
Through ChargeAfter, merchants are typically able to offer customers a wide range of payment choices, including buy-now/pay-later, split payments, pay overtime, credit lines, 0% APR and positive interest rates, with payments ranging from six to 48 months as well as deferred interest financing plans.
Merchants typically are paid within one business day after settlement, similar to credit cards. Fees for the loan services are paid directly to lenders by merchants. On the backend, retailers have a single platform to manage transactions from all lenders with a simple dashboard that filters charges according to channel, lender, and country.
Higher loan approvals & sales growth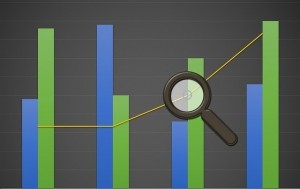 ChargeAfter says its merchants have had an average of 85% approvals for consumer POS loans compared to an industry average of 30-50%.
Some merchants in ChargeAfter's network have seen a 30% increase in sales as well as a 50% increase in average order size according to the company.
"Everyone wins with ChargeAfter. Shoppers get instant, personalized loans. Merchants increase sales and enjoy simplified transaction processing. Lenders reach new consumers and reduce integration costs," said Elie Wurtman, managing partner at PICO Venture Partners, which participated in the most recent financing.
Among the merchants working with ChargeAfter are Wayfair, Abes of Maine, Colemans furniture, and many others.
Who else is lending to POS shoppers?
According to CB Insights data, nine POS lenders have raised $700M+ across 14 deals between June 2017 and December 2018.
In addition to relative newcomer ChargeAfter which launched in 2017, competitors include Square, Klarna, Affirm, Greensky, Divido, and others.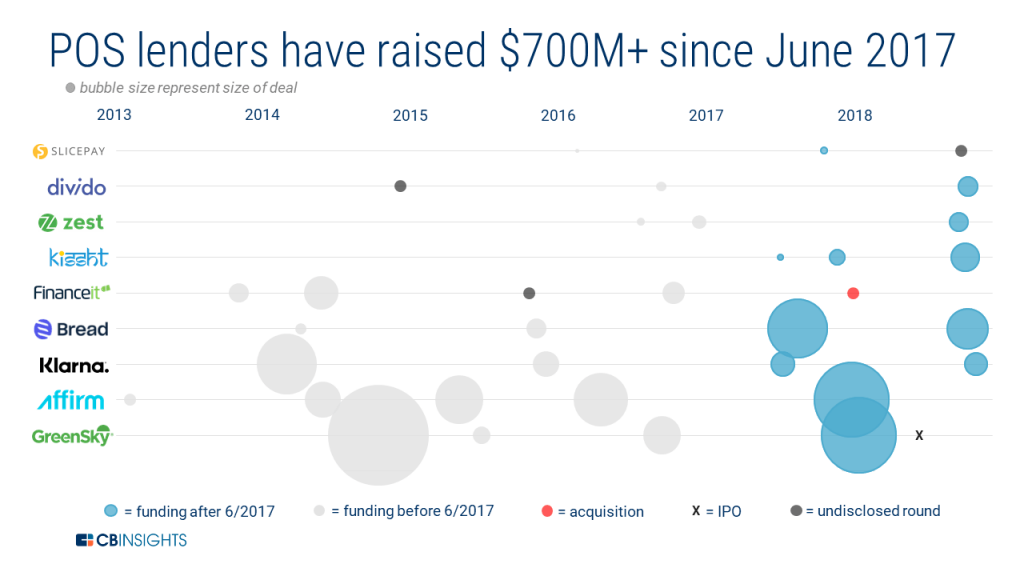 Square lends to shoppers through merchants with Square POS terminals and provides three, six or nine-month payment plans to approved consumers in amounts from $250-$10,000 at annual rates of 0%-24%.
PayPal Credit offers a six months interest-free" through any merchant that offers PayPal as a payment option, with or without the merchant's approval.
Swedish-based Klarna works with more than 70,000 merchants and received a $20 million investment from global retailer H & M. The company now has more than 60,000 customers.
Greensky recently went public, raising $874M on the NASDAQ with a $4.3B valuation. It works with more than 16,000 home contractors, specialty retailers, and healthcare professionals to offer POS financing for consumers.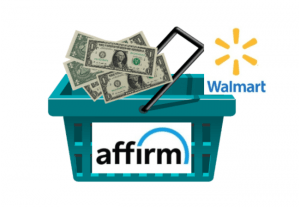 By the end of 2017, Affirm made more than 1.5 million loans at the POS for its 1,200 online and retail partners including Warby Parker, Shopify and Wayfair. Earlier this year, it announced a deal to provide POS loans to Walmart US customers.
Divido raised a $15M Series A from American Express Venture, MasterCard Worldwide, Dawn Capital, and DN Capital in 2018. It offers B2C and B2B point-of-sale loans to customers at checkout through more than 1,000 partners.
Other POS lenders include Bread, ZestMoney and Kissht in India, Slice Pay, Zibby, Revo, Blispay, and Flexiti in Canada.
The growing number of POS lenders should be good news for consumers, but not necessarily positive news for traditional banks and other mainstream lenders. In Cornerstone Advisors' 2019 What's Going On in Banking study, only 3% of banks and just 12% of credit unions said POS loans were a high priority in 2019. For many traditional financial institutions, the POS loans train has already left the station.
As in other payments industry market segments, you can expect to see further new investment, mergers, acquisitions, and partnerships in the future as the POS loans market continues its rapid growth.