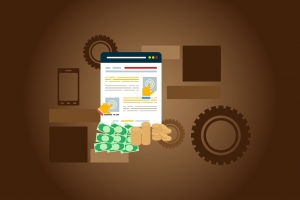 Last week's post on B2B cart abandonment really sparked some conversations and reflections on how fast B2B selling is changing. The bottom line was businesses are leaving a lot of money on the table by not ensuring a smooth process and top-notch e-commerce platform to sell to other businesses.
MSTS research found 90% of business buyers research a vendor's payments options and 74% of B2B buyers will buy from a competitor if your e-commerce process doesn't meet their expectations.
Content matters equally
A Marketing Charts graphic showed that B2B buyer pain points aren't just about the payments and checkout process. It's also critical to meet the information needs of your customer in advance.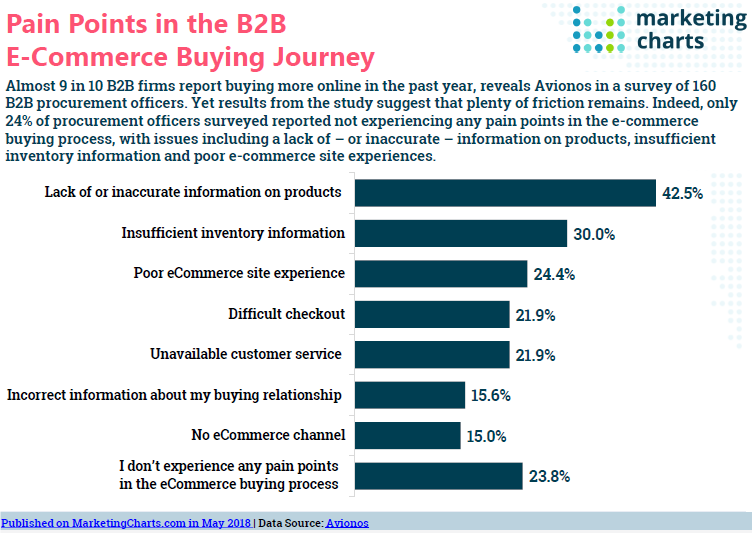 Only 24% of buyers surveyed by Avionos said they did not have problems in their e-commerce buying process. Aside from technology problems, B2B buyers cited a lack of or inaccurate product information (42.5%), insufficient inventory information (30%), a poor e-commerce site experience (24.4%), unavailable customer service (21.9%), difficult checkout (21.9%), incorrect information about their buying relationship (15.6%), and no e-commerce channel (15%).
These problems were not about the challenge of implementing a user-friendly site or a painless payments process with technology. They're content and customer service issues, pure and simple. Relatively easy to solve by ensuring the customer has the information they need to make their buying decisions.
Then you can worry about B2B customers paying for it easily.
Today's B2B buyer demands
The Avionos procurement officers report offered three key findings: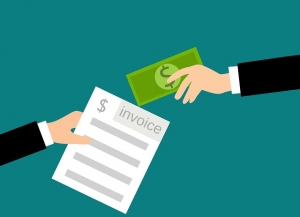 Nearly 9 in 10 of procurement officers (89%) say they make more purchases online today compared to just a year ago.
83% of B2B buyers will spend more to purchase products from suppliers that offer robust e-commerce experiences.
Nearly all procurement officers (97%) consider a supplier's customer portal offerings a critical factor when selecting a supplier.
CNBC reports that 10,000 US baby boomers reach retirement age daily, so understanding and meeting the needs of new tech-savvy B2B buyers is critical.
As Avionos states: "E-commerce is non-negotiable for B2B businesses today. So, what exactly does robust B2B eCommerce look like? You need to offer your customers the ability to research, configure and purchase products via self-service portals before, after and even during an interaction with a sales representative. But to maximize revenue from digital channels you need exceptional content and the agility necessary to quickly adapt to changing customer needs."
The B2B buyer journey
These days, it's not just consumers who start their product search on Amazon and Google:
"Nearly eight out of 10 B2B buyers (78%) start their product searches on either Amazon or Google. Only 15% start with a supplier's website, and just 6% pick up a supplier's catalog, even when they already have a preferred supplier."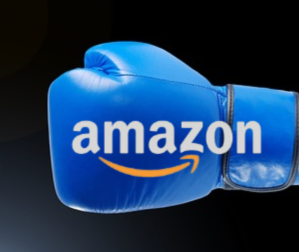 Quality content can make the difference and that includes detailed product specs, higher quality video and product images, white papers, infographics, and other information that both informs and instills confidence.
Remember that 43% of procurement officers who said inaccurate content was their biggest pain point.
Your business competes with Amazon too
Avionos noted 65% of B2B buyers now make more purchases through Amazon.
That means your business is competing with Amazon just as much as your industry niche competitor. Getting customer feedback and updating your product and service information accurately and quickly are critical components to building trust and sales.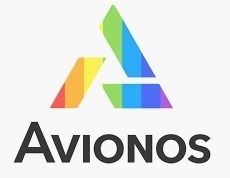 You've worked hard, spending a lot of valuable time and money on your technology and payments platform. Now, the key question. Does your content meet the needs of your B2B customers? If it does, sales success is just ahead.
You can download a free copy of the Avionos Procurement Officer Report here.