MSTS is out with a new report on B2B sellers and buyer payment preferences. There are valuable insights and solutions to some of the challenges faced by B2B sellers, but one statistic shocked me.
The research showed that 57% of B2B buyers did not complete a purchase for their companies because the vendor checkout process took too long. With all of the tools and technology, choice of payments partners, and features available to B2B vendors, it's hard to imagine that businesses selling to business would see cart abandonment levels this high.
The good news is there are solutions and some very real ways that businesses can lower their B2B costs, increase sales, and improve the chances of securing business customers for life.
B2B payments overview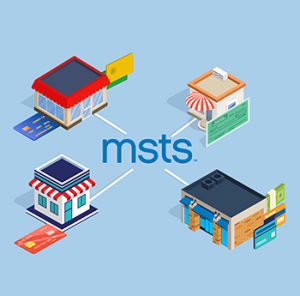 MSTS found that 90% of customers research the seller's payment options before buying. It also found 74% of B2B buyers will purchase from a competitor if a vendor's e-commerce store can't meet their purchase expectations.
"B2B eCommerce transactions today are often limited in how customers can pay. The payment mechanisms typically found online are credit cards, which are expensive for sellers and difficult for buyers to reconcile once the statement arrives. Invoices are hard for buyers to find and download, and the ability to apply procurement processes is fraught with complications or entirely absent. These factors combine to make eCommerce for B2B transactions much more painful for customers when compared to their B2C purchasing experiences," MSTS President, Brandon Spear said.
Research showed 86% of B2B buyers use credit cards to make purchases online on a weekly or monthly basis. The interesting thing is that this may not be their preferred way to pay and that offering alternatives could increase your sales.
In fact, more than three-quarters (77%) of all B2B buyers agree vendors should offer additional payment options beyond credit cards to improve the buying experience. 50% of B2B buyers said they prefer a payment method other than a credit card when purchasing for their company.
This really shattered my preconceived notions about the B2B market.
B2B payments problems abound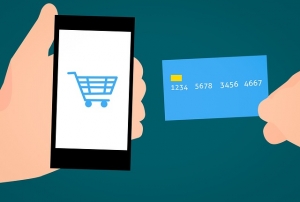 What else are buyers saying about B2B payments? Another big surprise is how many B2B buyers experience problems with their payments.
"Ninety percent of B2B buyers who make purchases once a week experience some sort of pain during the purchasing process, compared to 79% of B2B buyers who make purchases monthly. Among the most prevalent sources of concern for B2B buyers is a drawn-out checkout and onboarding process as well as a lack of preferred payment options," the report said.
Let's look at what the MSTS research found when it comes to key B2B payments problems:
90% of B2B buyers who make purchases once a week experience some sort of pain during the purchasing process
48% of B2B buyers did not complete a purchase for their companies because their preferred payment method wasn't an option
77% of B2B buyers say it takes a day or more for a new vendor to onboard them before they can make purchases online
27% of B2B buyers agree the time it takes to complete onboarding for payment on terms can create frustration when they attempt to make purchases for their company
76% of B2B buyers have encountered an issue that has prevented them from completing an online purchase with a credit card
79% of B2B buyers who most often use credit cards to pay for online purchases experience post-transaction pain.
While this may look like a long list of payments challenges for B2B vendors, the solutions are not as difficult as they may look according to Spear.
Solutions to B2B payments problems
B2B buyers were clear about their payments preferences and their answers provide a path to solutions for B2B sellers.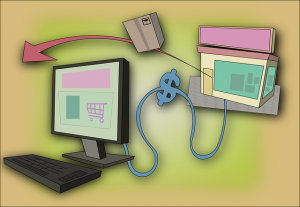 MSTS learned that 50% of buyers prefer a payment method other than a credit card when purchasing for their company. And, 77% of all B2B buyers agree vendors should offer additional payment options beyond credit cards to improve the buyer experience.
"A payment option beyond credit cards that businesses may want to consider offering is ACH. Credit cards are often declined due to suspicion of fraud or expired cards and ACH minimizes those failures. In addition, ACH typically has low or flat rates and offers more controls on payment dates," Spear said.
Clearly, the limited payments options most B2B vendors offer are out of step with buyer expectations. That gap is even bigger if you're selling across borders or on other continents were payments preferences are local or very different from our typical North American credit card payments bias.
Advantages of terms & invoices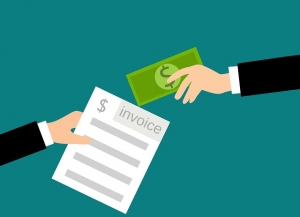 Here are two more great opportunities for businesses to outmaneuver competitors.
If offered invoicing at checkout with 30-, 60- or 90-day terms, the research found 82% of B2B buyers will choose another vendor. "MSTS' InvoiceMe tool is attracting interest from B2B companies adding an e-commerce channel to their business. InvoiceMe easily integrates into any eCommerce platform to allow invoicing at checkout," Spear said.
Invoices also provide an opportunity to meet the needs of 81% of B2B buyers who prefer to get invoices for recurring subscription purchases for their company and 74% of buyers, if given the option of paying by invoice, will buy more products or services from a vendor.
Cleaning up the payments user experience can also pay dividends. You might start with the 79% of B2B buyers who most often use credit cards who experience post-transaction pain. Reducing onboarding time for new buyers will also speak volumes to the 27% of B2B buyers frustrated by new account opening delays.
With the right payments provider/partner that could generate substantially more sales and potentially reduce the cost of credit card transactions.
Reaching a new generation of buyers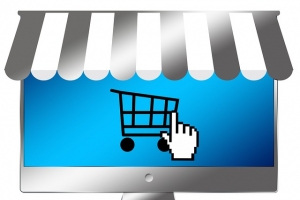 In a nutshell, B2B sellers need to offer more payment options, consider net-30 payment terms, reduce checkout friction, increase speed of onboarding new "payment on terms" buyers, consider new features that improve customer experience, coordinate omnichannel purchasing experience, and improve appeal to millennial and other younger generation buyers who have different experience and needs.
Meeting the expectations of new, younger Millennial and Generation X buyers means offering additional payment options beyond credit cards. 58% of Gen X, 54% of Millennial and 30% of Baby Boomer B2B buyers agree vendors should make additional payment options beyond credit cards a priority.
Featuring an alternative eCommerce payment tool such as MSTS's InvoiceMe automates the customer onboarding process and issuing credit lines in less than 30 seconds will have immense appeal to buyers.
Credit as a Service (CaaS) is also a valuable option to consider.
"Credit as a Service is a B2B commerce model developed by MSTS that allows B2B sellers to extend risk-free credit to their buyers. MSTS' InvoiceMe tool provides an additional option to pay by invoice when completing a transaction online. This allows the buyers to transact with their vendors the way they historically have, by invoice, often with terms extended. In addition to reducing risk, CaaS can cost up to 30% less than credit cards," he explained.
Spear said smart integrations can also make the payments experience more seamless and machine learning helps anticipate customer needs. "Integrations are key to creating frictionless commerce for both customers and sellers. A digital-first strategy requires the coupling of many systems from CRMs and PIMS to eCommerce platforms and ERPs. In addition, integrations allow companies to select the best of breed technologies to support their processes while providing a superior purchasing experience."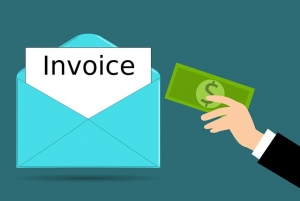 These integrations allow for solutions like InvoiceMe to be easily deployed on any e-commerce site. Instead of requiring customers to request additional credit every time their cash flow dries up, companies can leverage available data — such as a buyer's purchase history — to automatically adjust a customer's credit limit.
"MSTS can help sellers extend risk-free credit lines up to $250,000 in under 30 seconds and onboard customers instantly. By using artificial intelligence and machine learning, MSTS can flex the credit line up or down depending on a buyer's risk profile without manual intervention," Spear said.
Improving the omnichannel sales options is important to provide a consistent experience. Spear notes 98% of B2B buyers believe it's important to have the same purchasing experience across all platforms (in-store, sales, online).
Payments opportunities ahead
The MSTS report paints a clear picture of the opportunities for B2B vendors to decrease payments friction, lower costs, and increase sales.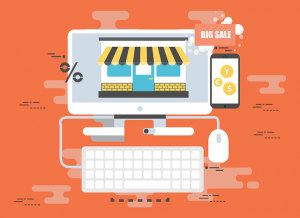 Spear says sellers must solve the issues that continue to plague the payment process or risk losing customers to the competition. With the ability to switch vendors at the touch of a button, B2B buyers aren't likely to stick around if the payments experience isn't up to par. Sellers striving to maximize the lifetime value of each customer need to identify and deal with pain points that continue to hamper customer satisfaction.
"The B2B $1.2 Trillion e-commerce market opportunity is driving many companies to prioritize their digital strategy," Spear added. "Many manufacturers are working to go direct and to get closer to their end customers. This is a fundamental shift in the way they have traditionally done business and will require these companies to change many of their processes – including payments." 
That leaves B2B vendors with some interesting opportunities and some important questions to ask their payments partners and providers.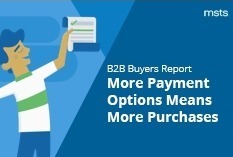 MSTS is a financial technology company, working globally with B2B companies in transportation, manufacturing, retail and eCommerce, and processing over $5 billion in transactions a year. You can download a copy of the MSTS "More Payment Options Means More Purchases" report here.
You also read more about consumer cart abandonment at our recent post "Cart abandonment costs online retailers billions."