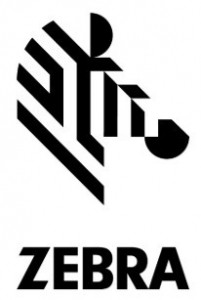 Did you know nearly half of customers are still dissatisfied with the customer service that's offered in-store and online?
According to Zebra Technologies' 2018 Shopper Study, 44% of shoppers are not satisfied with staff availability and customer service in-store while 55% are unhappy with the same online. That's a lot of shopper friction.
There's a bit of good news – 65% of consumers overall are happy with their in-store shopping experience. It's the other 35% that retailers need to focus on.
What's got shoppers upset?
Most consumers with smartphones can research the products they want with quick convenience, and they expect the same experience online as in-store.
Here are the key complaints shoppers have:
53% of in-store shoppers (51% online) are unhappy with the customer return/exchange process
66% of shoppers prefer same day or next day delivery but 27% of shoppers are not willing to pay for delivery at any speed
53% of millennials say they are better connected than store associates as do 42% of Gen X and 26% of boomers
70% of shoppers leave without purchasing something in-store
36% of specialty apparel and fashion retail shoppers cited the primary reason for leaving the store without the article they wanted was for product selection and 34% were dissatisfied with the displays
60% of sales can be recovered by retailers who offer discounts and fulfillment options.
What's a retailer to do?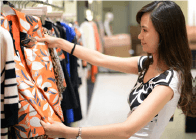 In short, shoppers want quick, friction-free product search and purchases. Retailers need to do a better job on pricing, staff training, overall customer service, and improving product exchanges and returns.
Helping customers find products more easily and ensuring product availability are key. According to the report, empty shelves cost retailers $238.1 billion a year while hurting brand integrity and compromising shopper loyalty.
36% of customers left specialty apparel and fashion retail stores because of poor product selection while 30% of grocery/supermarket and 26% specialty apparel shoppers left a store if the product was unavailable.
Technology can help recover sales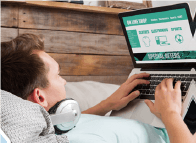 More than half of shoppers believe technology can improve the shopping experience. 60% of shoppers say store associates who use mobile devices for customer assistance improve their shopping experience.
"Smart retailers are empowering front-line associates with mobile computers and tablets that make it easy to conduct inventory and price checks, scan coupons and communicate across the sales floor and the stockroom without ever having to leave the customer's side. They are also working behind the scenes to reduce out of stocks and boost inventory accuracy to better locate merchandise, whether it's in a warehouse, in the stockroom or on the sales floor," the report says.
When it comes to technology to recover sales, the research showed several opportunities:
59% of consumers would order the out-of-stock item and have it delivered to the home
59% would consider coming back to purchase an out-of-stock item if a discount is offered
54% would appreciate if another store has the stock and directions on how to get there
50% might order the out-of-stock item online for pickup in-store
45% will find a substitute product in-store.
What technologies are customers interested in in-store?
Customers are becoming more purpose-driven in their shopping. 35% of shoppers said they purchase only those items they plan to pre-to buy, resulting in a challenge of getting them to stay longer and buy impulse items.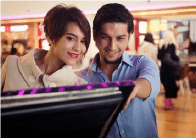 Researchers found shoppers are very interested in technology that improves their in-store experience and will stay longer if they have an enjoyable experience. Among the strongest preferences by shoppers were best personal prices, electronic shelf labels, smart carts, and intelligent dressing rooms.
When it comes to sales associates using technology, shoppers believed they improved shopping experience: 62% using handheld mobile scanners to check prices and availability; 58% using mobile POS payment devices; 57% using tablets for product information and customer engagement; and 51% using kiosks or terminals to check prices and product information.
Customers wanted other benefits from sales associates using technology including finding additional discounts (68%); previous purchase information (36%); style preferences (31%); new product info (28%); and profile information such as name and age (25%).
66% of shoppers are engaging in showrooming — browsing merchandise in store to purchase online later.
In-store shopping still matters
The good news for retailers is in-store shopping is still an important part of the customer journey.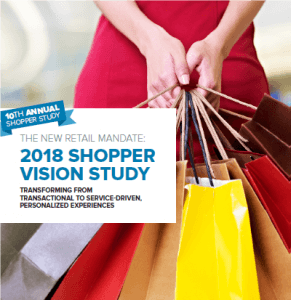 The job for retailers is to make sure that shopping in-store still makes a difference for customers. The right selection, attractive displays, trained staff, and competitive prices make all the difference, especially when supported with technology and online shopping options.
You can get your free copy of Zebra Technologies' New Retail Mandate: 2018 Shopper Vision Study here.