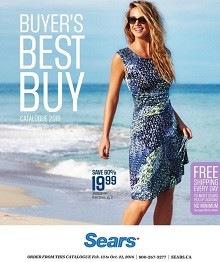 Founded in Chicago in 1892, Sears, Roebuck & Company began business as a mail order catalog company. It began opening stores in the US in 1925 with its first store in Evansville, Indiana and was the largest-selling US retailer until Walmart surpassed it in 1989.
Sears fall from grace and success has been well told leading up to today's last-ditch fight for survival but it's interesting to look at how e-commerce may have saved the company.
From catalogs & marketplaces
In 1933, Sears published its first Christmas Wish Book catalog.
Imagine if Sears had been able to pivot when e-commerce became popular? In many ways, its catalog sales were not much different from today's online Amazon giant.
You browsed the catalog, picked your product, placed your order, paid, and magically your product would be delivered at some point many weeks in the future.
Sounds surprisingly like Amazon, except for the catalog, now online marketplaces, and delivery today or tomorrow instead of weeks in the future.
Where did Sears miss the e-commerce boat?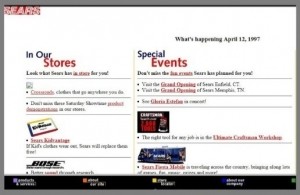 Sears missed the e-commerce evolution badly, but it was because of earlier problems.
When competitors like Walmart and Costco arrived, Sears could not compete on price, costing consumers 20% to 30% more.
According to Graham Robertson, author of Beloved Brands:
"This is the classic retailer who tried to be everything to everyone. Sears failed because they let Walmart steal their low-price positioning at retail, and then let Amazon steal their catalog shopping model."
Sears simply lost its point of difference. It was so busy competing on price with Walmart, Costco, and others that it didn't capitalize on the opportunity of online sales when it may have been able to thrive in the e-commerce economy.
The data tells the story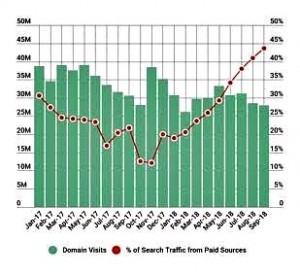 Search Engine Watch provides a fascinating look at the data behind Sears.com between January 2017 and September 2018. What it reveals is the company failed to react fast enough to competition, technology and e-commerce competitors.
Sears.com online website traffic is barely grown during the past 21 months. The number of transactions was virtually the same, growing only 0.03%. Website traffic was down 16% for the year.
At first glance, Sears appeared to be converting sales better despite lower traffic. "The bad news is almost half of search engine traffic now comes from paid search ads. That's up from just over 20% from the same time last year. Nearly half of its traffic comes from Google promotions," says Search Engine Watch.
That's an expensive way to run an online business when traffic is declining, your brand is suffering, and bad news confronts you daily.
Failed to capitalize on brand value
Sears' historically strong value brands like Craftsman, DieHard, and Kenmore meant little to new generations and online savvy shoppers. Sears failed to move fast enough to capitalize on this quality/brand advantage and convert it into online sales.
Meanwhile, in-store started to resemble empty gymnasiums with crumbling presentation, poor product quality and an unpleasant shopping experience for new consumers accustomed to a show.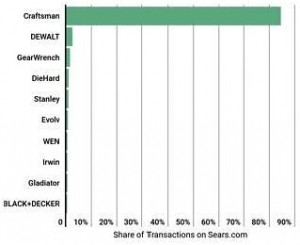 According to Jumpstart data, Sears' strongest online products are tools, appliances, and shoes which make up half of sales online. In fact, led mostly by the Craftsman brand, the tools category actually grew 50% year-over-year.
But, 84% of tools purchased on Sears.com are driven by Craftsman, which makes up 20% of all online sales for Sears. Such a narrow niche is not a recipe for department store e-commerce success despite the brand value.
Appliance sales are down the drain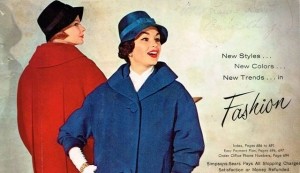 The iconic Sears' Kenmore brand makes up 62% of Sears.com appliance sales but sales are down 0.1% over last year. Despite this history, Sears has a tiny 1.6% share, compared to Amazon's 69% of online sales in the appliance category. Other competitors like Best Buy, Walmart, Lowe's, Home Depot and Kohl's all sell more appliances online.
Sears.com sales performance in the footwear category is simply worn out.
The lack of e-commerce vision and failure to recognize how it's catalog history could have converted into online sales may end up being the epitaph for Sears.
In many ways, it's a sad, common story of today's retailers and the passing of another colorful, storied US retail brand.
Charts by Jumpstart; catalogs and ads courtesy Sears