The cost benefits and ROI of fintech in the financial industry are so obvious, why is business still so slow to adopt many new technologies that can positively impact their bottom line?

A new report for AvidXchange by Levvel Research offers insight into some of the reasons for the resistance.
"B2B fintech has evolved from on-premise accounting systems that help customers manage financial data to dynamic, cloud-based solutions that are impacting almost every area of the business," said Dan Drees, Chief Growth Officer at AvidXchange. "Despite this progress, there are still a significant number of companies who haven't embraced fintech. Understanding why and helping businesses adopt it will be the primary challenge for the financial services industry as we move forward."
AI recognized, blockchain and big data still baffling
Business is starting to get the idea that artificial intelligence is truly a game changer as 43% surveyed were aware of its use in fintech applications and 83% cited AI as a strategic priority. 84% of businesses believe AI will give them a competitive advantage, and 75% say it will allow them to expand lines of business by entering new ventures.

When it comes to blockchain technology, not so much. Only 25% were familiar with blockchain technology's role in financial transactions and compared to machine learning (33%), and big data (34%).
AI is most familiar because it's used more and more to boost productivity by up to 40%, according to the report. Repetitive tasks such as tracking deliveries, gathering basic account information, and simple information requests are easily handled by chatbots or other AI applications.

As a result, the market for AI technology and services is expected to grow to more than $190 billion by 2025. Global revenue for big data and business analytics services will also surpass $274.3 billion by 2022, according to IDC.
Who's using AI for competitive advantage?
AI is now used to audit financial transactions, detect fraud, and evaluate credit and overall financial history to make a recommendation of loan and credit offerings.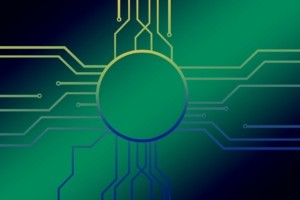 "Companies like Finiata leverage the technology to provide financing and credit solutions, and others like Onfido use it for identity verification for secure employee onboarding," the report says.
AvidXchange uses the technology to automate AP and payment processes and help companies improve cash flow by reviewing historical payment data and using predictive analytics to receive electronic payments sooner on approved invoices. The company recently surpassed 500,000 suppliers using digital payment services in its AvidPay Network.
 "Today's business leaders recognize digital payments as the way forward but are often hesitant to take the first step because their processes are so ingrained in paper checks and invoices," said Mike Praeger, CEO, and Co-Founder of AvidXchange. "We're helping our customers tackle that transition, getting rid of paper and the inefficiency it creates. The continued growth of the AvidPay Network is a testament to the increasing momentum behind digital payments in the B2B market."
Faster payments ahead with AI
AI signals the future of faster payments by attacking two key challenges: simplifying and automating data collection and exchange in digital format; and improving security and speed of connectivity between banks, payment providers and businesses.

A partnership between global payment specialist PPRO and fintech enterprise SaaS company HighRadius is another example of fintech simplifying and speeding up global cross-border B2B payments.
"As a part of our global expansion and offering of our Integrated Receivables platform, we are embracing newer payment methods as they are becoming more relevant to the B2B world," said Sayid Shabeer, Chief Product Officer, HighRadius. "We believe with PPRO we will be able to provide a variety of Local Payment Methods to our clients and keep bringing new efficiencies to transactions."
The benefits and return on investment from AI in payments and financial transactions keep growing. The challenge is staying informed of new technologies will, finding new potential partnerships, and keeping a close eye on your competitors. Oh, and there's still that nagging problem of educating small to midsize business on the benefits as well.
You can read the AvidXchange "Embracing Emerging Technologies: The Future of B2B Fintech" report here.
Visuals courtesy of AvidXchange/Levvel Research