Amazon competitors have found imitation of Amazon's annual July Prime Day sales event to be their own summer sales success stories.
Business Insider looked at several companies including eBay, Walmart, Macy's, Target, and Best Buy and found some compelling, competing summer sales promotions in 2018. Many of the deals offered were even better than traditional Black Friday deep discounts and often included free shipping.
Wayfair's 2018 Way Day was a winner

Edison Trends looked into online furniture and home decor seller Wayfair which launched its own Way Day sale outside of the timeframe of Amazon's summer extravaganza. The results of April 25, 2018, Way Day were impressive:
lowest prices of the year and free delivery
the number of sales quadrupled
average number of unique buyers grew four times
average spending of $276 remained the same compared to the previous month ($275).
By every measure, Way Day 2018 was a success.
2019 Way Day even bigger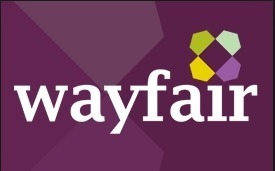 Wayfair's April 2019 Way Day, recently completed, was an even bigger success according to Edison with larger sales than Black Friday and last year's 2018 Way Day event. "Way Day 2019 saw increases in gross sales, orders, customers, and spend per order, compared to Way Day 2018," Edison reported.
Here are a couple of 2019 Way Day sales highlights to illustrate:
sales were 300% higher than the preceding month and up 11% over 2018
37% of shoppers were new Wayfair customers compared to 48% in 2018 while the total number of shoppers was up 9%
the number of sales orders was 9% higher than 2018
average spending per order grew 5% compared with 2018
the sale was extended by an additional half day to accommodate shoppers.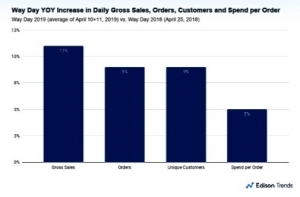 "Way Day 2019 produced a big bump over Wayfair's usual daily take; April 10 and 11 averaged 325% higher gross sales than the previous 28 days, along with 339% more orders, and 315% more unique customers. However, this was not as much of a bump as last year, when the single-day sale produced about a 400% increase in these metrics versus the previous month," the Edison analysis concluded.
These are encouraging results for online retailers who have the resources and savvy to create and manage their own sales day. As well, by partnering with Amazon on its Prime Day event, even the smallest e-commerce seller can boost sales.
You can read more of Edison Trend's analysis of Wayfair's 2019 Way Day in detail here.