The US online grocery market has plenty of room to grow, but new research shows some interesting market dynamics.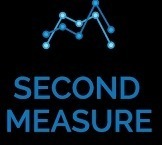 According to a research report from Second Measure, Walmart had 62% more online grocery shoppers in June 2019 than its nearest rival Instacart. So much for the perception that tech upstarts dominate the online grocery market.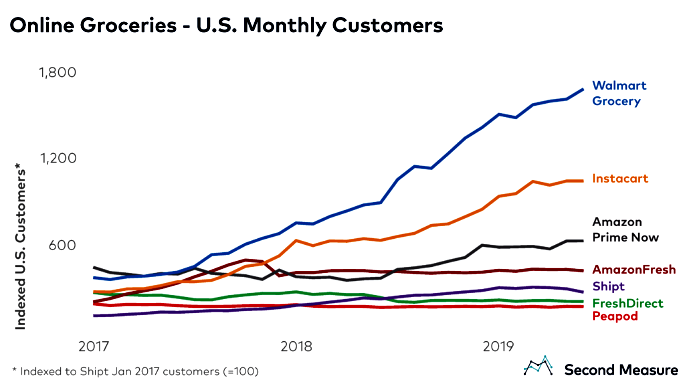 Walmart Grocery operates in every US state and there's no question customers appreciate its huge number of locations both for pickup and delivery services.
Next largest competitor is Instacart, which lost 5% of its business when Amazon took over Whole Foods and their delivery agreement ended in May 2019. Instacart delivers for more than 20,000 stores in the US and Canada and had 23% more customers in June than when it announced the breakup in December 2018. Looks like a fearsome competitor to us.
Walmart leads in middle America, big cities not so much
The June 2019 market share data shows Walmart has a big market share outside of the US largest cities, particularly in Dallas-Fort Worth, where it has 59% of the market, Phoenix (56%), Houston (39%), and Atlanta (35%).

In New York City, local operator FreshDirect has a substantial 31% market share with Amazon Fresh (20%) and Amazon Prime Now (18%). In Los Angeles, Instacart has a commanding 42% of market share with 45% in Miami, 40% in Atlanta and San Francisco, and 31% in Chicago.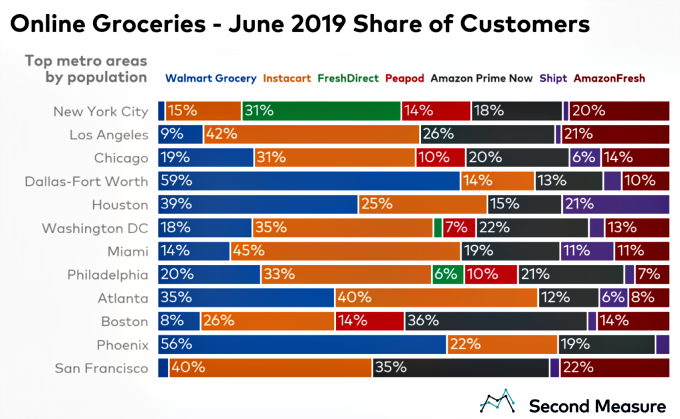 Amazon Fresh is the only company that showed a decline in its online grocery business. Now operating in only 15 cities, its sales are down 19% year-over-year. We don't see Amazon Fresh continuing in its present form for very long.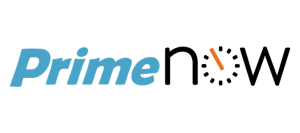 That's balanced by the strong performance of sister company Amazon Prime Now which tripled its growth in the past year, driven by strong Whole Foods promotions and its inclusion in Amazon Prime membership. It now offers grocery delivery in 90 US cities.
Outside of Walmart, what's clear is there's no clear leader nationally with regional and local market share varying widely.
Grocery brand loyalty is strong, growth ahead
Second Measure data shows online grocery shoppers are surprisingly loyal in contrast to broader e-commerce where the price is a bigger, more significant factor.
"Most Americans regularly shop at just one or two grocery stores, so it's not surprising that most online grocery shoppers also stick with their favorite service. This is in contrast to the meal delivery industry, where diners frequently hop between apps to get the broadest selection of restaurants.

With the exception of Instacart, no grocery delivery company shared more than 9% of another company's customers in the second quarter of 2019."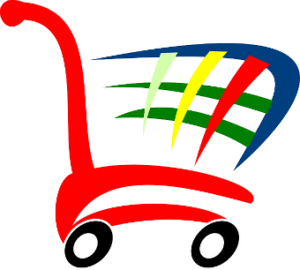 This customer loyalty is encouraging news for the online grocery business. Second Measure reports 12% of US consumers have tried online grocery delivery from these leading companies, up from 9% a year ago in June 2018.
As market maturity approaches, we expect to see possible strategic mergers or acquisitions of regional players. Clearly, the table is set for growth and online grocery shopping carts of the future will be bigger and much more common in US kitchens.
Data charts courtesy of Second Measure