Online consumer research company Jumpshot is out with a new research report that provides helpful insight into the top 25 US e-commerce sites and what direction these leaders are headed – both up and down.
In its analysis of more than 1.5 billion US online transactions in the first nine months of 2019, Jumpshot's analysis shows Amazon leading, eBay faltering, and Walmart, Target and Etsy delivering strong sales results.
Why Amazon leads?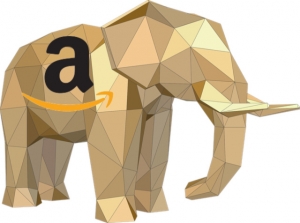 Amazon is simply the biggest elephant in the room, with the biggest head start, lots of momentum and the ability to continue to spend to buy market share in every niche. It grew 3.1% in the first nine months of 2019 with 1.4 billion transactions, 41.9 million more purchases than the previous year.
For context, that's four times more transactions than eBay, 20 times more than Walmart, and 66 times more than Target. Amazon's growth in sales (41.9 million transactions) actually totals more than almost every competitor's sales online.
Why so successful? It's all about conversions. At 8.5%, Amazon's conversion rate is 2-3 times more than its competitors especially in household essentials and personal care with plenty of room to grow in these big categories.
Need we mention that 11% of its product page views are sponsored? That's big advertising revenue. Amazon has more growth on the horizon with its private label/exclusive brands that showed impressive sales growth of plus-27%.
Four of the "Big Five" Growing
Despite Amazon's e-commerce domination, the other four of the big five house strong niches according to the report: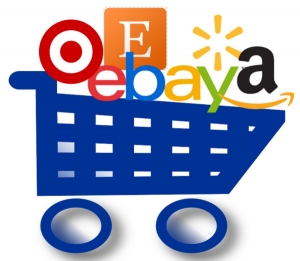 "Four of the "Big Five" sites that top our list have growing consistently. In a digital world of "winner-take-all" markets these dominant players are becoming more dominant, in part by minimizing direct competition with each other: Amazon skews affluent, Walmart skews value-oriented, Etsy is the "anti-Amazon," and Target leverages its design strengths and distinct brand portfolio. Only eBay is shrinking – a generalist player in an evolving, increasingly niche-focused category," wrote Dr. Stephen Kraus, Head of Insights at Jumpshot.
eBay had 296 million transactions but that's down 11.0% from the same period last year. I can't help but feel their 1990s-era design and unfriendly user and search experience are dragging them down. Time for a way-overdue design and UX update eBay!
Walmart is holding steady with 70.8 million sales, down just slightly at -0.2% but grocery sales are growing, it has strong mobile app traffic, and it led in 14 of 22 major e-commerce categories measured. Walmart's advertising revenue lags with less than 2% product views, however.
Etsy had 35 million online transactions (+21.8%) while Target had 21 million transactions (+29.8%). 20% of Etsy's product views are sponsored and Target has had direct-to-consumer product sales success with Harry's, Casper, Quip, Barkbox, and now with Toys "R" Us.
Who's hot in US e-commerce?
Digital natives and omnichannel masters make up the remaining 20 of the top 25 e-commerce leaders in the US.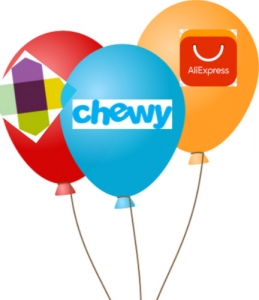 Chewy and Wayfair are two digital e-commerce companies doing well in their respective value and household categories where Amazon is weaker and both appeal to millennials who are "adulting."
Chewy had 15.9 million transactions (+38.0%) and its pet-focused lower-priced items (average $22) have a strong 5.7% conversion rate.
Wayfair had 10.1 million transactions (+26.2%) despite its higher-priced household and furniture items (average $165) and a lower 1.2% conversion rate. AliExpress had 8.3 million transactions (+15.3%) and did especially well in the value categories of clothing and jewelry Jumpshot reported.
Omnichannel masters of the online universe
Also showing surprising strength and solid growth were retailers best known for their large bricks-and-mortar presence, including Kohls (17.8 million sales, +8.4%), Home Depot (17.2M, +10.3%), Walgreens (12.0M, +7.7%) Costco (11.1M, +10.2%), and Macy's (10.2M, +8.4%).
These retailers, as well as Sam's Club (4.9M, +13.1%), are finding new ways to build on their physical store presence and market niches, combining them with smart e-commerce strategies.
Who's struggling?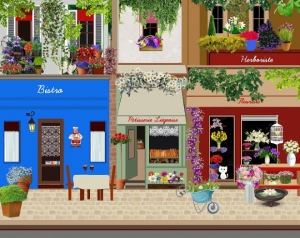 The list of struggling retailers is growing as competition heats up online. Showing sharp decreases were Zulilly (-26.5%), QVC (-15.5%), Zappos (-11.9%), JCPenny (-8.8%), Victoria's Secret (-8.1%), and Gap (6.9%).
QVC is a victim of changing consumer media tastes. Zulilly, JCPenny, Victoria's Secret, Zappos, and Gap are struggling to rediscover their brand and favor with fashion and clothing consumers.
It all adds up to a fascinating study in online evolution, intense e-commerce and retail competition, and trying to keep up with the fickle fancies of consumers online and in-store.
You can read more in detail in The Jumpshot e-Commerce 25 report here.