Today, we're looking at recent bitcoin news and new blockchain technology developments that are paving the way for the digital currency to move towards mainstream adoption. We start with an interesting infographic from Futurism.com on the history of bitcoin through its ups and downs to the point of adoption in some currency and security transactions today. CIO magazine takes a look at bitcoin and blockchain today.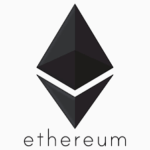 Forbes reports that, for the first time, bitcoin accounts for less than 50% of the world's cryptocurrency market cap thanks to the rise of alternatives like Litecoin, Ethereum, Dash, Mondeo and efforts by the Ripple network. Despite contrary opinions, Adam Davies of Altus Consulting believes bitcoin could hit £3,000 ($3,886) by year-end. Investopedia investigates what's driving bitcoin to record highs while Business Intelligence issued a report cautioning of a potential bitcoin bubble.
KPMG's blockchain practice leader Eamonn Maguire says blockchain technology could deliver significant efficiencies and security for financial institutions. Andrew Keys reports that China's development of the Ethereum technology and Ant Financial's work on the technology may increase its potential popularity globally. Hong Kong's Central Bank sees potential for blockchain technology to benefit both customers and banks by providing better banking services.
Countr partnered with Coinify to offer Bitcoin payment options for more than 3,000 Dutch and international retailers. James Smith, CEO of Elliptic, said, hackers had only got $50,000 in bitcoin ransom payments despite infecting more than 200,000 computers worldwide with WannaCry ransomware. The Bank of England says bitcoin is not yet mature enough for payment transactions but it is open to the idea of distributed ledger technology for secure financial transactions.
Russia's biggest online retailer – Ulmart – plans to start accepting bitcoin as a payment option by September. Russian payments firm Qiwi acquired blockchain technology company Inspirasha as part of its platform strategy.
Infographic: The Entire History of Bitcoin

Bitcoin is a payment system invented in 2008. It is described as the first decentralized digital currency and is presently the largest of its kind in terms of total market value. Futurism has made a useful Infographic that takes you through the history of bitcoin.
The history includes a look at bitcoin's startup in 2007 by what is assumed to be a group operating under the name Satoshi Nakamoto. On January 3, 2009, the first block of official transactions – Block #0 – took place. Various transactions through the next five years are profiled as bitcoin starts to build momentum.
The history also includes mention of some of the controversies and issues surrounding bitcoin, brushes with securities officials and regulators and even the FBI in the US. Today bitcoin and blockchain technology seem poised to finally be closer to a critical role in global financial transactions and security. Via fintechnews.hk
What Is Bitcoin? A Look at the Digital Currency
It's worth more than an ounce of gold now, it's completely digital and it's the currency of choice for the cyberattackers who crippled computer networks around the world in recent days.
When the attackers' "ransomware" sprang into action, it held victims hostage by encrypting their data and demanding they send payments in bitcoins to regain access to their computers.
Bitcoin has a fuzzy history, but it's a type of currency that allows people to buy goods and services and exchange money without involving banks, credit card issuers or other third parties.
Here's a brief look at bitcoin: Via cio-today.com
For First Time, Bitcoin Accounts for Less Than Half of Market Cap of All Cryptocurrencies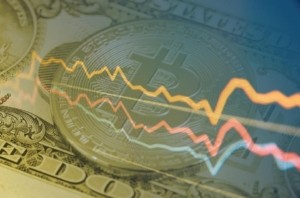 For the first time, Bitcoin's market capitalization as a percentage of all cryptocurrencies has dropped to below 50%.
It is a symbolic turning point for the first cryptocurrency, which for a long time accounted for more than 90% of the value of all blockchain-based assets combined, particularly through a period when so-called alt-coins that were only minor tweaks to bitcoin proliferated.
Its market capitalization then comprised over 80% of all cryptocurrencies for years, a range that held true until two months ago when it dipped below 80% and not only did not recover but did a quick dive straight down. Several factors are driving the drop from its status as the clear leader. Via forbes.com
Bitcoin set to go boom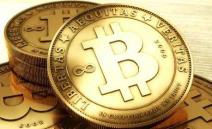 Adam Davies, consultant at Altus Consulting believes the value of a single bitcoin will reach £3000 by the end of the year. He explains why.
In January, people reacted strongly when Bitcoin passed the $1000 mark. Then in March Bitcoin surpassed the price of gold. So it was hardly a surprise when in May, it reached a new all-time high, trading above $1,400, mostly attributed to strong demand in Japan where it is now deemed a legal means of payment. The price of Bitcoin has tripled in the past year, and I believe it may top £3K in 2017.
The success of the digital currency lies in its universality and convenience, allowing people to do things in an easier way, much like the transport and telecommunications industries. However, just because something is easy does not necessarily guarantee adoption. So what is driving it's popularity?
This year, the adoption of Bitcoin will be driven by those who operate in the grey economy and thus experience the strongest barriers to value transfer. Via finextra.com
Why Bitcoin Broke Another Price Record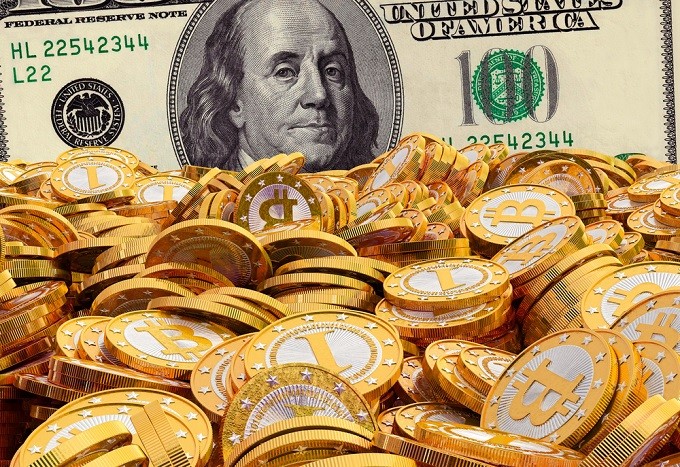 It seems that Bitcoin is enjoying a bit of a boom. Just days after the broader cryptocurrency industry reached a record $30 billion in market cap, Bitcoin and a number of other, less prominent cryptocurrencies have made major gains, achieving record high price levels. In the past several days, currencies including Bitcoin, Ethereum, Ripple, Dash, and Monero surged at the end of the week, with some of the currencies achieving double-digit gains in just a single day.
Double-Digit Growth for Dash, Golem, and Monero
According to CoinMarketCap.com, lesser-known currencies Dash, Golem, and Monero achieved gains in the double digits for the 24 hours leading up to the end of the business day on Friday. Stalwart Bitcoin also posted gains, though they were much more modest. CoinTelegraph reports that Bitcoin's growth for the end of the previous week was sightly under 2%, not nearly as impressive as a figure compared with the other currencies but nonetheless significant enough to launch it upwards toward a new record high price level of just more than $1,350.
This is not to suggest that all cryptocurrencies saw a boom in the last couple of days of the week, however. Litecoin, having earlier enjoyed gains on the news that Segregated Witness technology would become active, remained fairly stagnant and in fact posted small losses overall. Via investopedia.com
Bitcoin may be headed for a bubble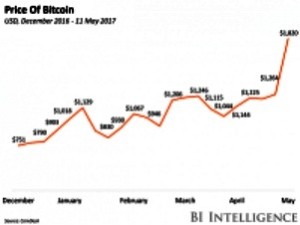 On Thursday, bitcoin prices reached an all-time high, trading at $1,820 at this time of writing to beat last week's record of $1,461.
This meteoric rise is likely still being driven by the impetus coming from Japan — trading volumes soared on its bitFlyer bitcoin exchange due to major institutional investment into the platform in February, and the country legalized bitcoin as a currency on April 1. However, as prices continue climbing, prompting more and more people to buy in, questions are starting to arise as to whether the asset is headed for a bubble.
On Tuesday, a board member at the Bundesbank, Germany's central bank, issued a warning to the public not to buy bitcoin, saying the bank did not recognize it as a currency, and the cryptocurrency may be facilitating speculation. Investors could be getting ahead of themselves and ignoring potential risks — like the possibility of new regulations hostile to cryptocurrency. Such developments could spook investors and rattle the asset's value. Via businessinsider.com
Blockchain technologies could significantly improve financial institutions' efficiency: KPMG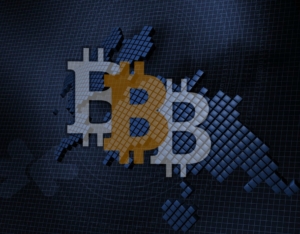 A blockchain is a permanent record of transactions in a network. Blockchain-based systems make the process of gathering, sharing and reporting information – to both clients and regulators – much more efficient.
While blockchain technology is set to disrupt financial services, Maguire indicated that the technology could also add significant value to organisations by improving efficiency, streamlining and automating back office functions, reducing costs and capital and creating new business models and revenue opportunities.
Maguire, who also leads KPMG's blockchain practise in the US, said: "The financial services sector was the first major adopter of blockchain technologies – primarily because blockchain could help cut operating and capital costs – a growing burden for financial services companies after years of increasing regulatory overheads."
Banking and capital markets companies are exploring blockchain technologies across multiple areas, from trading to settlements, and in many other areas of financial services. KPMG anticipates that a number of banks in the UAE could employ blockchain solutions to, for example, digitize and validate customer information. Via cpifinancial.net
How China Might Push Ethereum Price to Surge: Observations & Trends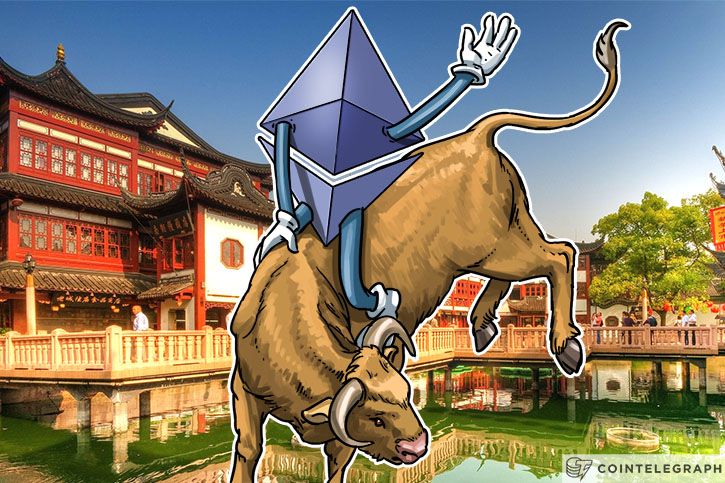 Andrew Keys recently shared the details of his trip to China along with the Ethereum Foundation and the explosive growth of Ethereum Keys and the Ethereum Foundation observed in the country.
During their trip to China, Keys and the Ethereum Foundation discovered that various prominent institutions and organizations including China's top-ranked educational institution Peking University and state-owned corporations were actively developing applications and platforms on top of the Ethereum protocol.
Most importantly, China's largest fintech company Ant Financial, a subsidiary of Alibaba which operates the world's most valuable fintech application Alipay by market capitalization, is focusing on the development and implementation of Ethereum to enhance their existing operations and build alternative infrastructures for long-term growth. Keys noted that Ant Financial is experimenting with Ethereum to improve its global payment platforms. Via cointelegraph.com
Hong Kong Central Bank Sees Potential in Blockchain Technology

Distributed ledger technology (DLT), also referred to as blockchain technology, could benefit both customers and banks by providing better banking services to users, while helping financial institutions offer services of greater security, quality and efficiency, according to a report by the Hong Kong Applied Science and Technology Research Institute (ASTRI).
ASTRI HKMA Whitepaper on distributed ledger technology, blockchain commissioned by the Fintech Facilitation Office (FFO) of the Hong Kong Monetary Authority (HKMA), the report aims to carry out an in-depth examination of the technology and identify possible applications of DLT to banking services.
As part of the research, ASTRI reached out to several banks and industry players including HSBC, Standard Chartered Bank and the Bank of China (Hong Kong) to share their experience, insights and assessments related to the use of DLT in their businesses. Via .fintechnews.hk
Bitcoins arrive at the point-of-sale via Countr POS/Coinify tie up
Countr POS, a Dutch provider of a tablet based point of sale software for small to medium-sized businesses, announces a strategic partnership with Coinify, leading European blockchain payment and trading service provider. This partnership allows Countr POS to offer a wider variety of alternative payments for their retailers.
Countr POS, which enables businesses to track sales in real time and manage inventories, will be able to offer blockchain payments on the point of sale through the established partnership with Coinify. Owing to Countr POS's extensive customer base of over 3000 merchants worldwide, this partnership is anticipating to expand blockchain currency payment processing among retailers and stimulate the overall blockchain payments adoption.
"We are always happy to take the advantage of new payment technologies and help our merchants to improve their businesses. Blockchain is expected to be one of the major payment trends in the upcoming years and we are excited to integrate it to our POS system. Via finextra.com
WannaCry ransomware hackers have only made $50,000 worth of bitcoin
A window announcing the encryption of data including a requirement to pay appears on an electronic timetable display at the railway station in Chemnitz, eastern Germany, on May 12, 2017. A fast-moving wave of cyberattacks swept the globe, apparently exploiting a flaw exposed in documents leaked from the US National Security Agency. How to protect yourself from the 'WannaCry' ransomware attack
Hackers who locked files on 200,000 computers globally and asked for a bitcoin ransom payment to unlock them, have only made around $50,000, an industry source told CNBC, despite the large-scale of the attack.
On Friday, a virus known as WannaCry infected machines across 150 countries. It's known as ransomware which is a malicious piece of software that encrypts a user's files then demands them pay money to unlock them. In this case, the hackers asked for $300 worth of bitcoin.
James Smith, CEO of Elliptic, a London-based start-up that helps law enforcement agencies track criminals using the cryptocurrency, said his company had uncovered that since Friday, around $50,000 worth of bitcoin payments have been made to the hackers by 7 a.m. ET on Monday. This was up from $45,000 at 4 a.m. ET. Via cnbc.com
Bank of England opens way to blockchain for payments but says it is not yet "mature" enough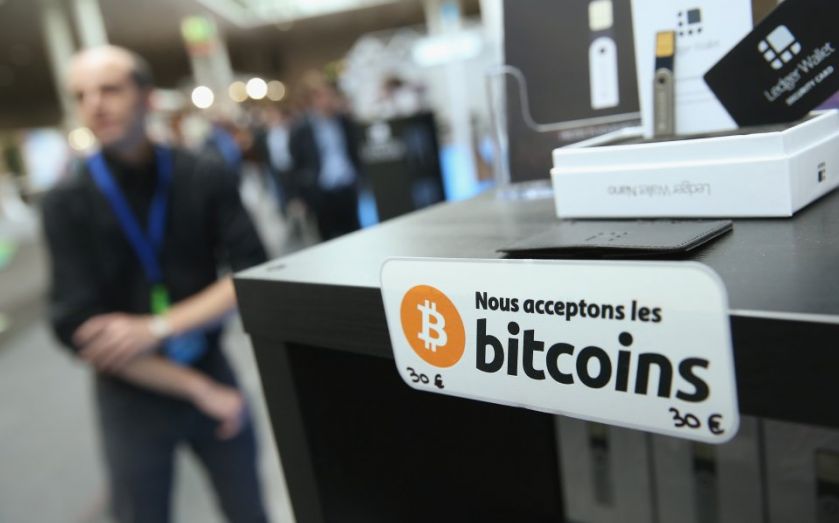 The Bank of England has rejected blockchain as the basis for a new payments system, but said it wants to leave the door open for other banks to use the technology to settle transactions.
The new payments system will be designed to interface with separate payment platforms underpinned by the distributed ledger technology that underpins blockchain-based currencies such as bitcoin.
The Bank plans to revamp its Real-Time Gross Settlement service, which underpins the settlement of around £500bn of payments between banks and other firms every single day – the size of Britain's entire output for a year every week. Via cityam.com
Ulmart plans to start accepting bitcoin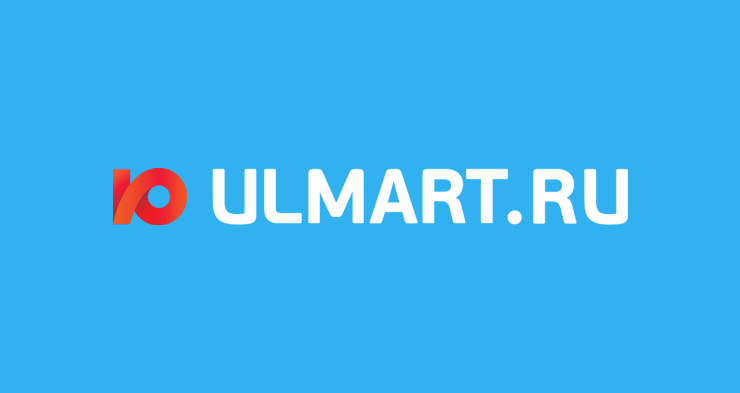 Ulmart, the biggest online retailer of Russia, has announced it has plans to start accepting bitcoin as one of the payment methods. When things go through, the popular cryptocurrency will be accepted on Ulmart starting the first of September later this year.
"We started closely monitoring the market and regulatory environment for the use of crypto-currency in Russia as early as March 2014", chairman Dmitry Kostygin explains. "As the blockchain technology is coming into our operations to fight counterfeit items, we see that the mystery that existed around the bitcoin three years ago has significantly receded."
Ulmart launches its own marketplace
Currently, Ulmart sells almost 150,000 different products in its online store. But the Russian e-commerce company is about to launch its own online marketplace, which means it will slowly build out its own online inventory. By the end of the year, there could be an extra one million items on offer from third-party sellers. Via ecommercenews.eu
Russian Payments Giant Qiwi Acquires Blockchain Startup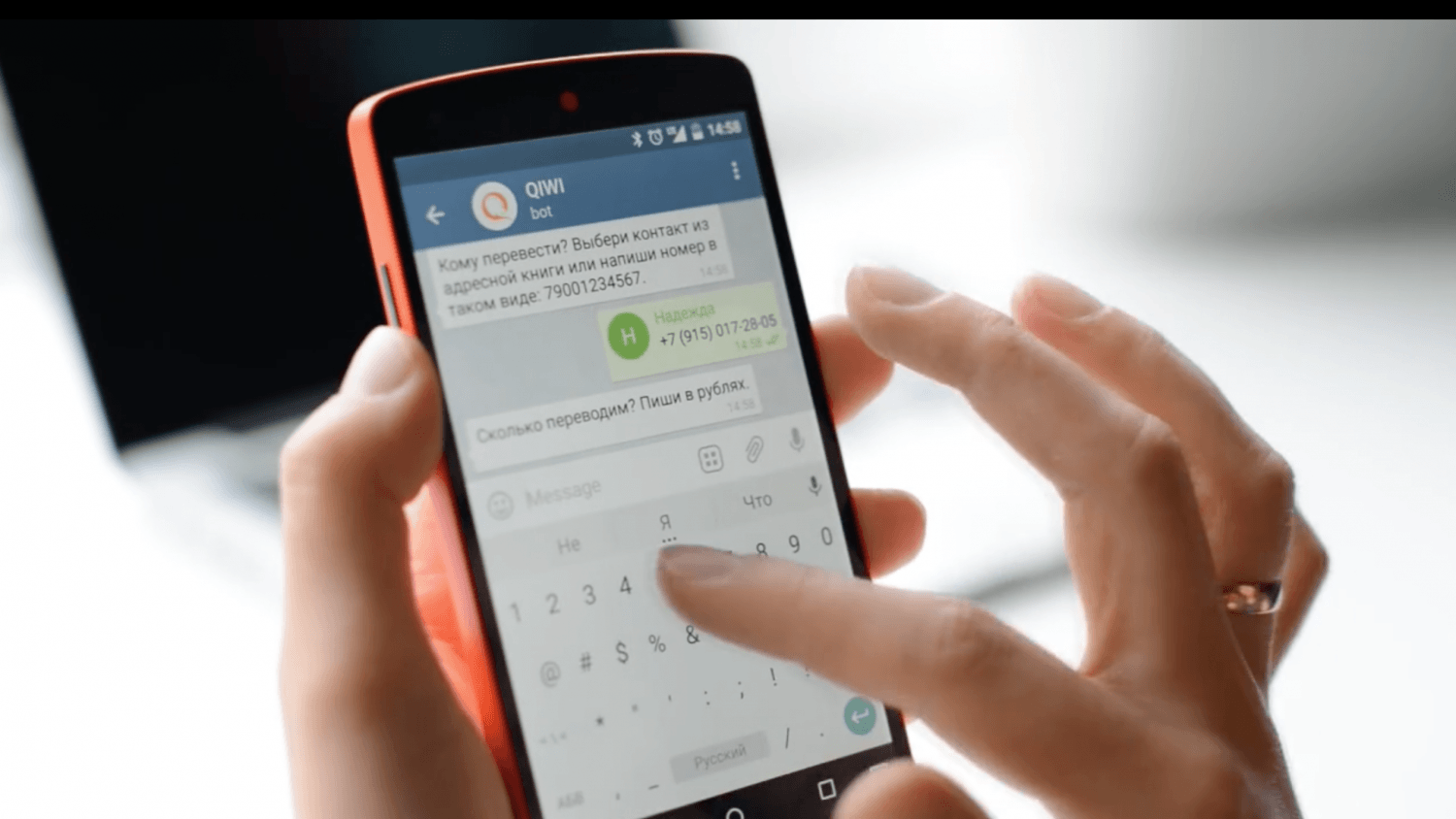 Russian payments firm Qiwi has reportedly acquired a blockchain startup as part of its plan to offer services integrating the technology.
According to state news service TASS, the startup, called Inspirasha, was purchased for an undisclosed amount. Although not much information exists publicly about the firm, business registration records point to a company with that name that works in the computing space.
In translated statements, Qiwi told TASS that the acquisition will boost its existing blockchain efforts. QIWI, which made waves in 2015 for proposing a commodity-backed cryptocurrency later labeled the 'BitRuble', has since moved to integrate blockchain internally, as well as set up a subsidiary devoted to the tech earlier this year. Via coindesk.com