In many ways, the timing couldn't be worse for Square's launch of bitcoin trading on its Cash App. Cryptocurrency trading turmoil is heavy this week.
Another way to look at it? It's exquisite timing. There's going to be a lot of trading during a volatile 2018 and that's a win for any payments processor.
Square supports bitcoin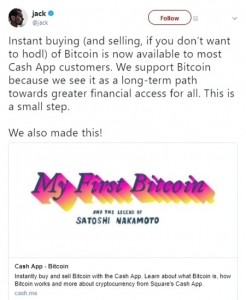 Square CEO (and Twitter CEO) Jack Dorsey made the announcement on Twitter Wednesday:
"We support Bitcoin because we see it as a long-term path towards greater financial access for all," Dorsey tweeted. "This is a small step."
Bitcoin buying features
The new service will allow app users to purchase up to $10,000 in bitcoin weekly with no limit on how much bitcoin users can sell.
Bitcoin trading is available to Square clients except for residents of New York, Georgia, Wyoming and Hawaii.
Bitcoin trading competition is heating up
In some ways, Square will compete with cryptocurrency exchanges, although there are several fintech competitors such as stock-trading app Robinhood, which last week announced free trading in bitcoin and Ethereum initially in five US states.
On January 23, Stripe announced plans to end bitcoin payments because of rising fees and transaction delays.
Good or bad timing?
Short-term, the service may be busy, but not highly profitable. Longer-term, it makes sense for Square and its competitors to learn about the cryptocurrency marketplace in its early stages in preparation for future market growth.
Shares of Square rose 4.3% Wednesday after the announcement and retreated slightly later in the week.