It seems that we can't show Mom enough love at least when it comes to Mother's Day.
According to an annual survey released today by the National Retail Federation (NRF), US Mother's Day spending should reach a record $25 billion this year, up from $23.1 billion in 2018.
But the holiday honoring mothers had a humbler and far less commercialized start in the US.
Mother's Day history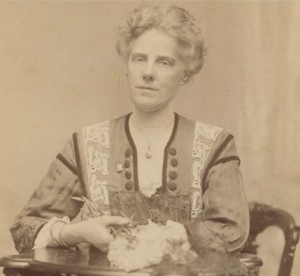 While mothers and motherhood were celebrated as far back as the Greeks and Romans, US Mother's Day was created in a 1908 church service by Grafton, West Virginia resident Anna Jarvis. She wanted to celebrate her mother whom she remembered caring for the wounded during the Civil War.
Jarvis drafted Philadelphia philanthropist and department store magnate John Wanamaker to a Mother's Day committee and in 1910, West Virginia became the first state to celebrate Mother's Day. After a fierce letter-writing campaign by Jarvis and supporters, President Woodrow Wilson officially declared the second Sunday of May as Mother's Day in 1914, making it a US national holiday.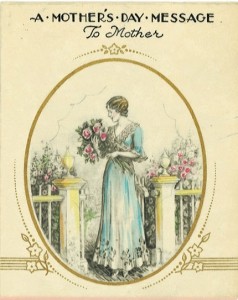 The holiday was originally meant to be spent in church and following services, children would write mothers a thoughtful note and perhaps give them a pink or red carnation. As flower sales grew, greeting card makers saw a business opportunity and by 1920 Mother's Day cards were sold. Jarvis thought they were a "lazy" way to send a note to mothers and by 1924, she was so distressed at the commercialization, she petitioned to abolish the holiday.
Now celebrated in many different ways around the world, in the US it has grown into a huge commercial event as well. It is a hugely profitable sales day for florists, chocolate makers, greeting cards, and phone companies alike.
How big is Mother's Day spending?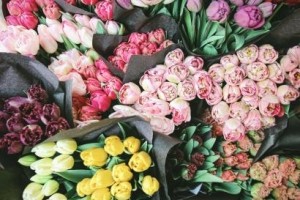 Since we're all about payments, retail, and e-commerce, let's look at how big an economic engine Mother's Day really is in the US.
"Mother's Day spending has been growing consistently over the past several years, and this year's spending is expected to be the highest in the 16-year history of our survey," NRF President and CEO Matthew Shay said. "Consumers are excited to celebrate all the moms in their lives, and retailers are ready to inspire consumers with unique gift options."
Those celebrating are expected to spend more at an average of $196 compared with $180 in 2018. Consumers ages 35-44 are likely to spend the most at an average $248, up from $224, and men are likely to spend more than women at $237 compared with $158.
According to NRF's Annual 2019 Mother's Day Spending Survey, the largest category of sales include jewelry ($5.2 billion), special outings ($4.6 billion), flowers and gift cards ($2.6 billion each), clothing or accessories ($2.3 billion), and personal services ($2 billion).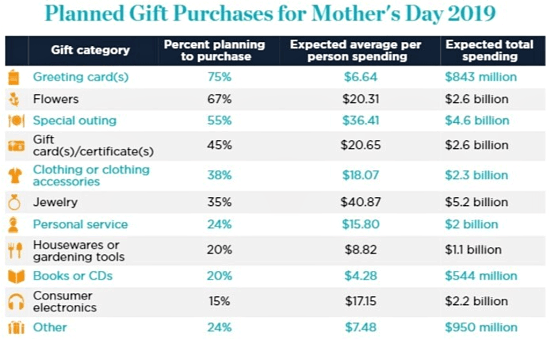 Of shoppers who expected to spend more this year, 31% said they would spend more on jewelry, an average of $40.87.
Shoppers say finding something unique (44%) is the most important factor when picking out a Mother's Day gift, followed by one that creates a special memory (39%), while (81%) indicate they will look to retailers for gift ideas.
84% of US adults are expected to celebrate mothers and other women in their lives. We're not sure what's with the other 16%, but they should at the very least pick up the phone and call mom too.
You can read much more fascinating Mother's Day history or view a colorful video at The History Channel website.