SurePayroll estimates US e-commerce platforms lose roughly $18 billion in potential revenue each year to abandoned carts.
With the holiday shopping season ready to roll, it's a great time to consider the impact of a shopping cart abandonment on sales and revenue.
According to SalesCycle, 75.6% of consumers abandoned purchases in their online shopping carts in the first quarter of 2018.
The cart abandonment bad news ranged from fashion (69.1%) and retail (75.6%) to nonprofit (75.6%), finance (80.4%), and travel (81.1%).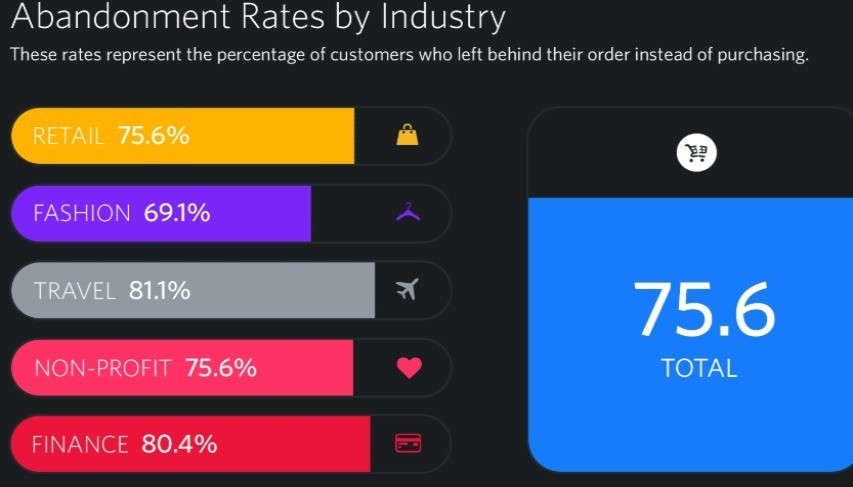 What causes cart abandonment?
The primary reasons for abandoning a shopping cart are well documented by researchers at the Baymard Institute.
By far the biggest reason for shopping cart abandonment was the high cost of shipping, cited by 60% of consumers.
Other reasons consumers abandoned their cart included: need to create an open an account (37%); too long or complicated checkout process (28%); couldn't calculate total cost upfront (23%); website errors or site crashing (20%); didn't trust site with credit card info (19%); too slow delivery (18%); poor returns policy (11%); not enough payment methods (8%); and credit card declined (4%).
Here are several other shopping cart abandonment statistics from OnePoll to consider:
Americans abandon an online shopping cart an average of 11 times every year
the average US consumer will only wait nine seconds for a checkout page to load and only 10 seconds for credit card info to load
half of Americans will not purchase online if checkout takes more than 30 seconds
25% said they abandon the cart if forced to re-enter their shipping address and 33% abandoned if they had to reenter credit card info
consumers said they save $342 a year thanks to shopping cart second thoughts.
With the average US consumer shopping online 22 times during the holidays, there's a lot of revenue at stake with smart shopping cart and checkout strategies and features.
What's a retailer to do about cart abandonment?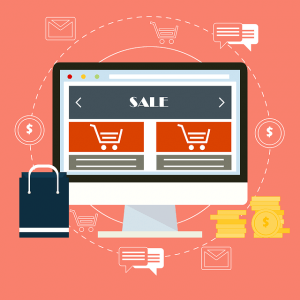 As it turns out, there's lots online business can do to recover some of this huge potential lost revenue. The great news is your customers have already browsed your products and liked them enough to put them in a basket.
You can start by considering a couple of the following tips to recover this revenue:
consider offering free or express shipping to compete with others like Amazon and Walmart
offer a small, time-sensitive coupon to complete a purchase
leverage scarcity or exclusivity to compel customers to make a purchase
shorten and automate your checkout form; the ideal checkout form has 12-14 form elements compared to the average of 23.48 elements
add extra payment options such as PayPal, Google Wallet, Apple Pay, Visa Checkout and other instant-payment methods, in addition to major credit cards; remember local preferences vary by country
ensures security symbols are highly visible
consider consumer financing, which can increase sales by 35%
automate and follow-up with recapture emails; you have their contact info and you know which products they had the cart and a smart recapture email program can recover up to 30% of abandoned sales.
You can find more tips to recover abandoned cart consumers from DataCrushers.
Shopping cart abandonment need not be a losing proposition with a bit of flexibility and technology applied to recapture some of the $18 billion lost every year to cart abandonment.