If you're a Sam's Club shopper in Dallas, you'll soon be able to use a new "Sam's Club Now" app to scan and pay for your groceries and exit the new high-tech store at a cashierless checkout.
Think of it like Amazon Go, except bigger and with more product choices for shoppers.
Smaller and more high-tech than the usual Sam's Club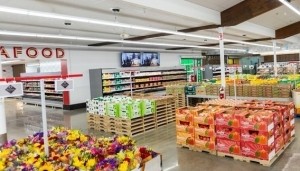 At 32,000 ft.², the new cashierless store will be one-quarter the size of a traditional Sam's Club store and focus on produce, meat, and alcohol.
The new app will help shoppers find products in the store, get a reminder about stocking up on previous favorite products, and then exit after paying with a simple code scan by a "Member Host."
Shoppers will also be able to order ahead and simply pick up and pay with a scan within an hour.
The tech behind cashierless checkout
"We'll use all available technologies — including computer vision, augmented reality, machine learning, artificial intelligence, robotics, just to name a few — to redefine the retail experience," Sam'sClub.com CEO Jamie Iannone said in a blog post announcement.
The new store will utilize more than 700 cameras which will help the company manage layout and inventory.
App features will include:
smart shopping lists that learn your favorites and suggest products.
wayfinding and in-store navigation
augmented reality with product information, suggestions on how to use products and even ways to transform member digital carts into pirate ships or rocket ships
one-hour advance ordering and pickup.
Iannone says since launching Sam's Club Scan & Go app two years ago in other stores, more than 90% of members who try Scan & Go use it again on their next trip, and regular use is up 40% this year.
He adds the new Sam's Club Now store will be an ideal laboratory for shopper innovation, technology testing and new product introductions. You can read more about the new Sam's Club Now store in Dallas on the company blog here.