Is your original pre-digital loyalty program meeting the needs of new digital-savvy consumers with sky-high expectations?
A new whitepaper from West Monroe Partners suggests many loyalty programs are overcomplicated, too transactional, and too homogeneous. They no longer meet their original goal of inspiring true customer loyalty. The research is clear – consumers actively engage with fewer than half of the loyalty programs in which they're enrolled.
Many loyalty programs are spread too thin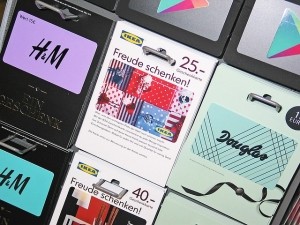 The report identifies many areas where loyalty programs have become inefficient, leading to higher costs and poor results.
"It is apparent that loyalty and engagement efforts have become highly inefficient. Rewards programs are increasingly spread too thin across varied and opposing market demands and have struggled to maintain efficient design that both maximizes resources and yields an engaging experience for their consumers," the report says.
Where once coupons, discounts, or basic points systems to drive purchases or card usage engaged consumers, companies now compete in a rewards landscape that goes beyond discounts to include experiential rewards, membership perks like expedited shipping, and even differentiated digital and brick-and-mortar rewards programs.
Need a benchmark? Think about Amazon Prime.
Four factors driving loyalty program inefficiency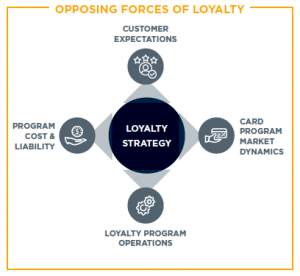 The report says today's consumers expect more, know more, are "better", more persistent shoppers, and are increasingly digital-first. Mix in new, non-traditional competitors and you've got a challenging marketplace.
There are four key factors driving inefficiency in many of today's loyalty programs, including:
Customer expectations: shoppers expect more points for their purchases, lower cost for rewards, and new experiences.
Loyalty program operations: pressure on loyalty programs is making it harder to harmonize loyalty mechanics with standard business processes.
Program costs and liability: as rewards become more difficult to redeem, redemption cycles get slower, program costs increase, and liability grows.
Card program, market dynamics: results must be balanced between consumers, partners, financial terms and other aspects of loyalty programs.
Where are the potential solutions to inefficient programs?
Research by Colloquy shows the average US household is enrolled in 29 loyalty programs but is active in just 12 of them.
West Monroe suggests there are eight key characteristics in an efficient loyalty program that meets the needs of consumers today:
Differentiated and unique: breaking through the clutter with interesting features makes a difference.
Simple: a simple menu of options is less expensive to operate.
Consistent: features and functions are familiar and consistent across channels, whether online or in-store.
Integrated with a credit card: integration accelerates and rewards most loyal customers.
Delivers results: includes features like real-time, location-based offers and displaying points in the account (via website/app) immediately after they're earned.
Long-term strategy: isn't just focused on one-off or short-term results, but evolves to meet customer expectations.
Higher perceived value: emphasizes overall perceived value and benefits over just monetary value.
Modern technical platform: runs on an up-to-date technical platform with room for growth.
Paths to efficiency
A positive place to start is by examining where your program inefficiencies lie using a combination of tactics such as customer interviews; competitive research and benchmarking; and analysis of current program structures, delivery organizations, underlying operations, contracts, costs, and liabilities.
Once the inefficiencies are identified, it's much easier to prioritize and map out a blueprint to program efficiency.
Some of the paths to efficiency may include: simplifying or streamlining program design; balancing your program value proposition; shifting from manual to digitally enabled channels; leave urging data to personalize or tailor offerings raised on customer profile; strengthening programs with processes and technology that enhance personalization and digital delivery.
A copy of the West Monroe partners whitepaper is available for download at no charge here.