Along with the disruption in the financial market by technology are the growing burdens of compliance and its impact on the financial industry. A new whitepaper from Juniper Research projects spending on Regtech platforms will exceed $115 billion by 2023, up from an estimated $18 billion in 2018.
The report shows that since the 2008 financial crash, US regulators have imposed more than $10 billion in fines for noncompliance by financial institutions.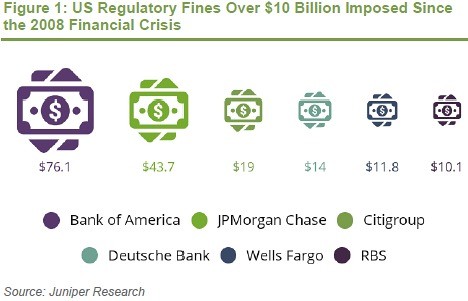 US financial institutions fined include Bank of America ($76.1 million), JPMorgan Chase ($43.7 million), Citigroup ($19 million), Deutsche Bank ($14 million), Wells Fargo ($11.8 million) and RBS ($10.1 million).
Regtech technology ecosystem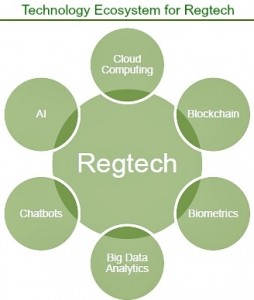 The technology ecosystem for Regtech compliance includes a range of approaches that complicate the development of solutions and choices by financial institutions.
Artificial intelligence solutions automate data processing, provide insight and are increasingly being used to implement know-your-customer (KYC) solutions.
"AI-powered ID solutions are uniquely suited to reducing the resources needed to verify identity. By integrating the correct KYC tools into cloud-based systems, financial institutions can dramatically reduce their compliance burden," research author Nick Maynard said.
Juniper forecasts that in banking and property sales alone, annual gross cost savings from AI introduction for KYC will exceed $700 million by 2023, a nine-fold increase over 2018.
Big data analytics also provide faster analysis of large amounts of data and monitoring to help with compliance measures.
Biometrics is growing as a way for banks and other financial institutions to verify customer identity and contact money laundering. In the future, chatbots could be used by compliance officers to automate KYC gathering from clients.
Cloud computing is providing solutions for banks in simplifying regulatory challenges as well.
Key Regtech trends & constraints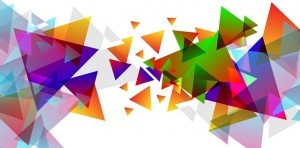 Juniper identifies two key trends to keep an eye on in Regtech development:
tech company involvement: IBM, Amazon, Google and Microsoft Azure are spinning up automated compliance solutions using both their technical expertise as well as their own regulatory compliance experience
KYC checks and solutions: automating KYC checks and compliance provide an obvious efficiency appeal. KYC solutions are quickly developing.
The whitepaper also identifies two key constraints disrupting and impacting the financial industry:
stringent regulatory framework: after the 2008 financial crisis, financial regulations were tightened, and risks eliminated in nearly every market resulting in a stricter compliance framework. Regtech vendors are watching closely to see what happens as the US government considers reducing the regulatory burden.
Lack of expertise: because it is complex, compliance expertise is a challenge to find and retain. Fintech companies are competing for talent and large financial institutions are skeptical about "outside" solutions in this early stage.
Regtech market forecast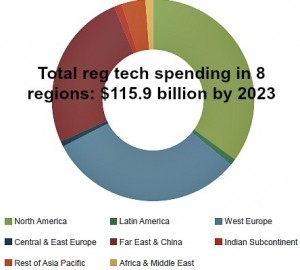 Juniper forecasts Regtech spending will grow from an estimated $18 billion in 2018 to more than $115.9 billion by 2023 dominated by spending in North America ($41.8 billion), Western Europe ($37.4 billion), and the rest of the world ($36.8 billion).
New initiatives such as GDPR are forcing new compliance requirements upon business and encouraging fintech investment and development of potential solutions.
"This growth is significant, given the much slower rate of overall compliance spending, forecast at CAGR (compound annual growth rate) of just 16.6% between 2018 and 2023, compared with 45.1% for Regtech. Any heavily regulated industry not planning for Regtech adoption must make this an immediate priority, or risk damaging fines from regulators for failing to keep pace with regulatory change," the whitepaper says.
Juniper also notes that KYC/AML is poised for disruption from artificial intelligence due to the often paper-based, usually inefficient traditional methods of tracking and compliance.
There's no doubt the financial world is in for a shakeup and further disruption in regulatory compliance ahead.
You can download a free copy of the Juniper Research report here.
Data visuals courtesy of Juniper Research