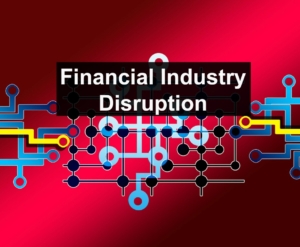 Anand Sanwal is co-founder and CEO of CB insights, a New York research and business intelligence firm used by many of leading companies and VCs. In 2016, Sanwal published a powerful presentation – The Future of Financial Services – that started with this prediction:
"In the next five years, the financial services industry will change more than it has in the past 50 years."
We highlight some of his key research and observations on the disruption taking place in the financial services industry.
Where's the money?
The early warning signals for the financial services industry are reflected in the new money raised by fintech startups.
In Q2 2016, VC-backed fintech companies raised more than $2.5 billion across 195 deals.
Overall fintech investment reached $9.4 billion.
In Q2 2016, 32% of deals were financed by corporate venture capital.
Asian finance deals hit a five-quarter high  in Q2 2016.
Big banks were big players deals between Q2 2015 and Q2 2016: Goldman Sachs (participated in 11 deals); Citigroup (7), Banco Santander (7), Wells Fargo (4), Mitsubishi UFJ Financial Group (3), UBS AG (3), JPMorgan Chase (2), HSBC (2), ING (2), Capital One (2).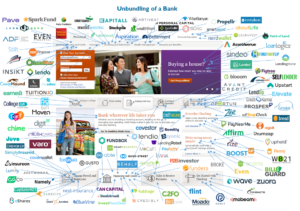 Fast growth, big value
Several startups have grown to "unicorn" or one billion-dollar valuations in short time
20 fintech unicorns already valued at $68 billion; 15 are in payments or lending.
In 2015,  14 new unicorns were born; none in 2016.
Post-IPO profits are rare.
Where smart money is investing in Fintech: PoS credit/alternative lending; real estate; and insurance tech.
Disruption by the numbers
Disruption by technology is an old story in many industries but in financial services it is gaining speed and impact is growing fast.
In 2000, according to Upfront Ventures, it cost an estimated $5 million to launch a tech startup; in 2011 – $5000.
Technology adoption and consumption is viral today and accelerating.
52% of Fortune 500 companies have disappeared in the past 15 years.
Unexpected competitors will emerge
An estimated $10.8 billion of financial industry net profit is up for grabs by startups.
Financial services make up more than 8.5% of US GDP.
Financial services are worth an estimated $3.0 trillion and are mostly off-line. Not for long.
Mobile technology and apps help startups get distribution fast.
Expect competition from the likes of Google, Facebook, Amazon.
Financial industry ripe for disruption
To say the financial industry is ripe for disruption is a severe understatement.
18% switched primary bank in the past 12 months.
40% would consider banking with Google.
59% think  financial products are not targeted at them.
79% view their  banking relationship as simply "transactional."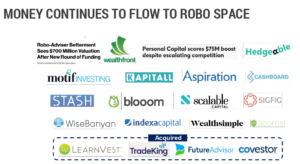 Bitcoin and blockchain
The financial industry is now faced with new threats from not just from bitcoins but blockchain and robo-wealth management startups.
$1 billion has been invested by VCs in bitcoin and blockchain startups by Q2 2016.
Automated wealth management is looming and US robo-advisor assets under management could reach $2 trillion by 2020.
Traditional financial services players are now looking at mergers and acquisitions, because growth capital is a big barrier for most fintech startups.
New companies entering the payment processing space and acquired by PayPal include Braintree and Venmo (bought by PayPal in 2013), Xoom (acquired in 2015) and PayPal now provides lines of credit for some consumer purchases. VC funding for money transfer startups hit a high of 24 deals worth $301.7 million.
The insurance industry also presents a multi-trillion dollar opportunity for startups. Changing consumer preferences, the emergence of new digital buying options and product relevance are now under scrutiny. In 2016,  only 8% of small business insurance was conducted online. It's not because consumers and small business owners wouldn't buy online. The industry is lagging behind badly.
In another warning sign, insurance tech investment went from $131 million in 2011 to $2.7 billion in 2015. Three of the five largest financings in 2016, were insurance tech. 72 insurance tech investment deals were done in 2016 and another 18 by corporate investors.
Even the Internet of Things has a connection to insurance tech investment for underwriting and claims prevention.
More disruption coming soon
Sanwal finishes his presentation by highlighting nine trends to keep an eye on, including chatbots, peer-to-peer insurance, foreign investment in US fintech (83 in 2015 alone) and artificial intelligence hedge funds.
Then there are continued growth in lending and credit, payments and money transfers, financial management and education, and online/mobile banking. In the mobile banking space Apple, Samsung, Amazon and Google are already active while the big credit card companies are also looking for ways to maximize future opportunities.
Finally, there is a rise in digital-only "challenger banks" such as Atom Bank, Starling, Tandem, Mondo and Fidor Bank. Blockchain is now expanding into capital markets, insurance, remittances, compliance and lending.
No time for paralysis
After providing the context for the complete disruption of the financial services industry, there simply is no time for paralysis. We'll be bringing you coverage of the latest disruptions in the payments industry and how they impact traditional financial players, new fintech startups, business and consumers.
When it comes to disruption, PaymentsNEXT is essential reading. Subscribe at the top of the page for your free, three-times-weekly payments industry news highlights.