With global e-commerce likely to reach a record of nearly $3.5 trillion in 2019, why are more US businesses not making bigger headway in growing their international e-commerce sales?
New research from fraud prevention solution company Kount and payments processor BlueSnap suggests fraud concerns and payment processing challenges are the two biggest barriers facing US companies wanting to grow their international online sales.
With research in hand, the two companies have set out to offer a suite of e-commerce payments solutions to reduce these pain points and help US companies expand their online sales internationally.
US international sales slow to grow
The top 1000 North American e-retailers sold an estimated $143 billion in merchandise internationally with Amazon owning 44% of that total according to the "Global Ecommerce Expansion: Payments & Fraud Prevention Trends Report" by the two companies.
According to the report, 60% of retailers cite "currency and payment processing" and 60% cite "fraud prevention" as their biggest obstacles to international e-commerce.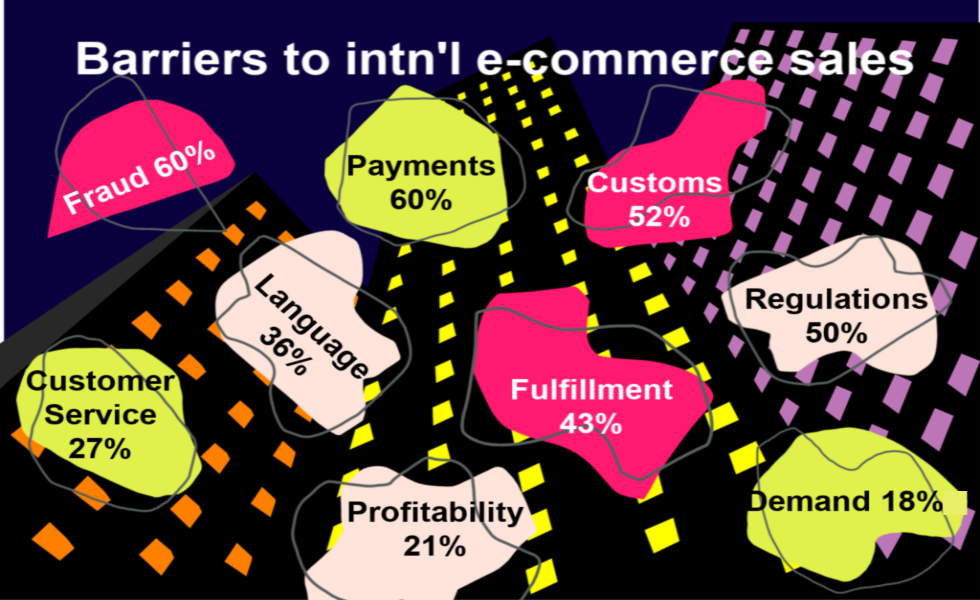 "Many online retailers are wary of the complexity and expense of handling payments in foreign currencies, and the added burden of accepting payment methods not common in North America. For example, consumers in Germany frequently pay for online orders upon delivery, while Chinese consumers often pay for web purchases with a payment method called Alipay and many Brazilians favor Boleto Bancário," the report said.
Other barriers cited included customs duties (52%), local regulations and laws (50%), fulfillment challenges (43%), language (36%), customer service (27%), path to profitability or risk to achieve profitability (21%) and its generating demand (18%).
Internet Retailer estimates global online retailing e-commerce sales will be up 16.4% in 2019 and could reach $3.46 billion. The report says if current trends continue, online sales will be larger than bricks and mortar sales by 2036.
That's far in the future but there's no reason for North American businesses to leave cross-border sales on the table before then.
Which markets are the biggest cross-border shoppers?
"As they gain confidence in online shopping, the world's consumers are looking beyond their own borders for better quality goods, lower prices, and a broader selection, according to a 2018 survey by online payments firm PayPal of 34,000 consumers in 31 markets. Already, more than half of online shoppers in the Middle East, Africa, Europe, and Latin America have shopped on websites based outside of their home countries, as have 48% of consumers in the Asia-Pacific region, the PayPal survey shows," the report said.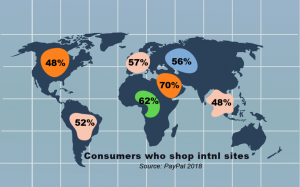 PayPal's research highlighted the regions with the largest number of consumers buying international products online including the Middle East (70%), Africa (62%), Western Europe (57%), Eastern Europe (56%), Latin America (52%), Asia-Pacific (48%), and North America (48%).
When it comes to shipping to the top international markets, fewer than 50% of the top 1,000 US retailers shipped internationally to key markets including Europe (48.2%), Asia-Pacific (47.2%), Middle East/Africa (42.4%), and Latin America (41.6%). That's a lot of missed opportunities.
67% of retailers surveyed somewhat or strongly agreed with the statement that selling online across borders "is a critical source of our e-commerce growth in the future." Another 52% somewhat or strongly agreed that international e-commerce "is suitable for us because we have many international customers and followers of our brand and products."
While Amazon accounted for 44% of sales, US retailers still sold $82.5 billion to buyers in other countries and clearly there's room for much growth. In order not to allow Amazon to dominate, online retail competitors need to act quickly to establish a market presence internationally or risk a huge disadvantage to growth in the future.
Reducing the pain of payments and fraud for cross-border sales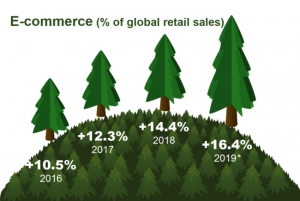 Two-thirds of the surveyed retailers plan to expand internationally but 33% of them think international expansion is too risky because of fraud and nearly two-thirds (61.6%) work with more than one payments processor. It's hardly surprising there are concerns about selling internationally. In
Integrating fraud prevention and payment processing is something 77% of retailers surveyed said is "critical" or "extremely critical" to their success.
Kount and BlueSnap hope educating retailers on fighting fraud and introducing a new integrated fraud and payments platform will give US retailers and e-commerce sellers confidence they can expand internationally fewer concerns.
The new all-in-one solution combines BlueSnap's payment platform, which handles payment processing in more than 100 currencies and via 110 payment methods, with Kount's AI-driven digital fraud protection, which already helps 6,500 global online businesses minimize fraud losses while maximizing the number of orders they accept.
"The combination of BlueSnap and Kount clears the way for retailers and brands to serve the hundreds of millions of consumers around the world ready to buy from their websites," said Rich Stuppy, Chief Customer Experience Officer at Kount. "Our integrated fraud prevention and payments processing solution enables retailers to benefit from the strengths of both companies while getting reports from a single source and managing a single technology platform."
"The survey results affirmed what we already know to be true. The international market is still an area of massive potential for US retailers," said Ralph Dangelmaier CEO of BlueSnap. "In order to be competitive, companies need to have the right mix of payment solutions. We've partnered with Kount to make payment and fraud prevention integration easier and help US businesses grow."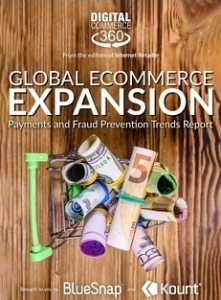 Time will tell if US businesses are really ready to target international sales, but this new program should at least encourage them to consider the cross-border sales possibilities before Amazon grabs an even larger share of the international e-commerce marketplace.
You can view a copy of the Kount/BlueSnap Global Ecommerce Expansion report here.