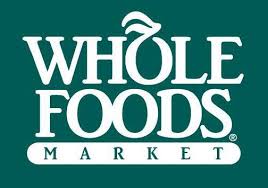 Amazon fired another shot over the bow of the grocery business with the addition of 13 new cities now able to get home delivery service from its Whole Foods subsidiary.
Now available in 88 US cities, Prime members can shop through Prime Now for thousands of grocery items including fresh produce, meat and seafood, everyday staples and other locally-sourced items from a Whole Foods Market and get delivery in as little as an hour between the hours of 8 AM and 10 PM.
"Prime Now delivery continues to be a hit with our customers, and we're excited to introduce the service to even more Prime members across the country," said Christina Minardi, Whole Foods Market Executive Vice President of Operations. "It's just another way we're making it even easier for more customers to enjoy Whole Foods Market's healthy and organic food."
Prime Membership bonuses
Amazon Prime membership has its privileges to coin a popular American Express line.

Members receive exclusive weekly Prime Member deals and discounts on select popular products, plus an additional 10% off hundreds of sale items. Eligible Prime members also receive 5% cash back on Whole Foods Market purchases when using the Amazon Prime Rewards Visa Card.
Shopping Whole Foods Market via Prime Now is even easier with Alexa. Members can add items to their Whole Foods Market cart by simply saying "Alexa, add eggs to my Whole Foods cart." When ready to check out, voice shoppers can just say "Alexa, check out my Whole Foods cart," using the Prime Now app and choose pickup or home delivery.
Online grocery market hits $26 billion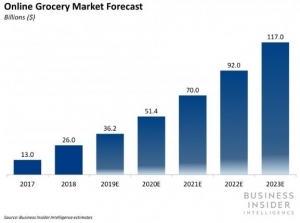 The value of the US online grocery market has more than doubled from $12 billion in 2016 to $26 billion in 2018 and will nearly double again by 2020 to $51.4 billion according to Business Insider. There's also room to grow, given the US industry's overall sales of $632 billion in 2018 according to IBISWorld.
The OneSpace blog reports that by 2017, nearly one-quarter (23.4%) of shoppers had tried buying groceries online. By 2022, they estimate nearly 10% or $133.8 billion in groceries will be purchased online.
Whole Foods competitors like Walmart, Target, Kroger, and Aldi and face a big competitive challenge in technology and pricing. They do have one considerable advantage and that is their number of stores: Walmart has 5352 stores, Kroger (2765), Target (1850), Aldi (1600) and Whole Foods (463).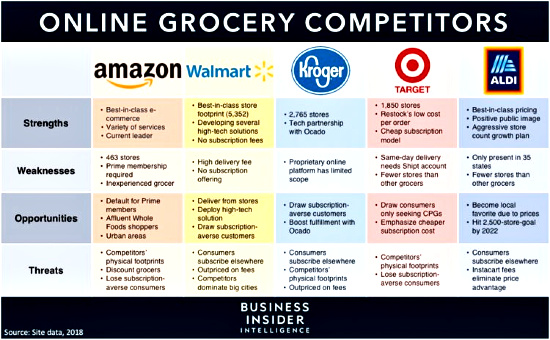 While Amazon has the advantage of its 101 million-plus US Prime members, its grocery competitors can appeal to membership-averse shoppers as well as continue to build on the growing popularity of buy online, pick up in-store (BOPIS) shopping.
Groceries are a low margin, cost-sensitive business. The technology cost for Amazon competitors is high but the number of stores is decidedly in favor of competitors for now.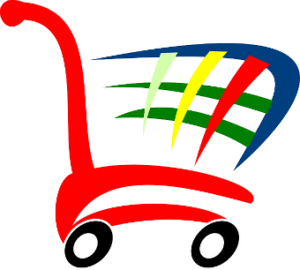 The biggest questions which retailers can accelerate smarter use of technology, automation, footprint, and industry knowledge fastest. One thing is clear. Grocery shopping will never be the same.
The new Amazon Prime Now delivery cities include Chattanooga and Knoxville, TN., Destin and Tallahassee, FL, Greensboro and Wilmington, NC, Allentown, PA, Fort Collins, CO, Huntsville and Montgomery, AL, Jackson, MS, Palm Desert, CA, and Portland, ME. Amazon plans to continue to expand the service into new US cities throughout 2019.
Data charts courtesy of Business Insider