When it comes to e-commerce, new research shows two critical things: the big online sellers dominate and e-commerce is a growing and critical part of business now and in the future.
New analysis of the top 10 US e-commerce sellers by Internet Retailer provides valuable insight into the state of e-commerce today and where it's headed.
Who are the top 10 US e-commerce sellers?
There are few surprises in the list of top 10 e-commerce sites in the US. Collectively, these 10 sites alone make up an estimated 37.3% of the total online sales in the US.
The top 10 retailers grew at an average rate of 23.4% in 2018 compared to an overall average of 16% growth for the top 1000 e-commerce websites.
They're familiar names with impressive 2018 sales numbers as reported by Internet Retailer including: Amazon ($119.53 billion), Walmart ($16.67 billion), Apple ($13.56 billion), Macy's ($8.04 billion), Staples ($7.77 billion), Home Depot ($7.72 billion), Best Buy ($6.69 billion), Dell Technologies ($5.35 billion), WW Grainger ($4.24 billion) and Google Play ($3.63 billion).
Who grew, who slipped?
While the total sales for the top 10 e-commerce sites is impressive, the year-over-year growth is even more so for several companies .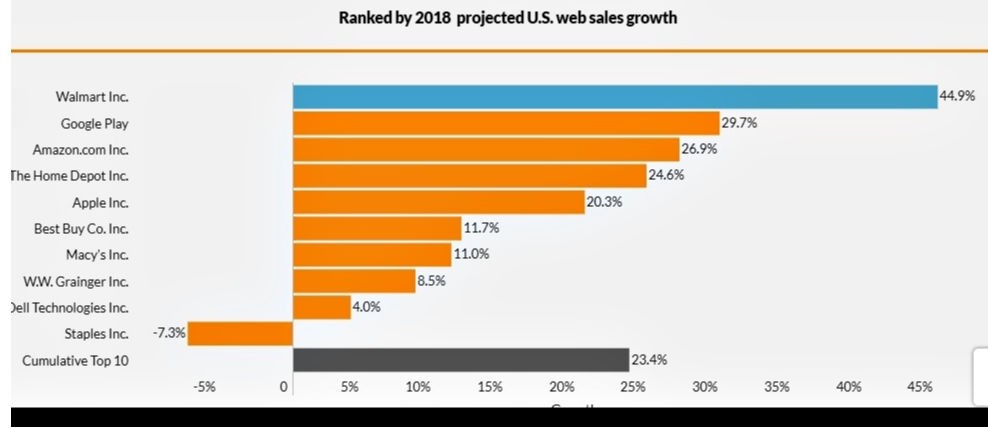 Amazon dominates sales at $119.53 billion and grew 26.9% in 2018. Even more impressive, was Walmart's plus 44.9% growth followed by Google Play (+29.7%), Home Depot (+24.6%), Apple (+20.3%), Best Buy (+11.7%), Macy's (+11%), WW Grainger (+8.5%), Dell (+4.0%) and Staples, which fell 7.77%.
A couple of quick takeaways from this website sales growth data:
Amazon clearly dominates; it's the elephant in the e-commerce room
Walmart is growing quickly in relative terms and may be able to challenge Amazon in the future, especially with the advantage of its many retail outlets for buy online pickup in store (BOPIS) sales
Google Play could compete with Amazon someday, particularly with a partnership with a retailer like Target
Home Depot's sales online are surprisingly strong and demonstrate the strength of this sector when technology is well implemented
the business supplies sector is struggling, evident in Staples results.
Where was online sales growth biggest?
The share of growth was also strongly concentrated according to DOC. Amazon accounted for 36.9% or more than one-third of online sales growth by itself in 2018.
The other top 10 retailers made up 16.4% of growth with all other online sellers sharing the remaining 46.7% growth combined.
Amazon's will not easily give up its huge lead in sales and growth in the short-term.
Total online sales grew in 2018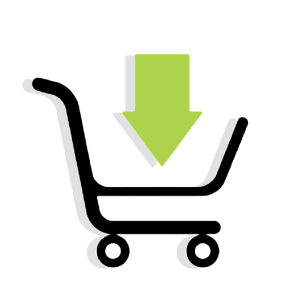 According to the US Department of Commerce (DOC), e-commerce sales totaled an estimated $518.52 billion in 2018 in the US +15.3% from 2017 sales of $449.99 billion.
DOC estimated total retail sales (in-store and online) in 2018 were $3.64 trillion, up 4.3% from 2017 ($3.49 trillion).
In 2017, online sales totaled 12.9% of retail sales which grew 1.3% to 14.2% of total US retail sales in 2018.
This data on the e-commerce sales in the US should prove helpful in comparing your own e-commerce sales and growth to the industry overall.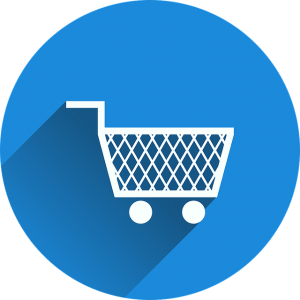 It's also useful to examine why companies like Walmart and Home Depot are leading in annual online sales growth. Take a close look at their websites, their overall user experience, the ease of checkout and the overall user-friendly design and simple navigation.
These factors all contribute to a very positive online shopping experience for consumers and strong sales for the retailer.
Charts courtesy of Internet Retailer