Mary Meeker is a venture capital leader and analyst with Kleiner Perkins. Her annual Trends Report is closely examined for its comprehensive analysis and predictions.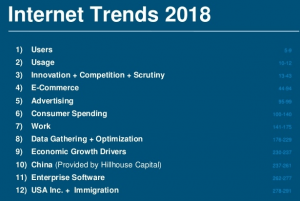 Her report is comprehensive, well-sourced and extensive as you can see in the following content index.
We'll take a look at her report, particularly the relevant highlights for e-commerce trends and the payments industry.
The "Privacy Paradox"
Meeker says the internet now reaches 3.6 billion users, more than half of the world's population. However, for the first time global smartphone unit shipments did not increase. New growth is harder to find after 50% penetration.
What's important is how technology advances have made many products better, faster and cheaper she said, highlighting messaging service Telegram, e-commerce payments platform Square Cash and streaming audio service Spotify.
Netflix now has more than 125 million users and Spotify reaches more than 170 million music listeners. Pinterest has passed 200 million users and Facebook is the biggest of all with 2.2 billion users.
Big data has provided efficiencies, better targeting and big revenue for companies like Facebook which now averages $30 in revenue annually per user. At the same time, big data has also introduced what she calls the "privacy paradox."
In order to benefit, consumers must give up more and more privacy. At the same time, regulators want to protect consumers from data being used improperly. Cryptocurrency investors are well aware of the chill that potential regulatory impact places on market prices.
Payments trends
Meeker identifies several key payments trends impacting retailers and e-commerce merchants. Most notable is the decline in "payments friction." It's getting simpler and easier for consumers to pay for goods and services both in-store and online using a growing number of devices, contactless payments and even voice.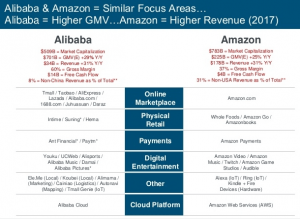 She said there are now more than 500 million mobile payment users in China where mobile is a predominant factor in daily life, especially in purchases and payments.
Meeker also makes an interesting comparison between Alibaba and Amazon's business structure and key differences in each of their business segments.
E-commerce now makes up more than 13% of total retail sales. Amazon has grown its own share of online sales from 20% or $52 billion in 2013 to 28% or $129 billion in 2017 in the US. E-commerce is quickly evolving and scaling with obvious implications for retailers and investors.
Shopify had more than 600,000 active online merchants selling more than $26 billion worth of goods and services in 2017. Payments processor Square had more than 2.8 million active sellers with sales of more than $61 billion in 2017.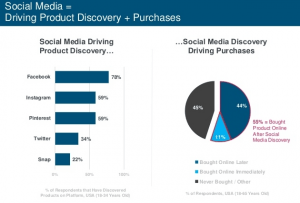 Social media is driving product discovery as consumers use a growing number of social media channels to check prices, products, ratings and availability. 44% of consumers bought a product online later after social media discovery and 11% purchased immediately.
Amazon itself is a leading search tool early in the consumer path to purchase.
Subscription services growth
Subscription services are another dramatic trend in payments and e-commerce services. Meeker highlighted the number of subscribers and growth of Netflix with 118MM subscribers (+25%); Amazon Prime 100MM (+33%); Spotify 71MM (+30%); Dropbox 11MM (+25%); The New York Times 3MM (+43%); Stitch Fix 550K (+16%); and Peloton 172K (+173%).
Of course, data privacy and fraud are growing concerns in the e-commerce space as are increased competition from merchants around the world.
Other technology trends to note
Meeker provides an excellent monitor of other new trends to watch.
For example, Google machine learning word accuracy is now at 95% with the implication that voice enabled tools and services are primed for growth.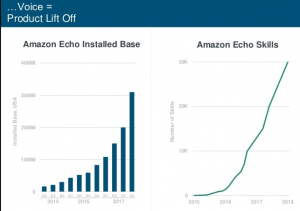 This trend is evident in the rapid growth of Amazon Echo which now has more than 30 million devices installed and more than 30,000 "skills" for everything from music and entertainment to online research and product and service orders by voice.
Google also has tens of millions of its Google Home devices installed and Google Assistant now runs on more than 400 million devices including smartphones and watches. There are now more than 1,500 devices supporting Google Assistant from manufacturers including Nest, Belkin, Samsung, Philips and others.
New services rising from new technology
In addition to the many online services most consumers have adopted, there is a whole new range of technology and data-driven services with the corresponding growth of new on-demand jobs.
These technology-driven and on-demand services include Uber, Airbnb, DoorDash (food delivery), Skip the Dishes (food delivery), Checkr (background checks ), and temporary staffing or freelance service providers such as UpTask, TaskRabbit, Gigwalk and Wonolo. Not to mention tens of thousands of new Amazon jobs around the world.
While the number of total jobs grew 2.5% between 2014 and 2017, the freelance gig economy was up 8.5% or more than three times overall job growth.
The Big Bang of cloud services
Meeker calls the fast growth of cloud services such as Amazon Web Services a "Big Bang" for its impact.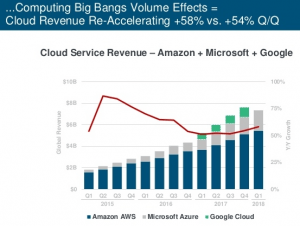 For example, she says the cost of cloud computing services continues to decline every year. Since 2008, cloud computing costs have declined more than 40%. This provides significant savings and efficiencies for many business sectors.
The large cloud service providers including Amazon, Microsoft and Google have seen up to 58% year over year revenue growth.
Making sense of sensors & data
Interestingly, the increase of sensors has is also increased data gathering in more places as devices such as Google Maps, Nest, Mobike, Samsara, Motiv and Joule gather, process and share data from many sources. More than 12 billion sensor or actuator shipments were made in 2017.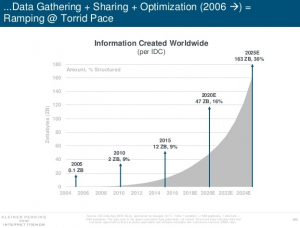 Data gathering, sharing and optimization is growing at a "torrid pace" from 2 Zettabytes (with 9% structured data) in 2010 to 12 Zettabytes (9%) in 2015 and projected to grow to 47 Zettabytes (16%) in 2020 and 163 Zettabytes (36%) in 2025.
What's a Zettabyte? Well, 931.2 trillion Gigabytes equals one Zettabyte just in case your in-laws ask.
The connected world is simply getting bigger, more connected and much less private.
Internet Trends 2018 report available free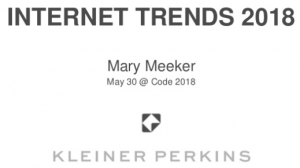 What's always apparent from Meeker's annual trends reports is the pace of change and a sense of what this rapid and widespread change means to business and consumers.
You'll need a couple of cups of coffee to get through it but you can view Mary Meeker's entire 294-slide presentation here.
Visuals courtesy of Mary Meeker's Internet Trends 2018 report