A study by Coresight Research and Celect estimates non-grocery retailers lost more than 12% of annual sales or more than $300 billion due to markdowns in 2018.
Just 60% of inventory is sold at full price, according to the retail leaders surveyed.
Competition and rapid industry changes pose challenges
According to the Coresight-Celect report:
"Misjudged inventory decisions—including overbuying, buying the wrong type of products and misallocating inventory—account for an estimated 53% of unplanned markdown costs for retailers."
The inventory "mistake" with the biggest impact on markdowns is overbuying inventory, which researchers estimate is the primary cause of an estimated 30% of all markdowns.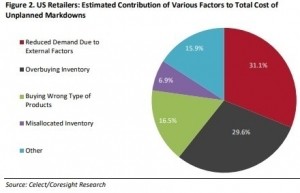 Results of the survey show there is a big opportunity for retailers to increase sales and profitability with better inventory metrics and management.
"Buying the wrong type of products also accounts for a double-digit share of unplanned markdowns, while the misallocation of inventory accounts for a further 6.9% share" the report says.
Just 15% of retailers surveyed said they were able to sell 90%-100% of their inventory at full price, while only 49.5% said they sold between 70%-100% of inventory at full price.
Online retailers had even tougher time getting full price
Multichannel retailers had an even bigger challenge getting full price for inventory. Only 6.3% said they sold 90%– 100% of their inventory at full price, compared to the 15.0% average. Just 28.5% of multichannel retailers said they sold between 70% and 100% of their inventory at full price, compared with the 49.5% average for all retail.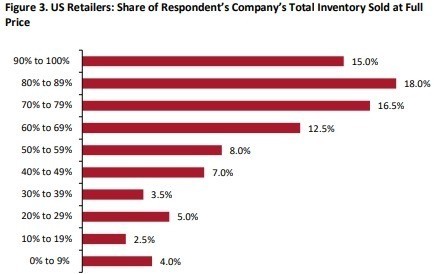 The complexity of selling in-store and online made inventory management, more complex, more challenging and highlighted the need for better optimized inventory management.
Better buying strategies needed
50% of respondents said inventory mistakes cost them sales and included buying too much inventory, the wrong type of products and poor allocation of inventory.
The report added: "36% of those surveyed said that external factors such as unseasonable weather, sudden changes in consumer demand and unexpected discounting from competitors are the main hurdles to selling through products at full price."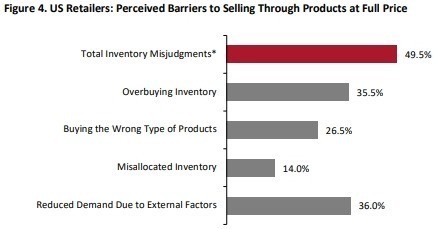 Pressures impacting retailers
For multichannel retailers, challengers include internet pure-play retailers, new direct-to-consumer brands, fast fashion retailers and discounters.
How shoppers buy is an ever-changing landscape. Mobile, social media, advertising, and cost-effective marketing are all part of a complex jigsaw puzzle of reaching, convincing and closing sales with customers.
More frequent discounts and global promotions such as Black Friday and Cyber Monday, as well as same-day or free shipping and other incentives, add to the complex sales environment.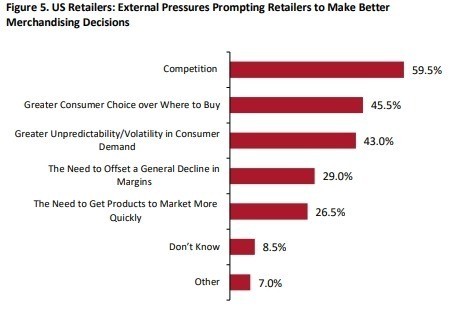 37.1% of apparel retailers had even bigger challenges buying the wrong type of inventory compared with 26.5% of all retailers surveyed.
Advanced analytics offer help
Large data sets, if analyzed and used correctly, can help retailers respond better to competitive pressures. Retailers who still rely on data entry or manual input reported more inventory challenges than others surveyed.
Predictive analytics and advanced inventory optimization tools can also help retailers, and especially apparel companies, do a better job of inventory management. 43.5% of retailers said these tools would improve inventory decisions.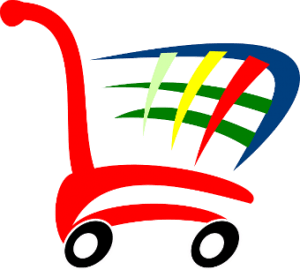 36% of retailers said better use of analytics would also improve promotional strategies and 34% said it would help in their choice of what inventory to buy and sell.
The research also indicated that better fulfillment strategies such as buy-online-pickup-in-store (BOPIS) or same-day delivery could also reduce markdowns.
Analytics offer solutions to part of the increasingly complex retail environment and you can get more insight and a free copy of the full US Retailer Survey: Revealing the Hidden Costs of Poor Inventory Management here.
Charts courtesy of Coresight Research & Celect