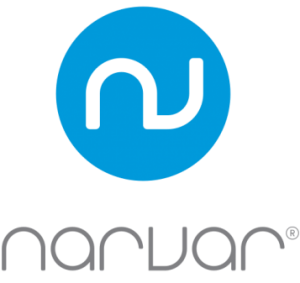 Product returns are one of the biggest e-commerce business challenges. They're expensive in time, staffing, logistics, and overall cost. They're frustrating for customers.
According to research from Narvar, properly handled and managed, customer returns can turn into an e-commerce asset. In fact, research shows 96% of consumers will shop with a retailer again if customer returns are a positive experience.
What are the biggest product return pain points?
The good news is 70% of consumers say product returns are "easy" or "very easy" but customers are also very clear about what they hate about customer returns.

The biggest customer complaints and pain points include paying for the cost of shipping for a return (69%), paying for return stocking fees (67%), and difficulty finding exchange or return policy information (33%).
The report notes, "In 2017, 74% of respondents said they wouldn't buy from a retailer who charged for return shipping and 84% wouldn't buy from a retailer who charged a restocking fee."
Smart retailers and online sellers know this will have a big impact on revenue.
The state of returns today
Narvar research showed an e-commerce landscape with a wide range of good and bad customer returns experience: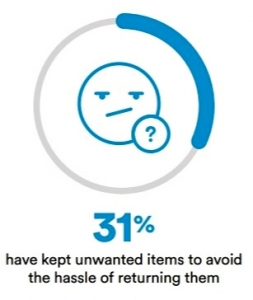 54% of consumers had to print a label to return a product; 32% needed to contact the retailer for return authorization
59% said they wanted notification about the status of their refund and 50% wanted notification about the status of their return package
63% said they most recently returned a product by mail, but 40% say it's easier  to return it to a store
74% of customers mailed their return, and those who returned another way used a courier such as UPS, FedEx, or USPS (63%), returned it in store (13%), received a refund without a return (13%), or scheduled carrier pickup (11%)
Apparel makes up the majority of returns (29%), followed by consumer electronics (16%), home products (11%), footwear and accessories (11%), and all other returns (33%)
22% of respondents said they returned a gift they received to an online retailer.
How do your returns measure up in this e-commerce landscape? Savvy sellers recognize the need to make customer returns as friction-free as possible as well as manage the cost of returns.
What can sellers improve about customer returns?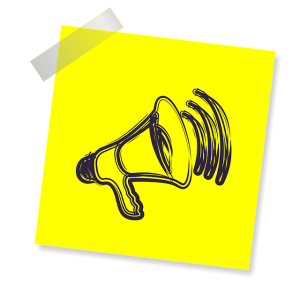 Communication seems to be a frequent pain point for online shoppers. 28% of customers worry their return will get lost in the mail and 31% have kept unwanted items to avoid the hassle of returns. And, that 33% who can't find a clear returns policy? No excuse for that.
59% of customers want notifications about refund status and 50% want information about the status of a return package. Technology can easily meet these needs.
As many as 40% of consumers think it's easier to return a product in-store and 32% appreciate the instant credit while 28% don't have to worry about a lost or delayed package.
Easing shopper concerns with a simple, transparent returns process, including updates about refund status and package tracking, will go a long way to reducing returns friction.
Why do "perfect" returns matter?
Strong customer returns policies affect where consumers shop.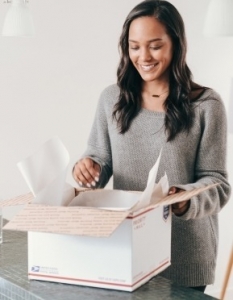 57% of customers replace the item they returned, but a surprising 16% replaced their purchase from another retailer, primarily because the item was out of stock, or due to a negative return experience. Retaining that 16% of lost return business should be a priority.
It's also important to note 42% of customers did not replace a returned item.
Product returns are very much a bottom-line issue, both in terms of the cost to business as well as the reputation impact.
Keys to a better customer returns experience include frictionless returns, clear customer communication, simplifying exchanges, offering in-store returns/exchanges if possible, and making constant improvements.
Remember that key figure. With the right customer returns experience, 96% of shoppers will shop with you again in the future.
You can learn more about the latest in customer returns by downloading the free Narvar research report "The State of Returns: What Today's Shoppers Expect" here.
Visuals courtesy of Narvar