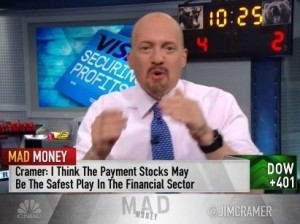 CNBC's Mad Money host Jim Cramer interviewed Visa CEO Al Kelly for an eye-opening look at why he thinks payment stocks may be the safest investment play in the financial sector.
"Visa has no interest rate risk," Cramer said. "Visa's not gonna get crushed if the economy has a fed-mandated slowdown. It doesn't have debt that could go bad and most important last night, Visa's reporting yet another strong quarter."
Impressive quarterly results
Overall, Cramer said Visa's latest quarterly results showed impressive top line and bottom-line growth, including double-digit payment growth and processed transactions by the $300 billion company.
Kelly attributed Visa's strong growth to the strength of its global network. He said the company last year did $11 trillion of business globally in 182 billion transactions – 500 million times every day.
Cross-border transaction volume grew 10% and Visa added 7 million new merchants to its global network which now totals 54 million merchants. Kelly said the company is also looking at new payment transactions markets to enter.
Cross-border transactions more profitable, growing
Cramer asked Kelly why cross-border transactions are such an important business metric.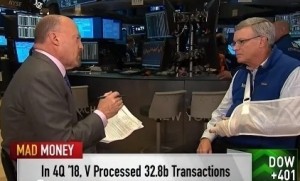 Kelly said cross-border transactions show that people are moving from one country to another, and that means people have confidence and are spending when they travel outside their country.
Second, he said Visa makes a bit more money on the slightly more complicated cross-border business transaction. "It's both a sign of economic strength and it's a higher yielding transaction for us," Kelly said.
Kelly said every region of Visa's business had double-digit growth in cross-border transactions in the fourth quarter except Europe, which had 9.2% growth.
US growth is strong

Visa's US business also showed strength. "We've seen really good volumes and a lot of that certainly is from good retail, particularly fueled by e-commerce. Secondly, higher gasoline prices. The tax law has definitely put more money into people's paychecks," Kelly explained.
The launch of Visa Direct is attracting consumer interest because the company is now pushing money to people's bank accounts instead of just extracting it for payments.
Still moving from paper to plastic

"Our biggest competitor still is Cash, Inc," Kelly laughed. "$17 trillion is still spent by consumers using cash. Businesses are spending $20 trillion in cash. So, think about that. We're the largest network in the world and we just set a record at $11 trillion."
Kelly said he's excited because there is still tremendous upside in the business and e-commerce and other payments industry developments will encourage further growth.
Even in China, where Kelly said while Visa doesn't operate its own network, it has 55 bank partners like Union Pay which have issued over 100 million cards. As soon as consumers travel outside of China, they are then paying via the Visa network, resulting in increased volume and higher value transactions.
A brand people trust

Kelly said branding is also critical to Visa's success, including the recent World Cup in Russia. He said his company has sponsored the Olympics for 30 years and just recently renewed their sponsorship for another 12 years through the 2032 Olympic Games.
"Anywhere you go around the world and you do side-by-side comparisons of Visa against any of our competitors, the Visa brand comes up at the top," Kelly said.
Cryptocurrency on the horizon?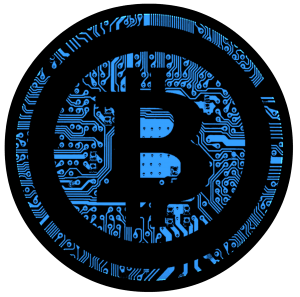 Cramer highlighted Twitter/Square CEO Jack Dorsey, who is bullish on bitcoin as the currency and payment of the future. "Is crypto a real challenge to Visa's hegemony in this business?" Cramer asked.
Kelly said cryptocurrency will not be a challenge in the short to medium term. "If we see cryptocurrency moving from being more of a commodity to actually being a payment instrument, and I think there's got to be some kind of market where it becomes somewhat like a fiat currency for us to be comfortable. But if it goes in that direction, we'll move in that direction and will make sure that we can be in the middle of every payment flow around the world."
What about your biggest competitor MasterCard?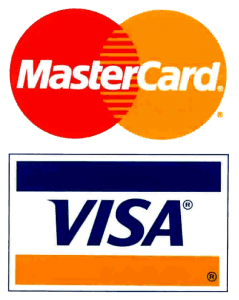 Cramer asked Kelly if MasterCard is a concern as a competitor. He acknowledged MasterCard as a strong but smaller competitor but said Visa is focused on its own business and growth.
"We just added more than $800 billion in volume in '18 over 2017. We're a much bigger network. MasterCard is a bit smaller network than us and they are a formidable competitor. I would bet any day of the week on Visa," Kelly added.
You can view Jim Cramer's CNBC Mad Money interview with Al Kelly here.
Visuals courtesy CNBC.