Internet of Things (IoT) payments will total an estimated $24.5 billion in 2018 but Juniper Research predicts the IoT payments market will grow at an impressive average of 75% per annum over the next 5 years, reaching $410 billion by 2023.
A large portion of that future growth will come from in-vehicle payments, according to the report:
"The US and China will ultimately be the largest single markets for in-vehicle payments; while China will near $50 billion and the US be more than twice that, no other country will grow to more than Germany's $19.6 billion in transaction revenues."
What are IoT payments?
IoT technology has enabled distinct technology platforms for payment and other financial functions distinct from fintech in general.
Juniper research defines IoT in finance or the FIoT (Finternet of Things) as:
"The use of IoT technology to underpin or enhance delivery of financial services or commerce."
This means connecting digital identity to physical objects and networking those identities and their data together to provide efficiencies, create value, improve the quality of life, reduce costs, and deliver other benefits.
The promise of IoT finance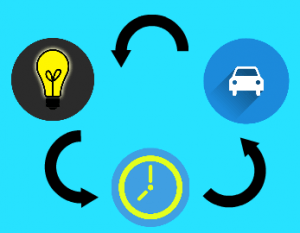 There are several key drivers to increased IoT payments including:
personalization through more data, a core outcome
commerce everywhere, beginning with smartphones, but extending to other devices and channels.
The number of use cases is growing.
First, artificial intelligence allows bots to deliver voice-assisted financial services. These range from simple voice queries for account balances, budget advice or simple product information.
Personalized insurance is another use case enabled by IOT technology. Providers like By Miles Ltd and Metromile offer per mile insurance to attract low-mileage, low-liability drivers away from traditional insurers.
Telematics boxes can provide services beyond just insurance such as by-the-mile Uber or bicycle rental services. Personalized health insurance can be offered to customers using smart wearables by providers such as Vitality and John Hancock.
IoT Payments & Banking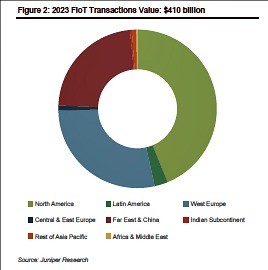 The use of connected objects to pay for things has been available for several years. Juniper estimates more than 450 billion transactions will be processed globally by 2023 but more than 80% of these transactions in any year will be made on smartphones or tablets.
Consumers can expect to see advances from simple bank service voice queries to advanced, full-featured financial services delivered by numerous devices.
Personal IOT devices such as wearables or in-vehicle units will enable increased personalization and security. Where you can now use your smartphone to withdraw funds from some ATMs, expect to see more complex features and capabilities develop.
While most IOT transactions are currently recurring subscriptions or digital content purchases, Juniper predicts average transaction size will remain below $40 in fully developed regions and an average of $21.80 globally.
While the IOT payments sector is in its early stages, new technology and innovation will accelerate the development of new products and services and how they are delivered in devices yet to be created.
Think smart homes, smart appliances, smart cars and future smart devices it to be invented. With potential 75% annual growth, it's an exciting time to consider the possibilities for IOT payments.
You can view a free download of the Juniper Research report How the IoT Will Shape Financial Services Delivery here.