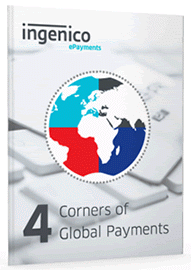 Ingenico released a new White Paper called "Four Corners of Global Payments." The paper provides valuable insights into payments data and trends from North America, Latin America, Asia and Europe.  We've got highlights of the report to help you think about regional strategies for growth and new market entries.
Global Payments Overview
Data for 2014 showed that global payments grew 9%,  double from the year previous to reach $1.7 trillion. Global payments'  share of bank revenue grew from 38% to 40%. the value of non-cash payments worldwide is expected to grow an average of 6% annually through 2019. Ingenico says:
"As much as $900 billion is up for grabs over the next decade. Businesses that can capture the migration from cash to electronic payments, deliver innovative value-adding services and effectively serve the unbanked and under-banked will reap the benefits of these opportunities."
North America market & trends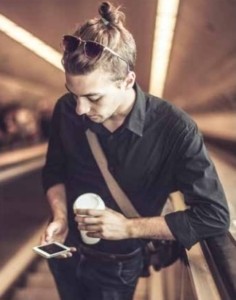 What are the factors driving growth in non-cash payments in North America? Joe Leija, General Manager North America, Ingenico ePayments sees new market entrants and growth in alternative forms of payment.
Leija says among the factors driving growth in non-cash payments are digital payment solutions that at different points-of-sale (in-store, in-app and desktop, and mobile) as well as new payment platforms with real-time payments.   North America handles about one-third of global payments and is expected to grow from $349.43 billion in 2016 to $493.89 billion in 2018. Non-cash payments will grow from 7.7% to 8.9% of total retail sales by 2018.
He says consumers want convenience, speed and ease-of-use and mobile is a big driver for the future. Consumers also like shopping internationally but paying in their own currency. PayPal says by 2018 130 million active cross-border shoppers in the US will spend more than $300 billion, yet fewer than 25% of US merchants offer full cross-border payments.
Key challenges include data security and a move by hackers into the online, card-not-present market.
Latin America poised for growth
Like most underdeveloped markets, Latin America is ready to leap forward into e-commerce and non-cash payments.  eMarketer estimates e-commerce sales will rise in Latin America from $57.2 billion in 2016 to $84.75 billion in 2019, a 42% increase.
Mexico will see a 67% rise from $7.42 billion to $13.27 billion. Brazil's total e-commerce sales should reach $30 billion by 2019 –  twice that of Mexico and Argentina combined. Mobile payments and e-wallets will be critical for the 250 million adults who do not use formal financial services like a bank account.
Matias Fainbrum, General Manager LATAM for Ingenico  says Latin American challenges include inflation and the high cost of bank services which could encourage new fintech development. Costs and risk remained the biggest challenges for companies entering the Latin American marketplace.
Mobile driving payments in Asia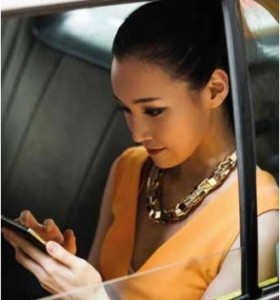 Throughout most of the region, mobile is simply a way of payments life. In the established markets of Australia, Singapore, Japan and South Korea, e-commerce and online payments are well-established.
Ingenico says "Increasing internet and smartphone penetration and adoption of mobile payments in China and India are the two main growth drivers in the region." Consumers in China and India have quickly adopted new payment technology.
Online transaction value in China reached $672.01 billion versus $349.06 billion in the US in 2015 according to eMarketer. India recently moved to promote non-cash payments and mobile wallets are the most common form of payment. More than 900 million Asians do not have formal bank relationships, providing big opportunities for fintech.
Innovation and technology fueling Europe's payments growth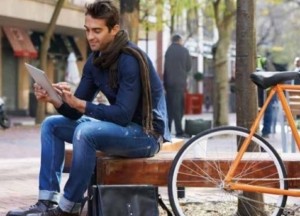 Of $475.1 billion in European e-commerce sales, 60% came from a combined UK (30%), Germany (16.8%) and France (13.4%) while Russian showed 25.4% growth.
"Digital payment solutions are becoming a key battleground in Europe. While credit cards are the preferred method across certain countries, other European consumers have different payment preferences and merchants need to think about abandoned shopping carts when a locally preferred payment method is not offered," said Simon-Pierre de la Seiglière, General Manager EMEA.
Ingenico said of changes coming to the EU's new Payment Services Directive:
"The purpose of these directives are to make cross-border payments as easy, efficient and secure as 'national' payments are within the EU, by creating a more integrated and efficient payments market and leveling the playing field for payment service providers. The regulation also aims to encourage lower prices for payments, make payments safer and more secure, and perhaps most importantly, protect consumers."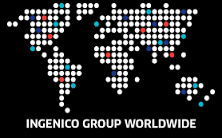 Cross-border merchants in Europe still face a complex web of multiple languages, tax, legal and customs regulations that complicate e-commerce. Regulations for card-not-present transactions also vary by country.
While Brexit and similar nationalist trends complicate things, it appears that all parties recognize the importance of strong but simplified regulations that protect business and consumers alike.
Ingenico ePayments' White Paper "Four Corners of Global Payments." is available at no charge here.
Memorial Day US schedule
PaymentsNEXT will not publish Monday due to the US Memorial Day holiday, so we'll be back with news you can use on Wednesday next week. Have an enjoyable weekend with family and friends.
Visuals courtesy Ingenico ePayments