Residents of Christiansburg, Virginia will be looking to the sky a lot more in the near future, and it won't be with a prayer. Rather, they'll be buzzing about Walgreens, FedEx and Sugar Magnolia package deliveries by Alphabet subsidiary Wing Aviation's fleet of drones.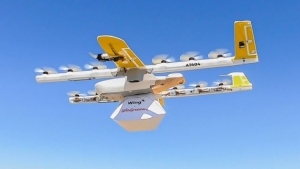 Wing began air drone delivery trials in the Virginia town last Friday after receiving Federal Aviation Authority (FAA) approval allowing the first full commercial air delivery service by drone directly to homes in the US.
Working with Federal Express, Walgreens, and Virginia retailer Sugar Magnolia, Wing began delivering over-the-counter medication, gifts, and snacks to residents of the Virginia New River Valley town.
"By delivering small packages directly to homes through the air in minutes, and making a wide range of medicine, food and other products available to customers, we will demonstrate what we expect safer, faster, cleaner local delivery to look like in the future," Wing CEO James Ryan Burgess said in a news release.
Drone delivery takes to the air in Virginia
One Friday delivery featured a FedEx box containing a stylish new puffy vest for 81-year-old Christiansburg retiree Susie Sensmeier who told The Washington Post, "I love new things… New technology. A new vest. New experiences. You don't get a lot of those at my age."
Walgreens is offering a list of more than 100 products for drone delivery, including over-the-counter medical products, drinks, and snacks. The retailer believes it's a perfect way to help parents with sick children or assist less-mobile retirees.
Sugar Magnolia, a nearby Blacksburg, VA shop will sell chocolates, popcorn, stationery, and other small gift items to see what sells best for the small local business. Storeowner Michelle Raub told the Roanoke Times she reached out to Wing and Virginia Tech to explore participating in the program. "We're always looking for new things we can do as a small business," she said. "This is a pretty big coup for a small Blacksburg company."
Several hundred residents of the town of 22,250 have already signed up for the initial test of the new drone delivery service, which they can access by a mobile phone app to place an order and get delivery within 10 to 15 minutes.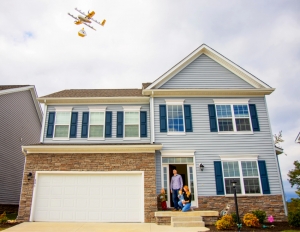 Nearby, Michael Collver and his wife Kelly ordered a cough and cold pack from Walgreens, complete with tissues, bottled water, Tylenol, Halls cough drops and Emergen-C.
"Usually, every time you need something like Tylenol, that's another car on the road," said Michael. "It's a hassle. With Wing, the kids love it, it keeps that car off the road, and it's good for the planet too."
Deliveries from a nearby "nest"
Wing is working in partnership with nearby Virginia Tech, FedEx and the initial retailers from an operations base it calls a "Nest" which is a group of customized gray shipping containers loaded with technology and situated behind the Gran Rodeo Mexican restaurant and a neighboring bar in the small town.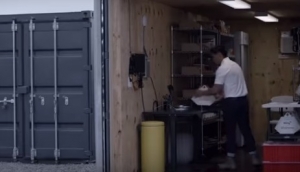 A dozen drones are charged on a nearby launchpad and fly at up to 65 mph using a combination of 12 helicopter-like rotors and two wing-mounted propellers. Up to five of the mini aircraft can be controlled by one pilot operator in a nearby control room inside one of the containers.
The drones can carry packages weighing up to three pounds and have a range of up to three and a half miles. On arrival, the aircraft gently lowers the package to a small, designated location in the yard or driveway, before returning to Wing's "Nest."
Still some drone delivery detractors
Strict aviation safety rules in the US have made drone delivery develop more slowly than the industry hoped and there are critics on the sidelines and in the air.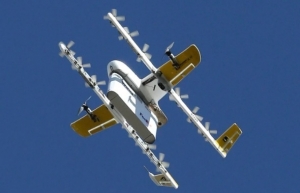 In a complaint to the FAA, the Air Line Pilots Association International said Wing's internal flight safety manuals are proprietary and not available for public review and exemptions from some FAA rules raise questions about public safety.
And there are competitors for Wing as well, especially those already in the delivery business. Since it received its FAA certification last spring, Amazon received FAA approval for Prime delivery and Uber and UPS are also seeking FAA approvals for drone deliveries.
Canadian drones test remote deliveries to remote islands
Other trials have been underway to deliver medications by Canadian retail chain London Drugs which successfully tested drone delivery in August to the less accessible British Columbia Gulf Islands.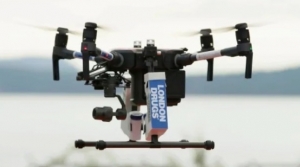 The August 19 test delivered an Epi-Pen and Narcan spray medical products to nearby SaltSpring Island in just 11 minutes from the town of Duncan, BC on nearby Vancouver Island.
It's a perfect use case for drone delivery where drugstores are simply not available on most of the Gulf Islands off the BC west coast. It could mean the delivery of life-saving medications to patients in the future.
Drone delivery is just part of the push for faster, cheaper, lower impact deliveries, which also include driverless vehicles, robots, and other logistics innovations.
With Wing's drone delivery ready to go into full commercial service before the end of the year in Christiansburg, there could be a lot more buzz about last-mile delivery in the US in the very near future.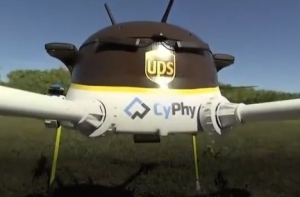 See also "UPS wins approval to operate nationwide fleet of drones" on CNBC. The UPS drones can fly at night and carry a payload of up to 55 pounds.
Photos courtesy of Wing Aviation, CBC, CNBC