A new report from OC&C Strategy Consultants (OC&C) predicts the voice shopping market in the US and UK will reach $40 billion by 2022.
It's a bold prediction when voice shopping sales in 2015 were estimated at only $2 billion.
Voice device sales growing fast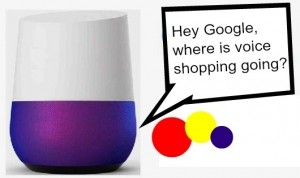 Experts predict the growth in voice shopping will be driven sales of smart home and voice-enabled devices from Amazon, Google, Microsoft and a growing number of other companies. Statista estimates 35.9 million smart devices were sold in the US in 2017.
Three tech giants lead the virtual assistant AI space in the US – Amazon's Echo has 10% penetration of US homes; Google's Home, 4%, and Microsoft's Cortana, 2%.
OC&C provides valuable insight into the voice shopping market and its potential:
Only 39% of consumers trust in the "personalized" product selection of smart speakers.
The three most commonly shopped categories through voice are commoditized: grocery (20%), entertainment (19%) and electronics (17%) and clothing (8%).
Voice purchases tend to be stand-alone, lower value items.
Smart speaker owners skew younger and more affluent and are more likely to have children.
The Amazon factor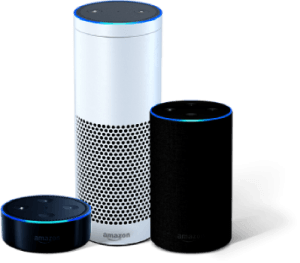 The report notes that Amazon has tremendous influence in the voice shopping market. "Amazon Choice" status for a product generally means up to three-times more sales, while losing "choice" status can cause a loss of sales up to 30%.
85% of consumers select Amazon's product choice recommendations. Research says 45% of consumers grocery orders replace in store or other online purchases with the majority made through Amazon Fresh.
What can retailers do?
OC&C says retailers need to develop new "skills" or voice-enabled applications to help consumers use voice to purchase products. Only 39 apps are currently available in the voice shopping category.
According to the report, retailers will need to use content and information strategies like providing recipes to encourage consumer spending and higher price points:
"Only 39% of consumers trust in the "personalized" product selection of smart speakers and only 44% believe they offer the best value selection of products."
Consumer package goods strategies

Consumer package goods producers can be effective with several specific strategies. For example, they must maintain Amazon's "Choice" status, even though Amazon's "Choice" products change frequently (4-5% daily) due to stock or delivery speed issues.
Ensuring products are easy to find is critical, as 69% of customers know the exact product they wish to buy. Tailoring search terms to insure distinctiveness (e.g., "sensitive toothpaste") increases the chances that a product will be "found."
Voice shopping landscape
John Franklin, Associate Partner, OC&C, said: "Voice commerce represents the next major disruption in the retail industry, and just as e-commerce and mobile commerce changed the retail landscape, shopping through smart speaker promises to do the same. The speed with which consumers are adopting smart speakers will translate into a number of opportunities and even more challenges for traditional retailers and consumer products companies."
Alexa, how can we get ready for voice shopping opportunities?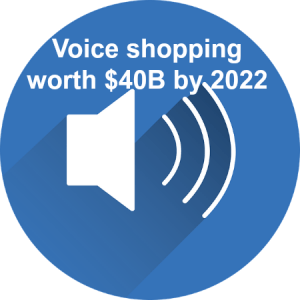 Coye Nokes, a Partner with OC&C, suggested retailers must ask themselves key questions, such as:
What objectives am I trying to meet?
How should I tailor my voice proposition to meet those objectives?
Which AI system is best suited to enabling those objectives?
How can I build consumer trust in my product recommendations?
How can I make the order economics work?
One thing is certain. Voice shopping is poised for immense growth and companies need to position themselves with the technology and the knowledge to take advantage of the opportunities ahead.
The report's findings are based on a consumer research interviews with 1,500 smart speaker owners conducted in December 2017. In addition, OC&C researched product sale rates for 2,000 products listed on Amazon over a one-month period, tracking the impact of 'choice' on product sales performance. More information is available at the OC&C website.