By Jeff Domansky
The biggest question in many retailers' minds is whether fraud will take a front seat during the critical 2021 holiday shopping season that kicks off on Black Friday.
In its latest quarterly crime report, financial crime management platform Feedzai said the value of financial fraud grew 23% in Q2 2021. The firm analyzed data from 1.5 billion global transactions.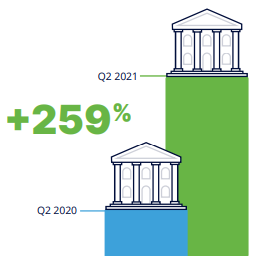 The report also highlighted a 259% increase in the number of banking fraud attacks compared to the same period last year. While the number of in-person card transactions decreased by 2%, in-person card fraud attacks increased by 6%, showing how widespread the financial fraud problem is.
In addition to the rise in financial fraud, the data indicated a 146% increase in P2P payments, a 44% decrease in cash transactions, and a 109% increase in online transactions, to nearly double the number of card-present or in-person transactions from April to July 2021.
"Cashless payments were already on the rise, but the pandemic accelerated all forms of digital transactions when lockdowns hit," said Jaime Ferreira, Senior Director of Global Data Science, Feedzai. "Millions more people experienced just how convenient digital payments and banking are when they couldn't go to a bank branch or a restaurant or grocery store. Cashless transactions are not the future anymore; they are today."
"But the convenience comes with a cost. Financial institutions and retailers need to address the financial risk and higher complexity attacks that arise with the digital evolution," Ferreira added.
Top fraud scams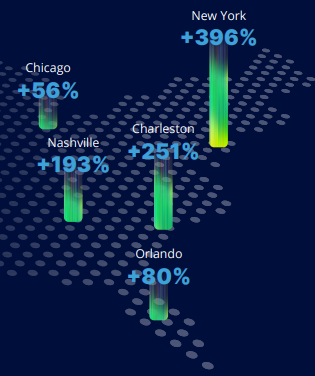 The report also highlighted the most common fraud scams during the same period, including purchase scams, social engineering, and impersonation scams, account takeover (ATO) fraud, and smishing or SMS/text message scams. Fraudsters are anything if ingenious.
The riskiest cities for fraud in the US revealed some surprises with no apparent pattern other than being large cities. The riskiest cities were:
Las Vegas (with fraud up 411%)
New York (+396%)
Charleston (+251%)
Nashville (+193%)
San Diego (+97%)
Orlando (+80%)
Chicago (+56%)
New Orleans (+48%).
Preventing FI financial fraud
The report offers three ways FIs can reduce or prevent financial fraud. Feedzai said prevention starts with educating customers about fraud risks.
Leveraging data is another critical fraud prevention strategy. "Banks should review data from multiple sources, including identity data, device-based profiling and authentication, biometrics, and behavioral analytics to build profiles of normal user behavior to detect account takeover attacks and other fraud attempts," the report says.
Fraud prevention for consumers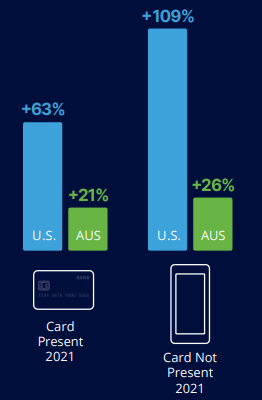 Feedzai also recommends a focus on funds' destinations. Profiling beneficiaries and determining whether they have previously been seen or show any risk indicators will help identify potential risks.
The shopper's journey and habits have changed dramatically in the past year. Card-present transactions recovered, growing 63% in the US and 21% in Australia. But online shopping and card-not-present transactions group 109% in the US and 26% in Australia.
Feedzai included some fraud prevention tips for consumers. Keeping in touch with your bank's fraud alerts and educational resources is important. Biometrics and two-factor authentication (2FA) provide higher security. Feedzai also encouraged quick reporting to financial institutions of suspicious text messages, scam emails, or websites attempting to phish for personal information.
Access the Feedzai Quarterly Financial Crime Report to learn more about the latest fraud and consumer trends.
Visuals courtesy of Feedzai
Recent PaymentsNEXT insights:
Global CNP fraud hits 13% with costs to merchants rising fast
Critical pandemic lessons in mobile payment fraud prevention