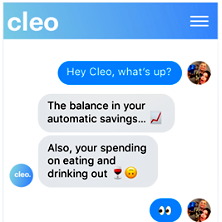 Yo! You knew it was just a matter of time before your kids got a bank app that only speaks their language and doesn't want to talk to Boomers at all, right?
When a news release announcing its US banking app launch starts like this, you know you're into radical territory:
"Cleo, the money management app with a sense of humor and zero tolerance policy for bullsh*t has announced their US arrival from their base in London."
Welcome to Cleo, the self-proclaimed "Fastest-growing fintech app in history." It also describes itself as "The sassy, back-talking app [that] gives "Gen-Zennials" a friend in their pocket that speaks their lingo to help them save money and crush goals."
Cleo is clearly pitching itself to Millennials and GenZ who remember the 2008 recession, sympathize with the Occupy Wall Street movement, and hate banks.
Whatever! Time will tell whether this smartass savings and banking app can convert financial well-being into a language "Gen-Zennials" understand.
Why might Cleo succeed?
There are a couple of reasons why Cleo is catching lots of air with the Facebook crowd: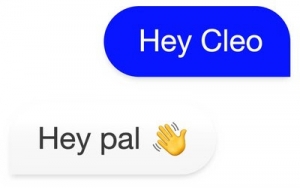 it uses an AI chatbot to make finances fun and engaging
it's banking features are simple, practical, and time saving
it's hip, well-designed and easy to use
it's got a sense of humor and 'tude.
Beauty eh! Let's unpack Cleo and see what's under the hood.
Features Gen-Zennials can bank on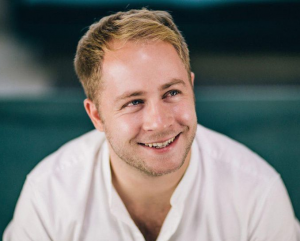 British data scientist, Barnaby Hussey-Yeo started Cleo in 2016 as a fun, quirky budgeting tool for friends. After quickly picking up 600,000 UK users in the first year and a half, Cleo alpha-launched in the US in April and started growing at triple the speed.
Cleo now has more than 2 million users getting money management tips and wise-girl Cleo conversations by the AI-powered chatbot.
"For decades, banks used data to predict how likely customers would overdraft their accounts or pay back their mortgages. Now, with Cleo, it's the customers' turn to benefit from data," said Hussey-Yeo. "In lieu, Cleo gives our users the tools to make the most of their own spending data and ensures they're the only person who profits from it."
Here are some of Cleo's key features:

A highly engaging way of building savings, tracking spending habits and avoiding bank fees.

The go-to place for full visibility on all your accounts no matter where you are or where you go.

Cleo Plus:  premium services including cashback, salary advances and up to 2% interest on your savings.
Hey Cleo, motivate me
Cleo also offers a set of motivational modes, to keep attention-span starved, texting teens, GenZ and millennials focused on budgeting, saving and making money work for them:

Roast me: A terrifying face-full of your own data when you need a jolt.

Hype me: The banks aren't really on your side. Cleo is though. Hit for instant good vibes.

Fortune mode: Predicting your future f*ck ups before you can do them.
Yes, that's money talk we can all relate to and understand, right?
Can Cleo cut it in the competitive US banking market?
Here's why Cleo may very well be a breakthrough in banking apps: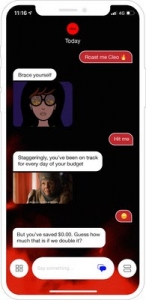 Cleo saves users an average of $20 per month
67% of users utilize it monthly within six months of downloading the app
users average 14 conversations a month with Cleo – that's a lot of banking love
while 87% of users say finances stress them out, 78% say Cleo helps them reduce their financial worries
five stars on Trustpilot doesn't hurt either.
With more than 2,137,217 million users onboard and more than 901,117,920 million transactions, Cleo is making the right moves with its user base. As Cleo says in its news release: "Now over 2 million people have signed up. That's 1.8 million roasts, 900,000 celebratory 'you got paid!' gifs and 3,000 new people signing up every day to take control of their money."
The only thing more unusual than Cleo's app, attitude, and news release is theIr upcoming promotion. They're running a Scavenger Hunt in New York to meet 100 of their US users, and you're invited to join them, next Tuesday, October 8th for drinks (and real-time roasting). Their treat dude!
It looks like banking is suddenly trendy with apps like Booyah!, Mitto, and now Cleo reaching out to Gen-Zennials.
Launched in 2016, Cleo has raised more than $13.3 million in venture capital and is backed by VCs including TriplePoint Capital, Balderton Capital, and LocalGlobe.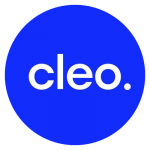 Why's my banking app now looking so dusty and stodgy? Oh, and now we're already up to 2,137,810 users and growing every minute while you read this post.
You can sign up using Facebook Messenger and get more information and more attitude at Cleo's website. 
Visuals courtesy of Cleo