A new report from Kount and The Fraud Practice examines card-not-present (CNP) false positives which are poorly understood and frequently mismanaged aspects of risk management.
Most merchants focus on chargebacks and fraud losses, but false positives are another major source of lost revenue, negative reputation impact and often underestimated and frequently ignored altogether. Here's what you need to know about false positives and how to reduce the impact on your business.
What are false positives?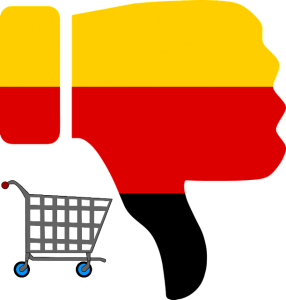 False positives, also known as sales insults, occur when merchants decline a customer purchase because of suspected fraud or aggressive risk management procedures.
"False positives often happen when a customer is sending a gift, traveling, coming from an unusual IP address, or the organization is simply unable to confirm the customer identity," the report says.
Only 38% of merchants said their organization tries to track or measure false positives because these "insults" are very difficult to quantify.
About 60% of respondents say more false positives come from automated screening while 21% blame manual customer reviews.
State of CNP False Positives: 2018 Report
Fewer than one-third of merchants with annual online sales less than $10 million said their organization tracks false positives, compared to 56% of respondents who reported their organization has annual online sales greater than $100 million.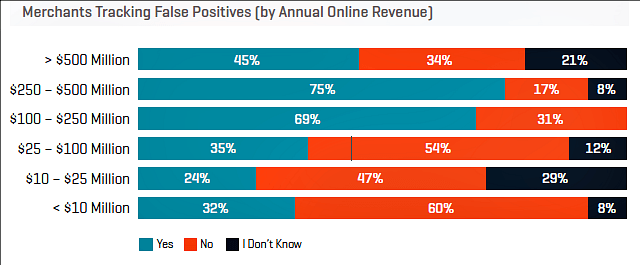 Ironically, of the merchants with sales larger than $500 million, only 45% track false positives and of merchants with sales less than $100 million, only between 24% and 34% track false positives. 69% to 75% of businesses with revenue between $100 million and $250 million track this challenging sales problem.
Which industries track false positives the best?
The top industries tracking false positives include dating and social sites (69%), computers and electronics (68%), telecom (67%), games and gaming (60%), hardware and home improvement (59%), money transfer (58%), and food and beverage (55%).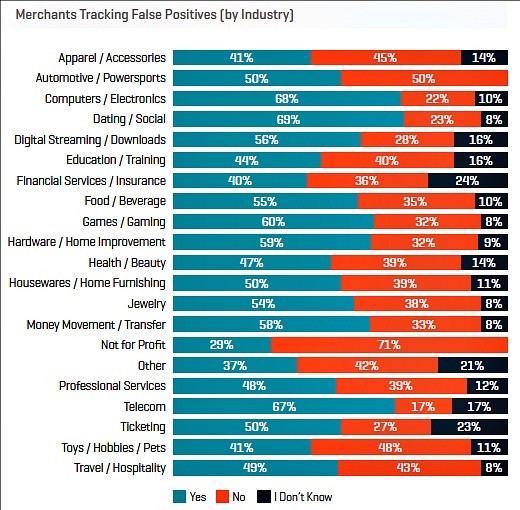 Those doing a less effective job of tracking false positives include not-for-profit (29%), financial services and insurance (41%), toys/hobbies/pets (41%), apparel and accessories (41%), education and training (44%), and professional services (48%).
These are surprising role results especially for financial services and insurance industries.
Current false positive rates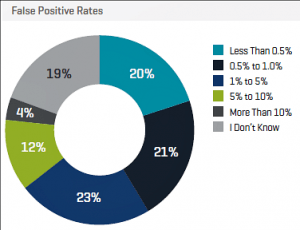 Nearly 20% of businesses did not know their false positive rates. 20% of businesses had false-positive rates of less than 0.5%; 21% (between 0.5%-1.0%); 23% (between 1.0%-5%); 12% (between 5%-10%); 4% (more than 10%).
These are striking results given that 12% of businesses are losing between 5% and 10% of their business to false positives.
Industry false positive rates
it's valuable to look at those industries that had the highest false positive rates between 5% and 10%. They provide a useful benchmark as well as an indication of how much business is being lost by sector and by business overall.
The industries with the highest false positive rates between 5% and 10% included money transfer (29%), food and beverage (24%), travel and hospitality (22%), health and beauty (18%), ticketing (18%), and apparel (15%).
The report noted that 50% of nonprofits and 13% of professionals had false-positive reports above 10%.
Industries with the lowest false-positive results between 5% and 10% included dating and social sites (0%), toys/hobby/pets (0%), professional services (6%), and jewelry (8%).
Target false positive rates
"While 46% of merchants do not attempt to track false positives, even more, 59%, do not have a standard or goal set in terms of a target false positive rate or measure of performance. Or survey respondents said they did not know if the organization had a target false positives rate (23%) than those who definitely said "Yes" (18%).
50% of those surveyed said their goal was to stay below 1% while 16% of merchants said their goal was to keep false-positive rates between one and 5%.
How merchants track false positives
The strategies for tracking performance related to false positives varied. 35% of merchants identified transactions that made a second attempt while 33% identified declined orders associated with confirmed fraud from post-transaction or chargeback analysis.
10% of merchants identified declined orders using cards that appeared on Visa's TC-40 reports and 9% identified declined orders on MasterCard's SAFE reports.
Most significantly, the largest group of merchants (49%) did not track false positives.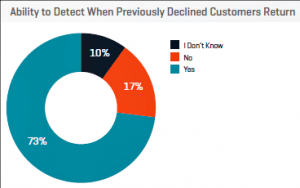 73% of merchants who tracked false positives claimed they could identify declined customers when they returned while 17% could not and 10% did not know if they were capable.
Another 68% of merchants said they were able to identify declined customers who called in to complete orders previously declined.
50% of merchants were using chargeback analytics to track false positives while 38% were not and 12% did not know.
A surprising 67% of merchants were not aware of Visa's TC-40 or MasterCard's SAFE reports. Of the 33% of merchants who were aware of these reports, only 46% utilized these reports to track false positives.
Implementing strategies to track declined customers is an obvious way to decrease false positives' impact on sales.
Biggest challenges managing false positives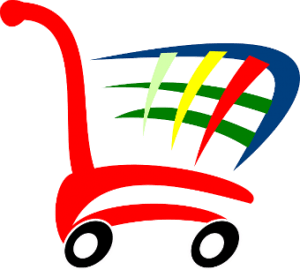 Merchants identified a range of challenges in managing customer false positive declines. 56% said the biggest problem was reducing false positives without increasing fraud or chargeback rates. 51% said measuring or tracking false positives was a challenge. 49% said reducing false positives without investment or further costs was an issue while 47% said not increasing manual reviews as a challenge. 37% said identifying the root cause of false positives was a challenge and 31% said finding help in reducing false positives rather than just fraud detection was a problem.
Channels with highest false positive rates
Surprisingly, 33% of merchants were unsure which of their sales channels have the highest false-positive rates. 17% said desktop e-commerce, 15% said mobile and 35% said both showed the same rate of false positives.
52% of those surveyed said they do try to understand the root cause of false positives while 31% did not and 17% did not know. Again, a surprising lack of willingness to take the time and resources understand a key business problem.
Leading causes of false positives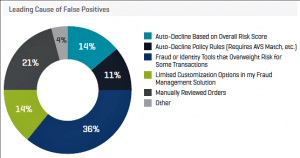 The largest number of false positives were caused by fraud or identity tools that overweight risk for some transactions (36%), followed by manually reviewed orders (24%), auto-declines based on overall risk scores (14%), limited options in fraud management solutions (14%), and auto-decline policy rules (11%).
Only 35% of those surveyed could say they were sure they understood the volume and cost of false positives to their business. 40% said they did not understand the volume or cost of false positives and 25% were unsure.
More action on false positives needed
While there were many reasons for false positives, 72% of organizations said they should be doing more to understand the problem and its impact. Only 35% said they had a budget for reducing false positives while 40% did not and 25% were uncertain.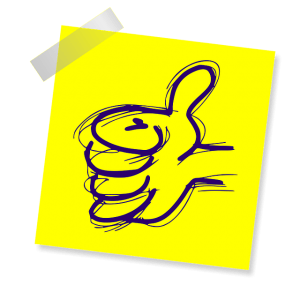 The industries budgeting the most for reducing false positives included gaming (36%), jewelry (36%), money transfer (36%), computers and electronics (33%), telecom (33%), education and training (33%), and food and beverage (31%).
The industries with the highest rate of not budgeting for reducing false positives digital streaming/downloads (64%), the and social (56%), money transfer (55%), financial services/insurance (55%), travel and hospitality (52%), automobile and power sports (50%), and housewares and home furnishings (50%).
Top tactics to reduce false positives
Of the merchants surveyed, 69% were planning to increase data analytics or business reporting, 55% expected to add new measurements or benchmarks, 54% will add new fraud detection tools, 30% replace their primary fraud or risk management solution and 26% will increase their manual review staff.
The report identified eight tools that merchants believe are most effective for reducing false positive impact on sales including AVS (56%), CVV (54%), device ID (49%), fraud scoring (48%), IP geolocation (48%), machine learning (46%), ID authentication (42%) and know-your-customer (KYC) (40%).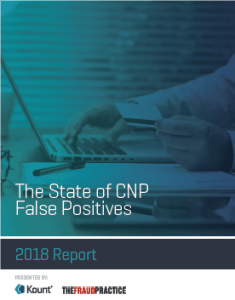 "Beyond the general lack of awareness and borderline apathy regarding false positives, it is also disconcerting to see AVS and CVV checks listed as the top tools for preventing sales insults. The reality is that harsh policy rules around these checks are likely the result of many false positives and in many cases, fraudsters have the information to pass these checks in their possession," the report concluded.
The Kount white paper is a valuable report in understanding false positive results and their impact on merchant sales and business. You can download the free report here.
Visuals courtesy of Kount, Payments NEXT