If you're curious about the state of e-commerce in the Western EU, a new report from Internet Retailer says sales of the top Europe 500 online retailers and consumer brands grew 13.9% in 2017.
This came at the expense of off-line retailers whose sales only grew 2.6% in 2017 according to Statista.
Among the EU sellers who showed the strongest growth in online sales were Zalando SE (Germany, +21.5%), Amazon (US, +21.2%), E.Leclerc SA (France, +20%), Vente-Privee.com (France, +19%), Allegro Group (Poland, +14%), Asda (UK, +12%), Apple (US, +11%), Otto Group (Germany, +10%), and Sainsbury's (UK, +9%).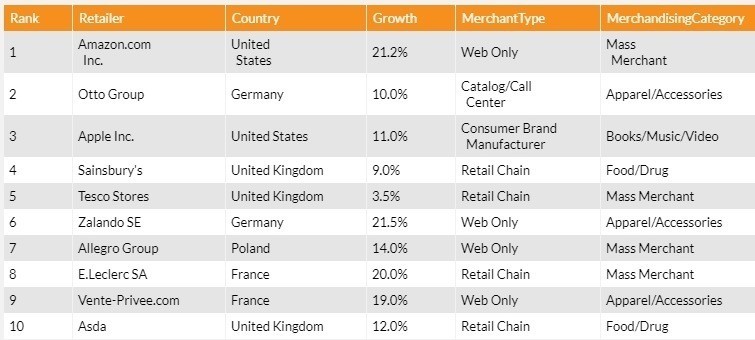 Amazon sales grew more than 21%
The picture for Amazon was even more positive as sales grew 21.2% even though it only operates e-commerce sites in six countries – the UK, France, Germany, Italy, Spain, and the Netherlands.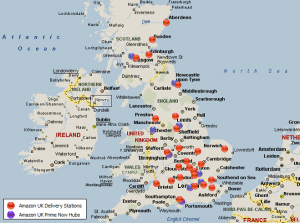 According to MWPVL International, sales were no doubt helped by the 174 fulfillment and delivery centers it operates throughout the EU, as well as three warehouses which help it deliver in Poland, Czech Republic and Slovakia where it does not have e-commerce sites.
Amazon Prime members in some large markets receive free two-hour delivery and one-hour delivery with an additional fee. All these results despite warehouse strikes and regulatory challenges in 2018 in Germany, UK, Spain, and Italy.
Other EU e-commerce trends
A couple of EU e-commerce trends are worth noting. Online grocery sales in the UK grew 18% in 2018. IDG expects online grocery sales to be the fastest-growing channel, increasing by 52% between 2018 and 2023. UK grocers Sainsbury's (#4) and Tesco (#5) ranked in the top 10 e-commerce sellers.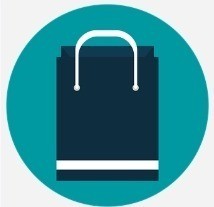 Discount online sellers are expected to grow at 36.7%, followed by convenience stores, up 17.6% during the same timeframe.
Internet Retailer notes there is still room for growth in new market segments, citing UK apparel brand Gymshark 's online sales in 2017 which grew by 205%. Seven of the top 10 fastest-growing companies are consumer brand manufacturers.
Other fastest-growing online EU companies in 2018 included Swatch (Germany, +84.6%), Merlin Cycles (Czech Republic, +79.5%), Ecco (France, +78.6%), Carpetright (US, +74%) , Suunto (France, +69.8%), Unieuro (Russia, +67.3%), Airwair International (Russia, +66.2%), Vibram (France, +64.2%), and G-Star Raw (UK, +58.2%).
The European e-commerce market is poised to increase further as online shopper interest continues to grow quickly.
You can read more details of EU e-commerce sales in the Internet Retailer report here.
Visuals courtesy Internet Retailer and MWPVL International