VC Union Square Ventures partner Albert Wenger says cryptocurrency will be worth trillions of dollars. Eventually.
Along the way, he says, there's the risk of a drop-off in the short-term but the longer term is positive.
The way I look at this is. When we look back at it from far away in the future, it'll be a very massive run-up. The current run-up could turn out to be a blip on that chart. So, I think you know, once you reach the kind of territory we're in today, there's definitely a way for it to go down and there's definitely also a path to the future where cryptocurrency, as a whole, will be worth trillions of dollars."
Amazon-like growth curve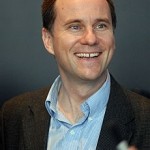 He says we're still a long way from that and there will be some "recess" along the way. Wenger compares the growth chart of cryptocurrency to that of Amazon before it became dominant.
Wenger adds:
I think the key thing to understand is that all this irrational exuberance is actually good for the long-term trajectory because what that irrational exuberance does is it brings new investors into the space. It brings entrepreneurs into the space. It leads to the creation of many systems. Because it's so novel, we have to try many things to find a few things that work."
You can listen to Wenger's CNBC interview here.
(Photo of Albert Wenger courtesy USV)