Cryptocurrency news highlights include David Sacks' perspective on cryptocurrency and its future impact on venture capital and three Ukrainian lawmakers holding bitcoin worth $47 million.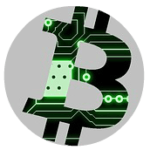 Investopedia reports some analysts including Forbes analyst Clem Chambers are now forecasting a bitcoin bubble. Meanwhile Goldman Sachs analyst Sheba Jafari predicts a new bitcoin ceiling of $4,827 before an expected big correction takes place. NY-based Blockstack's new ICO raised $25 million for a new VC fund aiming to create a new, decentralized version of the internet.
Swiss Falcon Private Bank will add Ether, Litecoin and Bitcoin Cash to its cryptocurrency options for investors. Bitcoin fees spiked to nearly $3 per transaction with $300 million waiting to move through backlog. CoinDesk compared recent 600% bitcoin gains with traditional S&P 500 Index average returns of 9.8% over the past 50 years. Feel like a bubble yet?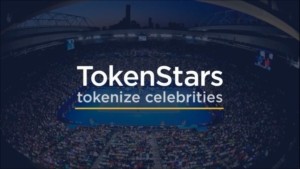 Tokenstar's new ICO hopes to tokenize celebrities starting with tennis stars, adding other sports and eventually movie stars, rock bands and other celebrities, giving fans a unique opportunity to invest. A fascinating concept!
Pacific International Lines and IBM Singapore signed an MOU to explore blockchain-based supply chain business network innovations. Xmr.to claims to offer totally anonymous Bitcoin transactions using the Monero altcoin.
David Sacks cryptocurrency interview
David Sacks was PayPal's COO back in its early days, and says cryptocurrency is now fulfilling that company's original vision of creating a "database of money."
He says we're poised for a correction in valuations but he hopes it'll be a softer landing than the dot-com boom-and-bust. He explains why he thinks cryptocurrency is a long-term threat to the venture capital model.
David Sacks is one of the best-known entrepreneurs and investors in Silicon Valley. He was the COO of PayPal more than 15 years ago, which made him a charter member of the so-called PayPal Mafia, a group of influential Silicon Valley investors and execs that also includes LinkedIn founder Reid Hoffman and early Facebook investor Peter Thiel. Via cnbc.com
More Evidence that Cryptocurrencies Are a Bubble?
Given the flurry of news about cryptocurrencies over the past several months, it's difficult not to get excited at the prospect of quick profits. The industry has grown exponentially, topping $120 billion in total market cap after many of the leading tokens have catapulted to record high price levels since the start of the year. And yet, there are analysts who caution that such meteoric gains cannot be sustainable over the long term. While there is ample talk of cryptocurrencies taking over in a major way, including speculation that crypto space may outpace cash over the long term, there are many voices suggesting that the digital currency world is also representative of a bubble. Forbes analyst Clem Chambers has argued this for several months, and suggests new reasons for his opinion in a recent piece.
Chambers argues that the cryptocurrency world is a bubble over the short-term. Still, he suggests that the industry will go up, overall, in the medium-to-long term. Regardless, Chambers argues, investors should get involved in the crypto world, even if they feel that the ultimate direction of the market is down. The reason? "Because cryptocurrencies have so many decimal points some of the coins out there are effectively toy tokens," Chambers says. Investing even $100 in them will help even the most skeptical investor to have a better understanding of the new technology and the way it will change the investment world. And that is the key: regardless of when and how a cryptocurrency bubble bursts, it will impact the broader investment world for the long term.
Chambers points to companies that have become some of the largest in the world and which first gained prominence in the dotcom boom. Although the dotcom bubble burst, those major companies are still in existence, and many are thriving. Via investopedia.com
Three Ukrainian Lawmakers Declare Bitcoin Holdings Worth $47 Million
Three Ukrainian lawmakers have declared their bitcoin holdings as part of the country's new electronics declaration system aimed at preventing corruption. The three hold altogether 11,644 bitcoins, worth approximately $47 million.
Three members of the Verkhovna Rada of Ukraine which is the country's unicameral parliament have declared their bitcoin holdings, according to Ria Novosti. Alexander Urbansky, Dmitry Belotserkovets and Dmitry Golubov are members of the political party "Bloc Petro Poroshenko." The trio's bitcoin holdings are shown in their electronic declarations, which Parliament members are required to submit. The publication detailed:
This "e-declarations" system, aimed to prevent corruption, mandates government officials and related persons to declare and describe all assets they possess inside and outside of Ukraine; the information is then made available to the public.
Meanwhile, some bitcoin mining farms in Ukraine have reportedly been closed down by the government. Recently, news.Bitcoin.com reported on bitcoin miners being arrested in Kiev and 200 pieces of mining equipment seized. Around the same time, the Security Service of Ukraine (SBU) reportedly discovered another cryptocurrency mining farm in the town of Kropyvnytskyi in central Ukraine. In both cases, the mining farms were closed down and mining equipment seized. Via news.bitcoin.com
Goldman Sachs Technical Analyst Predicts Bitcoin's 'Top' Is $4800
During the overnight of August 14, the price of bitcoin hit an all-time high of $4,400 across global exchanges. Two months ago, Sheba Jafari, a lead technical strategist at Goldman Sachs told her clients that bitcoin's price would rally to $3,900, and now that her forecast came true this week the analyst has set a new target at $4,800.
Goldman Sachs Analyst Who Called Bitcoin's 'Top' Two Months Tries to Predict Again
Bitcoin markets have been on fire lately as the decentralized currency's market capitalization now exceeds $67B. In fact, the cryptocurrency has gained in value quite a bit over the course of the past seven months, and has only slowed down for short periods of time. Back in June, data analyst Sheba Jafari revealed that she believed bitcoin would slowly creep up to the $3,900 range and her forecast came true. Now according to Business Insider, Jafari is calling a new 'top' for bitcoin and believes the price will reach $4,827 before a massive correction. Via news.Bitcoin.news
ICO Meets VC: Blockstack Raises $25 Million for Decentralized Internet Fund
While initial coin offerings (ICOs) have fast become the breakout method for blockchain fundraising, at least one industry startup thinks there's still a place for traditional venture capital in this new economic movement.
Today, New York-based Blockstack is launching a $25 million venture capital fund aimed at jump starting a new, decentralized version of the internet. But more notable than the money, is who's allocating it. Unlike the many ICOs that are raising funds through retail investors, the Blockstack Signature Fund will only distribute money from active venture capitalists.
As such, Blockstack co-founder Muneeb Ali positioned the fund as a way to bring together decentralized app builders and the venture capital community. Via coindesk.com
Swiss Bank to Sell Ether and Bitcoin Cash to Customers
A private Swiss bank is expanding a digital asset management service it launched earlier this summer to include new cryptocurrencies.
Falcon Private Bank, as previously reported by CoinDesk, revealed that it would allow its customers to buy and hold bitcoin within their accounts through a partnership with brokerage service Bitcoin Suisse. The launch was said to come after consultations with Swiss regulators, including the Swiss Financial Market Supervisory Authority (FINMA).
Now, that product line is expanding to include ether, litecoin and bitcoin cash. Customers of the bank will be able to start buying and holding those cryptocurrencies from August 22, according to today's announcement. Via coindesk.com
S&P 500 or Cryptocurrency: Just How Big Is Bitcoin's Price Explosion?
While bitcoin is down several hundred dollars since hitting its all-time high of $4,483.55 earlier today, the cryptocurrency is still on an absolute tear this year.
Bitcoin's ascent viewed over a longer time horizon is impressive. On a year-over-year basis, its value has risen about 600 percent. In the last 100 days, it's seen 150 percent gains. Six months ago, bitcoin was trading just above the $1,000 mark – so even with the recent drop, its price has more than quadrupled in the last six months.
Gains at those levels sound massive – but just how big are they? Compared to investments in other asset classes, how well is bitcoin faring? And, as this afternoon's price declines allude to, are the downside risks understood? One way to try to flesh out answers is to compare stock market returns with the returns on bitcoin. Via coindesk.com
Bitcoin's Fees Spike to Near $3 Per Transaction, $330 Million Waiting to Move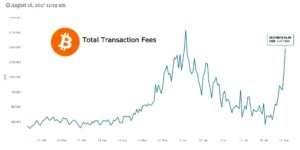 Bitcoin's backlogs are back. Sending fees up and up in a very short time, returning delays, and returning queues with some 80,000 bitcoins stuck at the time of writing, worth around $330 million.
According to 21.co fee estimates, the simplest bitcoin transaction of around 226 bytes now costs more than $2.80 to move within a normal time estimate. Many bitcoin transactions are at around 400 bytes, so fees of $4 and $5 should be expected, especially as exchanges begin setting default fees which are usually higher than estimates.
The spike in fees is caused by lack of capacity. Bitcoin can not process more than 1MB in transactions, around 300,000, due to a protocol limit which is to increase in around two weeks to 1.7MB dependent on ecosystem adoption of segregated witnesses (segwit). Via trustnodes.com
TokenStars to Roll Out New ICO, Tokenizing Celebrities' Careers
The celebrity talent management industry is larger than many Fortune 500 companies and even many countries' GDP (including EU countries), boasting over $40 billion in contracts under management. TokenStars' new ICO aims to disrupt this market, which is currently dominated by a few key players, and share the newly created value with community members. This is the first project to tokenize massive celebrities.
The ACE project begins with tennis players (1 billion fans worldwide), after which TokenStars will move on to football (GOAL Project) and others, eventually expanding into poker, basketball, hockey, and even movie stars, music bands, and models. Eventually, all of these verticals will be combined under a shared infrastructure with the STAR index token, so early supporters will get a priority seat.
Based on the proven talent management agency (TMA) business model, ACE is a low-risk global project whose goal is to introduce tennis fans to the blockchain world. The top 20 players already have 172 million active fans, and TokenStars will put special emphasis on global PR and marketing to get the other 0.8 billion on board. The opportunity to help sponsor the next mega-star and get exclusive offers should be very appealing. Via financemagnates.com
IBM Signs Another Blockchain Deal, Further Pushing into Industry
In a significant boost to the use of blockchain technology as a building block for high security innovations, Pacific International Lines (PIL), PSA International (PSA) and IBM Singapore (IBM) have signed a Memorandum of Understanding (MOU) today to explore and trial proof of concept (POC) blockchain-based supply chain business network innovations.
The use and knowledge of blockchains as the starting point for cryptocurrencies is widely acknowledged but its use in highly secured networks and transactions is only now being explored, and that is where the blockchain industry should be eventually heading. This is part of IBM's blockchain push in recent months – it has even built an entire division to focus on the technology as it bets big on the blockchain industry.
The partnership is looking to leverage the security capabilities of blockchain technology, with its decentralized ledger technology at the core of its strength, to innovate and build POCs to better demonstrate the usage and efficiency of networks that would help in supply chain management and facilitate faster approvals and better regulation and security as well. Via financemagnates.com
Xmr.to Claims to Offer Fully Anonymous Bitcoin Transactions
Xmr.to claims to allow its users to send fully anonymous bitcoin transactions by using its service. The company will send payment on behalf of a user in exchange for monero – an altcoin that claims to offer privacy capabilities that are superior to bitcoin's pseudonymous ledger.
Xmr.to purports to offer total anonymity by obscuring the path taken by funds in between destination and origin, as well as the medium of exchange employed. The company claims that the record between the sender and xmr.to is untraceable owing to monero's protocol, and that there is no record associating the sender with the recipient of a transaction created during a transfer. Said anonymity would, however, appear to be exclusively enjoyed by the sender and not the recipient of a transaction, as the recipient will have a pseudonymous record of the transaction sent from an xmr.to wallet recorded on the bitcoin blockchain. and
The decision to receive payment in monero may be largely motivated by the self-interest of xmr.to. With the company's operations comprising that of a basic bitcoin 'tumbler', the choice to accept xmr has likely been made in order to protect the anonymity of xmr.to. Information surrounding the origin xmr.to is extremely scant, which is unsurprising given that the company's business model circumvents the traditional money transmitting industry and regulations. Via Bitcoin.news