Now that US tariff increases of 25% or more on $300 billion of Chinese products are looming large, what's the impact on consumers and is there potential for the payments industry to take a hit as well?
Contrary to what the White House says, American consumers and business are the ones who pay the tariffs, not the Chinese directly. Tariffs are a tax, plain and simple, which the top economic advisor finally recently admitted.
A study conducted for the National Retail Federation (NRF) and 150 other trade organizations, shows US companies paid $2.1 billion in tariffs on Chinese products in November 2018 alone, up from $363 million a year earlier.
What's the impact on consumers?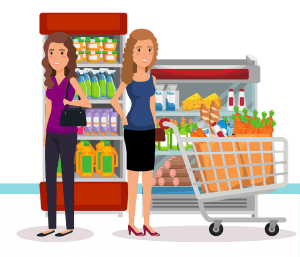 The grocery shopping basket, department store shopping cart and prices at the online checkout for a wide range of consumer products are set to jump in the coming months. That includes products in retail, tech, manufacturing, agriculture and other sectors.
"These tit-for-tat trade actions could spell disaster for the U.S. economy and make it harder for Americans across the country to afford everyday products and basic necessities. It is inevitable that China will respond with more retaliatory actions that cause even further harm to American farmers, businesses and consumers. We urge the administration to change course and stop playing a game of chicken with the nation's economy," NRF CEO Matthew Shay said recently in a statement on the tariffs issue.
The study for Tariffs Hurt the Heartland estimated that "imposing tariffs of 25% on all remaining imports from China, combined with the impact of retaliation, would jeopardize more than two million American jobs, cost the average US family of four nearly $2,300 each year and reduce the value of US GDP by 1%."
What's the impact on small business?
Small to midsized business and manufacturers are also dependent on imports for products in their manufacturing and supply chain. Their costs go up, and these must eventually be passed on to buyers and consumers. If spending drops the potential impact is falling revenues, lower profits, lower valuations, and job losses not very far in the future.
Vivacity Sportswear in San Diego creates athletic wear manufactured in the US with imported technical fabrics and components from other countries, including China. Owner Vivian Sayward is concerned that rising costs due to tariffs will make it impossible to keep manufacturing in the US.
Everything Kentucky small business owner Ann Wingrove said, "I'm afraid a trade war is going to cause me to not be able to invest in my business. I see employees not getting raises. I see capital improvements not being made. A trade war will hurt everyone," she said.
Tara Riceberg, owner of Los Angeles-based gift shop Tweak & Tesoro says that small businesses like hers will be unable to absorb the costs of tariffs. Yet passing along the costs to customers will make it hard for her to retain their business.
Ken Keiran, owner of Union Farm Equipment in Union, Maine, says tariffs have already increased prices for many of the products he sells, including both imports from other countries and those built in the US from imported parts.
What's the potential impact on the payments industry?
The direct impact of increased new US tariffs on Chinese goods on the payments industry could be seen quickly too with reduced fees and commissions from lower consumer spending.
The longer term, impact could be job losses, lower investment in manufacturing plants and technology, lower profits, and more difficulty raising capital for new technology and financial services and product innovation.
"The tariffs will likely lead to more caution from businesses and halt the pace of  innovation and investment. This can lead to slower growth and a need to diversify sourcing and manufacturing for retailers," says Katherine McClure, Partner Development Manager at PPRO.
McClure says China is also where nearly all payment terminals are produced, so broad tariffs could affect merchants looking to buy payment devices.
All the way around, playing a game of chicken with the Chinese on tariffs is not a sound strategy. Nor is it the proper path to better trade policy and trade relations.
You can read many more comments, and view more videos of US small businesses talking about the impact of sudden, increased US tariffs at the National Retail Federation website here.
Videos courtesy of National Retail Federation