A new report from Juniper Research says in-store contactless payments will reach $2 trillion by 2020, representing one-third of the total point of sale transactions.
Driven by payment cards and mobile wallets, contactless payments will reach $1 trillion by the end of this year, a year earlier than previously expected by the fintech research company.
"OEM Pay wallets, specifically, are expected to represent 15% of total contactless in-store transactions, racking up over $300 billion in transactions by 2020," the company said.
Who's driving contactless payments?
The mobile contactless payments market will be driven by Apple Pay, Samsung Pay, Google Pay, and other OEM Pay wallets. Combined, these OEM Pay wallets users will reach 450 million by 2020, with Apple accounting for 1 in 2 OEM Pay users globally.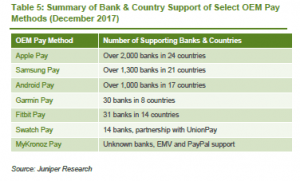 Apple Pay is now available in 23 markets and Samsung Pay in 22 markets. Microsoft Pay, Huawei Pay, and Xiaomi's Mi Pay each launched in 2016 with international growth expected by the two new Chinese players.
According to Juniper's latest contactless data tracker, the number of contactless payment cards issued reached 2.5 billion globally in 2017, up from 1.7 billion in 2016. However, only 60% of the cards issued in 2017 were actively used for card payments.
US is lagging in contactless payments
Juniper's research shows the US is lagging with an estimated six million chip cards used to make contactless payments (around 5%) in 2017, compared with markets such as Canada (60 million) and the UK (108 million).
In the US, consumer attitudes and the lack of infrastructure and contactless terminals is limiting user adoption.
Banks jumping into mobile contactless payments
Host Card Emulation (HCE) or contactless payments by mobile device is starting to attract attention by banks particularly in Europe and Asia.
"By the end of 2017, Juniper Research estimates that well over 200 banks had introduced such services. Those launching in 2017 included Belfius (Belgium), Citi (US), Credit Agricole (France), Deutsche Bank (Germany), Rabobank (Netherlands) and SBI (India)."
In 2017 in Western Europe, 110 banks launched HCE followed by China and the Far East (48), Central and Eastern Europe (28), the rest of Asia Pacific (10) North America (6), Latin America (4), Africa and the Middle East (3), and India (2).
Adoption of mobile contactless payments at this early stage is still low.
Smart wearables popping up
OEM pay providers are still led by the large companies who entered the market early including Apple Pay with 2,000 banks in 24 countries, Samsung Pay (1,300 banks/21 countries) and Google Pay (1,100 banks/11 countries).
Among the wearables leaders at this early stage are Garmin Pay (30 banks/8 countries), Fitbit Pay (31 banks/14 countries) and Swatch Pay (14 banks with Union Pay). Barclays (bPay) and Sony have implemented payments on the watch strap rather than the watch itself.
OEM Pay market share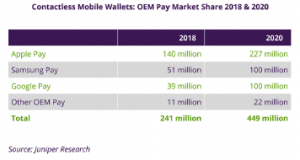 Juniper forecasts that OEM Pay users, including Apple Pay, Samsung Pay, and Google Pay, will reach 450 million users by 2020, with Apple accounting for 50% globally. The combined market share of Apple, Samsung and Google will reach 60% of global mobile contactless users by 2023, up from an estimated 50% in 2018.
Other OEM Pay users, including the likes of Huawei Pay, Xiaomi Pay, Fitbit Pay and Garmin Pay, will exceed 20 million by 2020.
Contactless payments are expected to grow quickly as users adopt various providers and become more comfortable with these new ways of making payments. The biggest challenge for banks and payment services is educating consumers, encouraging early adoption and figuring out the technology most likely to appeal to users.
You can read the Juniper Research whitepaper "Will Apple continued to dominate contactless payments?" here.