Ten years after President Barack Obama signed the Credit Card Accountability, Responsibility and Disclosure Act of 2009 (Credit CARD Act), research by CompareCards.com shows consumers want more credit card protection.
The act provided some key consumer protections. It limited banks' ability to increase interest rates on existing credit card balances, required consumers under age 21 to have a co-signer or proof of income, restricted banks' ability to charge overdraft fees, and increased disclosure requirements.
What other credit card protection do consumers want?
While nearly half of consumers weren't aware of the Credit CARD Act, the majority of consumers want more protection and particularly a limit on how high credit card interest rates can be raised.
Among the research key findings:
79% agreed there should be more laws and/or regulations to protect credit cardholders, while just 6% disagreed. (Even 77% of Republicans agreed.)
88% said there should be a cap on the interest rates financial institutions can charge on a credit card. Those with the lowest incomes are least likely to support a cap, while those with the highest incomes are most likely to support.
Nearly half (47%) said they had never heard of the CARD Act. Of those who were aware of it, 40% said it had a positive effect, while just 15% said it was a negative and 45% said neither.
70% said someone under the age of 21 be required to show proof of income or have a co-signer in order to get a credit card – and the older you are,the more likely you are to agree.
Nearly 1 in 4 (24%) said if someone is 60 days late with a payment on one credit card, the issuers of that person's other credit cards should be able to raise the interest rates on those cards as the result of that late payment. (That's describing the much-reviled policy of universal default,which the CARD Act basically did away with).
Credit card interest rate limit is key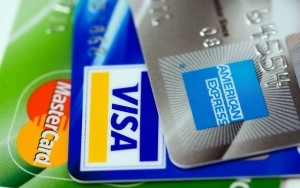 Americans face more than $1 trillion in credit card debt, so it's not surprising the most important protection wanted is a cap on credit card interest. With the current administration, that's not likely to happen anytime soon.
"The recent government shutdown gave us a glimpse at how many Americans are teetering on the edge financially. They're just one or two missed paychecks or one medical emergency away from being in real financial trouble. They need all the help they can get to make ends meet," said CompareCards.com Chief Industry Analyst Matt Schulz.
Schulz added the most important thing consumers can do is pay down as much of that expensive credit card debt as soon as possible.
You can read more of CompareCards by Lending Tree's research report here.