Chinese travelers are currently the largest spenders and the fastest-growing traveler segment in Europe. This presents EU businesses with an opportunity for growth by serving this new consumer market if they can figure out how to handle payments seamlessly.

To help EU merchants meet this growing market, CITCON, a US cross-border mobile payments firm announced enhanced market support and services that integrate familiar payments options including Alipay, WeChat Pay, and China UnionPay, the most common payment methods for over one billion Chinese consumers.
"Chinese tourism is booming in Europe and we are proud to promote a smart lifestyle by providing travelers access to the digital wallets they prefer," said Chuck Huang, CITCON founder, and CEO. "This has presented an opportunity for European merchants to offer the lifestyle that travelers demand, especially luxury brands, looking to capitalize on the opportunities presented by the influx of tourists."
How big is the foreign Chinese travel market?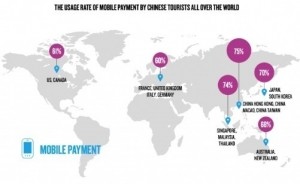 Chinese tourists made 140 million outbound trips in 2018, up 13.5% from the previous year, according to the China Tourism Academy.
A Nielsen/Alipay whitepaper identified key insights into this growingly upscale market:
Chinese tourists are becoming more frequent and diverse travelers, as well as more experience-and-quality-oriented shoppers.
The average foreign Chinese traveler visited 2.8 countries or regions in 2018 compared to 2.1 in 2017.
Average spending was $6,026 per person on foreign travel with $6,706 budgeted for 2019 travel.
More than two-thirds (69%) of Chinese tourists paid with their mobile phones while abroad, up 4% from the previous year.
On their most recent trips overseas, Chinese tourists surveyed paid for 32% of transactions using mobile payment, overtaking cash for the first time.
Where is the market potential?

The most important Nielsen finding was that 94% of Chinese tourists would be more willing to pay with their mobile phones if it was more widely adopted by local merchants. At the same time, 93% would likely increase their spending if mobile payments were more widely accepted.
Nearly 60% of merchants that adopted Alipay saw growth in both foot traffic and revenue after their mobile payment systems were implemented.
So, will today's European merchant be ready to serve these new consumers? CITCON and its payments partners are banking on it.
You can read more insights about the Chinese foreign traveler market from CITCON here. 
Data charts courtesy of Nielsen Research/CITCON