It's sleek, undeniably cool-looking, and onscreen the new Square Terminal is faster, friendlier and aimed at breaking the chokehold held by traditional in-store and online payments providers who dominate today's retail and e-commerce channels.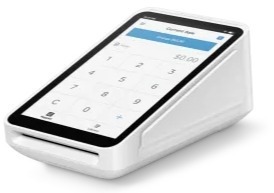 Last week Square CEO Jack Dorsey introduced the Square Terminal to the Canadian market, with hopes that better tech and more pricing transparency will mean new retail and e-commerce business customers.
What's Square Terminal?
Like most things Square, the new portable, all-in-one payments terminal has an Apple-like design form and simple features that make payments easier and faster for consumers and sellers alike.
It's definitely not "square."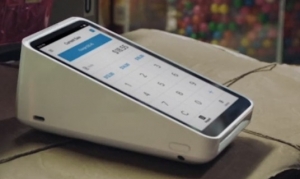 Square's white device called the Terminal replaces the usual keypads with a glass touch screen that displays more information at checkout with numerous options, such as a full breakdown of the purchases made.
Consumers can make payments on a simple, familiar smartphone or tablet-like screen and can swipe, tap or type in a PIN number in-store. It's that cross-channel capability Dorsey hopes will distinguish Square from other competitors.
"It's about making sure that independent of the channel, the seller makes the sale," Dorsey told BNN Bloomberg in Toronto. "Where their customers originate from is becoming less and less of a thing that matters."
For businesses, the back office is also built on the same friendly usability and Square software functionality that helps small business manage payments and reporting better.
Transparent rates, no contracts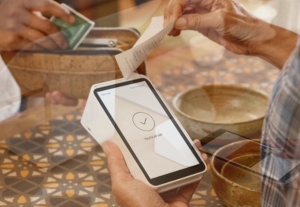 Many Canadian customers are locked into legacy POS systems, lengthy terms, extra fees, and baffling contracts. Dorsey believes that transparent rates and no contracts will eventually convince business customers to convert to the Square platform and services.
Jesse Dorogusker, Head of Hardware at Square said, "With Square Terminal, we took something Canadian business owners know and have learned to live with and turned it into something they will love. Businesses are better served with elegant hardware, transparent rates, and no long-term contracts, ever."
The new terminals are priced at just $299, a 50% launch discount with a zero-interest payment plan, 30-day free trial, one-year warranty, and 24 x 7 phone support. Transaction rates for the Square Terminal are 2.65% for credit card payments and 10 cents for debit payments with no contracts or other fees.
Moneris Solutions Corp dominates Canada's payments marketplace and is owned by Bank of Montreal and Royal Bank of Canada. Shopify, headquartered in Ottawa, also moved into the retail, in-store hardware market from its strong position in e-commerce. In April, it introduced new hardware including a payments scanner and tablet-sized checkout device.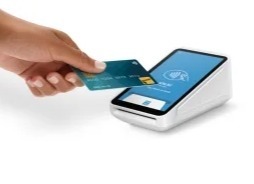 Innovations are constant and Dorsey said his company hopes to add even more features, such as payroll and capital management tools to its software suite in the near future.
One thing's for certain. The payments market in Canada just got more interesting and more competitive. You can read more about the new Square Terminal on the company website.