If the idea of the Bank of Amazon seems far-fetched, both The Wall Street Journal and CNBC are reporting that early discussions are taking place between Amazon and several financial institutions, including JPMorgan, about a checking-type account and other financial services for the e-commerce giant's customers.
Amazon is all about payments
Think about it for a minute. It makes perfect sense. Amazon is all about payments for products and services – a traditional bank function.
But in this fintech era, the traditional business boundaries are getting blurrier every day.
After all, what business segment hasn't Amazon tried to grab in the past five years. Books, music and video? Check. Software and video games? Ditto. Electronics and high technology? Covered.
Household products, clothing, health, beauty, baby, toys, sports and the outdoors? Yep and dominant in some categories.
How about drugs and medical, groceries, smart home devices, Prime Membership enhancements? In progress and coming soon!
For many businesses, in many sectors, when it comes to selling online, Amazon is often your biggest competitor.
Banking and other financial services? It's not as big a stretch as it might appear.
Amazon already offers financial services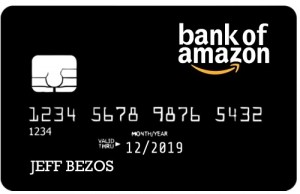 Amazon already has some of the building blocks of a financial services business. More than 75 million Prime Members pay $99 per year for membership privileges, making up an estimated 4-5% of Amazon's annual revenue.
It has its own branded credit card that offers up to 5% cashback for future purchases.
And Amazon's gift card business acts like a form of deposits. At the end of 2016, its liability for unredeemed gift cards stood at $2.4 billion. That's a lot of capital to work with until consumers spend their gift card dollars.
Why the Bank of Amazon makes business sense?
The Wall Street Journal reports Amazon is exploring a "checking-account-like" product aimed at younger customers and those without banking accounts.
Such a move makes smart business sense.
A well-developed partnership with a mainstream bank could introduce Amazon services to a large bank's customers. New co-branded credit, debit or other payment cards could be a new source of fee revenue.
Consumers like the Amazon Bank idea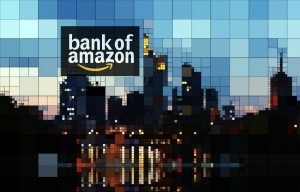 According to a LendEDU survey, as many as 45% of respondents were open to using Amazon as their primary banking account, while 49.6% would use a savings account created by the company. 17% said they would trust Amazon more than a bank and 38.3% had "the same level of trust" in Amazon as with a financial institution.
More than 58% of Prime Members surveyed would be open to using an Amazon coin or cryptocurrency. A majority (50.3%) were open to using Amazon for a personal loan and 30% would be interested in a mortgage.
With these kind of research numbers and an estimated 75 million Amazon Prime members, even a simple financial services partnership would generate increased fees and revenue and further lock in consumers for future purchases and payments.
And with rumors of a cryptocurrency in the works, and Amazon coin would nicely cover future potential as well.
The Bank of Amazon? Don't leave home without it.