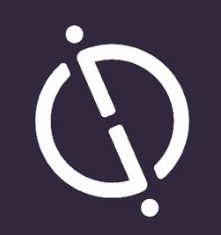 Online shopping in the Asia-Pacific region will reach $1.6 trillion in 2018 and $2.3 trillion by 2022 according to a new report from GlobalData.
Across the entire Asia-Pacific market, Asia-Pacific e-commerce growth increased between 2013 and 2017 at a compound annual growth rate (CAGR) of 27%. By comparison, Europe showed 14% CAGR while North America grew 13% during the same period.
The rapid growth is being "driven by rising internet penetration, widespread smartphone adoption, a fast-growing middle-class, and the increased availability of convenient payment solutions," according to Ravi Sharma, a senior payments analyst at GlobalData.
Alternate payments growing
51% of total e-commerce transaction value was carried out using alternative payments in Q1 2018, up from 49% in 2017.
Debit and credit cards made up 28% of payments followed by bank transfers (15%) and cash or checks (6%).
Clearly, when it comes to the Asia-Pacific market, cash is nearly extinct.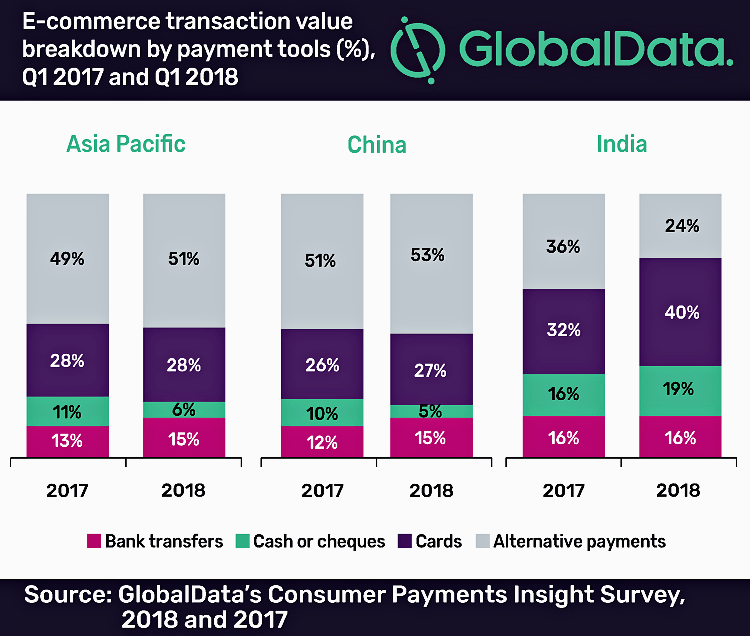 China market differences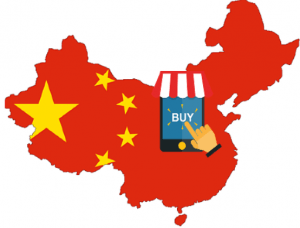 China and India show interesting regional differences in payments preferences and trends.
In China, 53% used alternative payments methods in Q1 2018 compared with 51% last year. The use of cash and checks in China dropped from 10% in 2017 to only 5% in 2008. Bank transfers in China showed an increase from 12% in 2017 to 15% this year.
Earlier research notes that China accounts for 75% of e-commerce transaction value, compared with Japan (10) and India (3%).
India market differences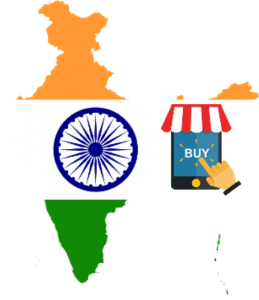 India is at an earlier stage of payments technology adoption. Use of alternate payments dropped from 36% in 2017 to 24% this year. Credit and debit card or checks grew from 16% to 19%
The large drop in alternate payments and an increase in cash payments in India followed the government's move away from forced demonetization first triggered in  November 2016.
Overall the India market accounted for 3% of total e-commerce transaction value in 2017.
Alternate payments growing fast
In the Asia-Pacific region overall, adoption of alternate payments is happening faster than in Western countries partly due to lower reliance on traditional/old infrastructure.
"Adoption of alternative payments in the APAC region has occurred well ahead of that in the West. Asia's card infrastructure and payment behavior are not well entrenched and therefore alternative payment tools offer a welcome substitute to cash," says Sharma.
For example, digital and mobile wallet payments in Singapore more than doubled from 10% in 2013 to 22% in 2017. In India, digital and mobile payments jumped from 7% to 29% during the same timeframe.
In China, mobile payments carried out on smartphones and tablets make up 56% of transaction value compared to 26% in the UK and 23% in the US. 70% of China mobile payments are carried out in-app, a definite trend to watch in Western markets.
Global players fail to make inroads so far
Large global payments players such as Apple Pay, Android Pay, and PayPal have not made much progress against established regional competitors.
According to the report:
"Alipay remains the most popular  tool overall with a 41% share, followed by WeChat Pay with 7.1%. Tencent, which owns the Tenpay brand, introduced WeChat Pay to leverage the popularity of its social media app WeChat, which has a huge customer base of around one billion. Similarly, alternative payment tools account for nearly one third of the total e-commerce transaction value in Australia in Q1 2018, with PayPal being the preferred solution with a share of 15.9%."
All in all, it's an informative look at the Asia-Pacific payments market and a bellwether of what the future holds in Europe and North America.