The trunk of your car, your car garage, employee-owned delivery vehicles, driverless vehicle and robot deliveries, standalone lockers, its own Prime Air fleet, potential drone deliveries, a pickup and return partnership with Kohl's stores. Amazon has tested many options for customers to get delivery of their online shopping packages.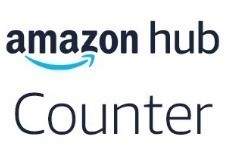 Today, Amazon announced a new delivery option called Counter, that lets shoppers pick up purchases at specialized counters starting with 100 Rite Aid stores immediately and adding more than 1,500 Rite Aids by year end.
Delivery to a Counter location is available for tens of millions of products sold on Amazon and works with same-day, one-day, two-day or standard shipping. The service is available to all customers at no extra cost.
Counter tested in Europe
For store partners, Counter has a straightforward pickup flow and user-friendly technology so store staff can serve customers without disrupting daily activity. Counter originally launched in the UK with NEXT and in Italy with Giunti Al Punto Librerie, Fermopoint, and SisalPay stores. Amazon says the service has been positively received, driving increased customer engagement and additional foot traffic for partners.
"Amazon is always looking for innovative and convenient ways for customers to ship and receive their orders," explains Patrick Supanc, Worldwide Director of Amazon Hub. "With Counter, we've leveraged our growing logistics network and invested in new, easy to use technology to give customers, yet another delivery option rooted in flexibility and control. We are excited to partner with national businesses like Rite Aid, and local businesses in the future, to create an outstanding experience for our shared customers."
How does Counter work?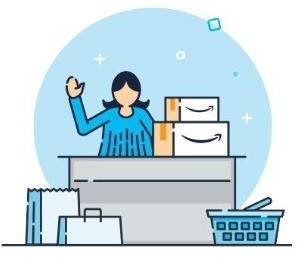 After shopping on Amazon.com, customers check out and simply choose their nearest counter pickup location as a delivery option. When the package arrives, customers receive an email and unique barcode for their product, as well as the address and office hours of the store location. Products are stored securely in-store until pickup, eliminating potential theft problems with home deliveries.
At the store, customers provide the barcode to store staff, who scan it using tested Amazon technology, retrieve the package, and hand it to the shopper. Customers have 14 days to collect their package.
What's Amazon's ROI?
With the expansion of increased same-day or next-day delivery, Amazon has no choice but to open up more distribution channels and capacity. It simply doesn't have 4,700 stores like Walmart or Target (1,844) although the acquisition of Whole Foods gave it a 500+ store network.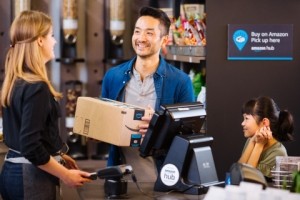 Partnerships like Counter generally give Amazon a storefront and immediate scale without paying for the infrastructure and heavy overhead. Amazon also gets a little bit of insight into the retail business as it considers its own growth strategies in sectors including pharmacy and other businesses.
The benefits to retailer/delivery partners include more customer store traffic, increased customer engagement and brand exposure, not to mention a frequent bounce up in retailer share price based on the Amazon news.
Jocelyn Konrad, Executive Vice President, Pharmacy and Retail Operations of Rite Aid said, "Being the first store partner for Counter in the US is a differentiator for Rite Aid and we believe our partnership with Amazon, that includes Locker, creates a stronger in-store experience for existing customers and new customers that come in to pick up their packages."
Amazon hopes to get other retailers, including small businesses, to join the program as it expands. But there will have to be more than just the promise of more foot traffic from people picking up packages.
How's it worked out for Kohl's?

The pickup and return deal with some Kohl's stores also included an Amazon Smart Home Experience product display and sales areas within a selection of Chicago and Los Angeles stores.
There's no indication so far of any similar Amazon product crossover in the Rite Aid delivery deal. And, it's too soon to tell if there has been an adequate ROI for Kohl's.
Amazon's Hub delivery strategy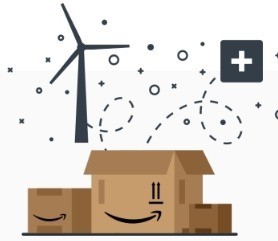 Counter is part of Amazon's Hub network, which includes Locker, Locker+ and Apartment Locker, designed to make it more secure and convenient for customer pickups and returns. points.
Locker is available in more than 900 US cities, offering an alternative, secure, and convenient delivery option available at no additional cost. Locker+ locations are secure and convenient locations in neighborhoods, cities and campuses staffed or with self-serve kiosks.
For apartment buildings, Apartment Locker gives residents an option to receive packages safely, securely, and at their preferred time.
What's ahead?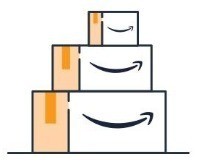 As Amazon explores many delivery channels and future fulfillment options, other retailers will need to up their game in order to compete on price and delivery.
It does feel like retail partners take on more of the risk to their own business by making a deal with the devil Amazon. It's just too early to tell if the payback is there now and in the future for retail partners or Amazon acquisitions like Whole Foods.