With more than 50 million Amazon Echo smart speakers sold, the voice shopping use case is rapidly expanding. Is there an impact on sales by Echo owners?
A new research report from InfoScout and Alpine.AI, shows consumers increased the frequency of their consumer package goods (CPG) spending on Amazon by 29% after purchasing an Amazon Echo device. This compares to a 19% increase in frequency of purchases by non-Echo buyers.
That's powerful sales data and worth investigating further.
Who are these Echo buyers?
Here's a quick look at what sets these buyers apart.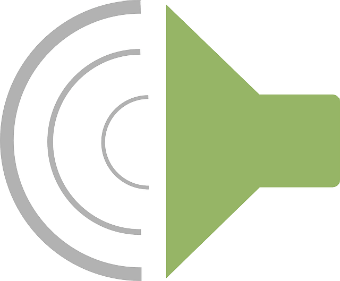 Echo buyers are older than typical Amazon buyers and tend to be male, higher-income, and Caucasian. There are more likely to be married, with a household average size of two people, no children, a four-year degree and a resident of the suburbs.
25% of Echo devices were purchased as gifts and Echo buyers are older than Echo users on average.
What's the Echo buyer buying?
Consumer package goods included grocery, household, health, beauty and pet products. The average purchase by Echo buyers was slightly lower at $25 compared to $26 for non-Echo buyers.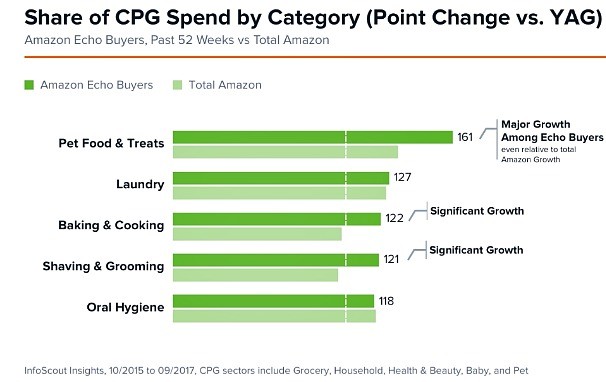 The biggest growth among Echo buyers' spending was for pet foods and treats. Other increases included baking and cooking as well as shaving and grooming products.
How is Echo changing purchase behavior?
Consumers who own smart speaker devices are changing their shopping patterns. Voice assistants are now a growing part of purchase behavior.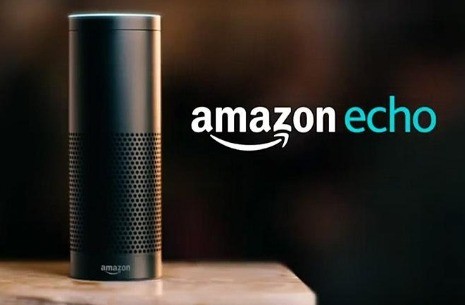 The report notes: "Millions of consumers are now comfortable asking Alexa for shopping help, and this is affecting the Consideration, Intent and Decisions phases of the path-to-purchase in addition to the final transaction."
Alpine.AI CEO Adam Marchick says "To be clear, voice commerce is not 20%+ of digital commerce for brands and retailers… yet. But, a path-to-purchase where consumers are using smart assistants to make commerce decisions is here."
What's ahead for voice-purchase?
Marchick says voice commerce is something every retailer and brand should watch and begin building this new path to purchase.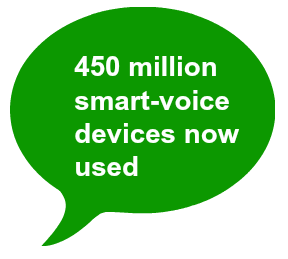 "We can expect the trend of voice purchasing to continue up and to the right. Google understands the importance of streamlining the voice-enabled path-to-purchase, similar to what Amazon is doing, and elegant user experiences will emerge on both platforms. That's 450 million devices today, going to over one billion by the end of this year," Marchick adds.
Being found and useful on Amazon Echo and Google Voice devices will become increasingly important for brands and retailers in the future as voice shopping grows.