By Jeff Domansky
As cross-border business grows, alternate payment methods (APMs) are gaining popularity for their direct impact on the bottom line. New markets generate new revenue but also create new challenges, including offering local or regional consumers their choice of payment preferences.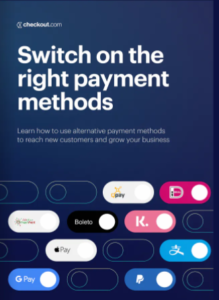 A report from Checkout.com highlights the growth in alternate payment methods as we enter the busy holiday shopping season where as many as 60% of UK shoppers will be purchasing online.
"What's clear after talking to more than 10,000 consumers across the UK and Europe is that the demand for APMs is growing at scale. More than half the people we spoke to had used a digital wallet in the past year. One in five had used a digital payment method for the first time, with another 30% looking to try APMs in the future. And almost a quarter had used a buy now, pay later (BNPL) option," said Manuel Huez, VP product, Checkout.com.
Popular APMs include local credit and debit cards, bank-to-bank transfers, prepaid cards, digital wallets, buy now, pay later schemes, and vouchers. But, it's complicated to manage!
Merchants must integrate many partnerships and navigate the differences in payment preferences from one country to another. The report said 43% of European retailers lost customers because they didn't have the necessary payment options in place.
Pandemic pushed new payment preferences to the top of the cart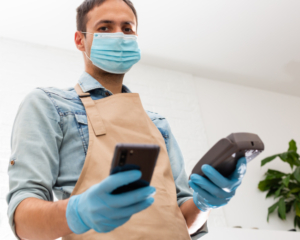 Preferred payments methods vary by country and even more so when it comes to APMs as alternatives to international card brands such as Visa, Mastercard and Amex. In many instances, APMs are the de facto way to pay. This is why they are also referred to as local payment methods.
"APM growth is driven by a few key factors, all of which have been amplified by the pronounced shift to digital over the pandemic. First, there's convenience and security. Most APMs exceed both these expectations since they're integrated into the online shopping experience and use digital wallets and biometric payment methods," said Huez.
Shoppers expect to be able to buy from almost anywhere at almost any time, and APMs make that possible.
For merchants, APMs may come with lower transaction costs in some of the new payment channels. It's also about reaching new customers and growing sales by a combination of enabling more popular local payment choices for each market as cross-border shopping grows.
There's also potential for reducing cart abandonment, enhancing convenience, and responding to the tsunami of change in customer buying and payment preferences.
Preferred ways to pay vary hugely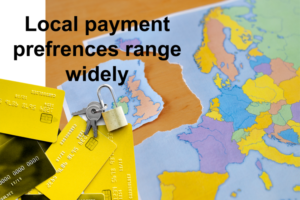 Huez says many merchants were caught off guard by just how many consumers wanted to use different payment methods. This is especially true for businesses that suddenly saw demand from new, overseas markets. "A full 40% of retailers said they weren't prepared with the right payment option to service these customers resulting in lost revenue. The issue was localization: 68% of e-commerce merchants do not yet offer local payment methods in every country they serve."
In the Middle East/North Africa region, offering alternative payment methods is becoming mission-critical for businesses. Checkout.com research found 60% of e-commerce consumers preferred to pay digitally – a 20% increase since last year. "We see a lot better traction there with localized payments, such as mada in Saudi Arabia and Qpay in Qatar," he noted.
Checkout.com found in Poland, customers want to pay using Przelewy24, PayU, Dotpay, tPay, eCards or BLIK. In the Netherlands, where credit cards and the debt that they can bring have never been fully embraced, the most popular way to pay is iDEAL. In the Asia-Pacific, it's all about digital wallets like Alipay or WeChat Pay at the checkout. Credit cards remain popular in Japan and New Zealand.
In MENA, government-backed local card schemes, such as KNET in Kuwait, OmanNet in Oman, and mada in Saudi Arabia are popular. As a result, digital wallets have been relatively under-used, although this is now changing with Apple Pay growing.
Mobile wallets growing fast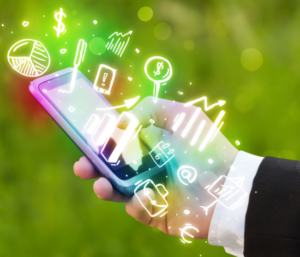 Digital wallets are growing fast in the Asia-Pacific region. In mainland China, Australia and Thailand, digital wallets are now the most popular way to pay. Aside from the prominent players like Alipay and WeChat Pay, popular digital wallet providers include Rakuten, LINE, Samsung Pay and Kakao, Grabpay, GO-PAY, Apple Pay and Google Pay.
The growth of mobile commerce is also driving the usage of digital wallets like Apple Pay and Google Pay. Over 50% of web traffic now comes from mobile devices. This translates into more purchases made on smartphones or tablets. Research from Forrester finds that half of online retail takes place via one of these devices across Europe's largest markets.
On the horizon are innovations like machine-to-machine payments made between connected devices, possible with 5G mobile networks and blockchain technology. Biometric payments are gaining popularity. Veritran introduced facial recognition in Brazil and PayEye launched 150 locations in Poland. 11% of EU consumers used in biometric payment at least once in 2020 and 40% of businesses plan to add it to their payment options within 18 months.
What's driving BNPL as a new APM?
The appeal of buy now pay later to consumers is clear and straightforward. There are no interest payments over time, particularly compared to credit cards. Frequently, easier, faster credit approval is available with no hard credit checks.
APAC is widely forecast to see the world's fastest growth in BNPL adoption by 2027. Checkout.com research discovered that BNPL increases basket size, particularly among those under the age of 30.
The report showed the availability of BNPL is the number one reason why 18-30-year-olds shop online or in-app including, 29% in Indonesia, followed by Thailand (26%), New Zealand (22%), Australia (20%), Hong Kong (17%), China (14%), Singapore (13%), and Japan (8%).
"The young are so keen on BNPL that incumbent brands, who did not previously resonate with younger markets, can draw this new segment to them simply by offering BNPL. So we are talking about the unlocking of 'buy more, buy bigger, and buy differently," said Trasy Lou Walsh, General Manager at Atome and formerly General Manager for Uber and Uber Eats in APAC.
Research shows 25% of all purchases online in Sweden were via buy now pay later installments, as were 16% in Australia. In addition, 24% of consumers in MENA used a buy now, pay later option this year – compared with 23% of consumers across the UK and Europe.
"It's pretty clear to us that BNPL is here to stay. There are lots of questions around how it will be regulated, so the impact on the credit card industry is unclear at this stage. We are seeing volume growth across all markets globally, and it's a very exciting space," Huez said. "Checkout.com already partners with and processes for Klarna, Tamara and many other BNPL players, so you're not likely to see us developing products that directly compete with our customers, though," he added.
In the US, 63.5% of BNPL purchases are made in the fashion retail sector. So if clothing is your market, you can't afford not to offer this popular service to consumers. And because your competitors may not be there yet, you may even find a competitive advantage.
Big increases in average order value, a larger number of new clients, elimination of credit risk and chasing customers for payments, and reduced chargebacks. What's not to like about offering buy now pay later options?
APMs and cross-border payments are a natural fit
Checkout.com highlights several case studies where merchants saw solid revenue growth by offering APMs. Anghami, the Middle East's largest streaming service, unlocked a 5% growth in credit card payments. Spanish neobank Rebellion Pay experienced a 15% increase in its authorizations. The Middle East and North Africa's biggest pay-TV operator OSN tuned in to lower recurring payment costs and a 5% jump in revenue after enabling APMs.
"We believe that growth, not savings, is the important metric. Offering APMs gives you access to new markets that were previously out of reach. We know that 60% of consumers will abandon their cart if their preferred payment method isn't available. And one of our merchants saw a 40% growth in usage after making APMs available," Huez concluded.
Alternate payments have shifted from a nice-to-have option to a core lever of growth. In other words, let people pay how they want, and they're more likely to give you their business. Wise merchants will already have this place as the holiday shopping season kicks into high gear.
Download a free copy of Checkout.com's Switch on the Right Payment Methods guide here.
Related PaymentsNEXT articles:
WEX adds new cross-border & payments automation partnerships
Wise, Google Pay partner for inexpensive cross-border money transfers