First Data has some fascinating research on 2018 gift card preferences, growth and trends in the UK. If you're a retailer or online seller using gift cards as part of your marketing strategy, you'll want to learn more.
Physical gift cards just won't die

One of the big surprises is the enduring popularity of physical gift cards. 62% of consumers surveyed said they preferred to buy a physical gift card, while only 18% preferred a digital gift card.
When it comes to receiving gift cards, 44% still prefer a physical card while 27% preferred an e-gift card.
The average physical gift card purchase was £99 ($129.10) or £74 ($96.58) for e-gifts. First Data said respondents reported spending an average of £41 ($53.54) over and above the value of their gift card.
In the past 12 months, an average of £503 ($656.32) was spent by consumers on physical cards and £203 ($264.86) on e-gifts.
Why give gift cards?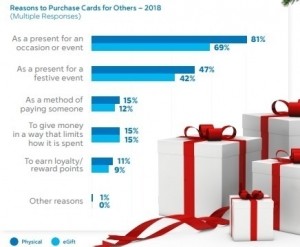 When it comes to why people gave gift cards to others, the reasons were predictable: 81% gave physical gift cards as a present for an occasion or special event with 69% giving an e-gift. 47% gave a physical card (42% e-gift) as a present for a festive occasion.
15% used physical cards as a payment while 12% used e- cards. Interestingly, 15% used both cards as a way to direct or limit how the gift was spent. 11% of consumers chose physical gift cards (9% e-gifts) for loyalty points.
For retailers, it's interesting to note that gift card buyers spent more on a gift card than on a traditional gift. Ka-ching! That should mean more sales if your gift card program is well-designed.
Where do consumers buy gift cards?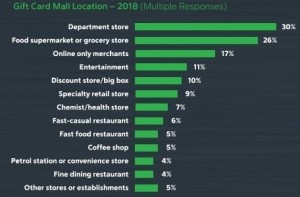 What it comes to buying gift cards, the most popular locations were: department stores (30%), food or grocery stores (26%), online-only merchants (17%), entertainment centers (11%), discount/big-box stores (10%), specialty stores (9%), drug stores (7%), fast-casual restaurants (6%), fast food restaurants (5%), coffee shops (5%), gas stations or convenience stores (4%), and fine dining restaurants (4%).
Fast Data noted several additional key insights for retailers, including:
one-third of consumers showed high interest in buying gift cards from a bank website or mobile app
most consumers buying a gift card at a shopping mall had a specific store in mind
34% said gift cards prompted them to visit a store, they would not have visited
44% said gift cards caused them to this list were more often.
These are good reasons for retailers and online sellers to evaluate their gift card strategies.
Self-gifting insights

Marketers know very well that many consumers buy gift cards for themselves. A Blackhawk Network study showed 69% of consumers had bought a gift card for themselves in 2018. 42% said they had purchased a gift card in order to earn loyalty points and 59% usually spend more than the card's value.
40% of consumers who bought a gift card for themselves or receive one have reloaded the card in order to make more purchases according to First Data. 27% said they reloaded their gift card to take advantage of loyalty points and another 25% said they did so to take advantage of discounts.
Other reasons for reloading cards included budgeting (21%), environmentally-friendly (15%), and eliminated the need to carry cash (14%).
Gift cards as incentives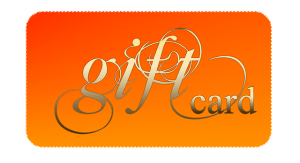 Blackhawk reports 42% of employees prefer gift cards as incentives, which puts spending control in the hands of the consumer. Almost as many (69%) of employees would like to receive a gift card as a reward from an employer, compared to cash (73%).
All in all, the First Data and Blackhawk Network research provides valuable insight into gift card spending, preferences, and trends. It's a growing and valuable market for every seller.
Data charts courtesy First Data