Two recent research reports point to the fast growth of buy-online-pickup-in-store sales as well as an increase in (BOPIS) fraud for e-commerce retailers.

According to Signifyd, BOPIS now accounts for 21-30% of sales for 28.8% of e-commerce sellers surveyed and another 11-20% of sales for an additional 28.4% of internet sellers.
Researchers from JDA Software found 50% of consumers have used pickup in-store services in the past year and signs are, the popularity of the service is growing. Recent Forrester Research said 77% of shoppers are interested in buying online and picking up in-store.
BOPIS is critical for e-commerce retailers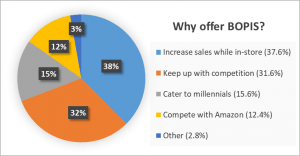 Why do retailers offer BOPIS? The most important reason is to increase sales while shoppers are picking up in-store (37.6%), to keep up with competitors (31.6%) and to Peter to millennials (15.6%).
BOPIS is clearly vital to growth and profitability for online retail sales according to Signifyd:
"Home improvement retailer Lowe's has reported that 60% of its online orders are collected in-store. Chief competitor Home Depot says customers come in to gather up 43% of its online orders. Nordstrom's online sales grew 30% last year. Kohl's saw 36% of its online sales picked up. Half of AutoZone's online orders were BOPIS sales."
Unfortunately, only 29.1% of retailers actually offer in-store pickup service according to OrderDynamics and only 38.5% advertised the service on their website homepages.
Pickup in-store fraud up 250%

Unfortunately, BOPIS fraud is also increasing quickly and presenting a growing problem for online sellers.
Emilie Grunzweig, a senior fraud analyst at Riskified, said pickup in-store fraud is up 250% over 2017 for a number of its retailers:
"Just a year or two ago we would have told merchants that BOPIS sales were extremely safe," Grunzweig told FierceRetail. "They had a fraud rate a fraction of regular e-commerce orders. That's no longer the case. We're seeing effective rates of fraud in BOPIS for some of our merchants that are 250% higher than they were in the last year."
He said fraudsters are simply taking advantage of the latest trends in e-commerce.
How to reduce BOPIS fraud?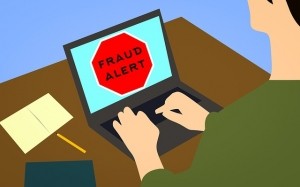 It's difficult for merchants to identify BOPIS fraudsters, partly because there is no shipping address that typically gets flagged if it's different from the cardholder billing address.
Grunzweig says retailers can require more online information, check IDs or verify credit card information in-store but that requires more staff and can lead to a poor customer experience online and in-store.
He said smart retailers will implement smart fraud prevention systems including prior purchase patterns, on-site behavior, and links to other online orders where available.
Why customers choose BOPIS
Consumers turn to BOPIS to avoid delivery charges (40%), to get items quickly (33%), for convenience (12%), because they want to see their product while still in the store (8%) and because they trust in-store more than home delivery (7%), according to the JDA survey.
Implementation of a BOPIS ordering system is a big challenge and can take anywhere from three to four months to three years or more, depending on a company's technology experience and capacity.
Because it's a card-not-present transaction, the fraud risk falls squarely on the retailer and its risk management vendors. The revenue potential for BOPIS is attractive for online retailers if companies can find the key to reducing this new fraud risk.
You can view Signifyd's "Buy-Online-Pick-Up-In-Store (BOPIS)" report here.